Your health will suffer if you choose the wrong mattress. It can lead to severe backaches, sleep disorders and your old injuries might trigger. Do you know that 7% of the US population is affected by the wrong mattress choice? And as you know, we spend around one-third of our lifetime in bed until you are a mother or father with children nagging around.
We understand that the mattress industry is full of different latex mattress brands, all claiming to be the best. Thus, choosing the right option can be a suuuuper exhausting process!
And especially, if you don't know the major pros and cons of the latex beds in general, narrowing down the right mattress for your body type and sleep preferences will be a huge problem. You might end up buying the wrong one and it'll be a waste of your time and money.
Therefore, to ease your latex mattress purchase process, in this blog we are highlighting the significant pros and cons of this category. We consulted a variety of scholarly articles and researched thousands of consumer reviews to pick the prominent benefits and drawbacks of latex.
Check out the latest latex mattress reviews by industry professionals and customers here.
Besides, we also give you an overview of the basic types of this bed material available on the market these days. Hopefully, this information will assist you in finding the best latex mattress within no time!
If you are a fan of foam and spring mattress, then you should not worry about buying a latex bed. They cannot give you a cushioning feel just like the memory foam or any other foam mattress.
Types of Latex Mattresses
In terms of material components, latex mattresses are divided into three categories.
Natural latex:
After collecting the sap from rubber trees, mattress manufacturers process it to create natural latex. It is pretty much organic in composition; however, some brands do add a few harmful chemicals such as petroleum-based compounds. Experts recommend buying certified latex beds with Oeko-Tex, G.O.T.S or GreenGuard seal of approval.
Synthetic latex:
An interesting fact about synthetic latex is that it was invented after World War II when people faced a shortage of natural latex. Petroleum products and petrochemicals are helpful in its manufacturing.
Blended latex:
The best mixture of both natural and synthetic is blended latex. Many leading manufacturers use this combination to give their mattresses perfect consistency of support and comfort.
If you are making a choice based on processes, then you can either go for Dunlop or Talalay processed latex beds. Both kinds are unique in comfort, support, and durability, even though their main constituent is latex.
Is latex mattress a better choice for your health?
National Sleep Foundation statistics reveal that almost 22 percent of people in America suffer from a sleep disorder. As mentioned earlier, choosing an old or wrong mattress can make you cry over spilled milk.
If you are using the same mattress from the last five to seven years, then it's your golden chance to invest your money in changing it. Many consumers still find this investment as expensive for their pockets. If you care about your health, then you should take this offer. Because many problems especially backaches can be avoided when you start sleeping on a new and a good quality mattress.
A latex mattress is heavy due to which it provides marvelous support to your body. The co-founder of Novosbed, Sam Prochazka quoted that heavier is better which seems to be true. He believes that lower weight beds do not last long because of less material and low-density foam.
A study conducted on body pressures included twenty participants who were asked to lie down on three different mattresses. One of them was a latex mattress. Surprisingly, latex beds evenly distributed body pressures as compared to others.
Pros and Cons of Latex Mattress
There is nothing as a perfect mattress. But choosing the appropriate bed from a vast variety is a tricky task.
A common question asked by customers is what the pros and cons of latex beds are?
Being a customer, you have the right to know about the product you are buying. Because in the end, it's your content that matters.
Therefore, we have collected some tested pros and cons that can help you in choosing the best latex mattress for you.
Pros of latex mattresses
A latex mattress can provide you with the comfort you need. When you lie down on the bed, it will give you a very soft feel with a bit of sinking in. Then immediately you'll find a frisky sensation of support. You get this pleasurable feeling due to latex because it has a natural springiness in it. OHHH! Whatta relief.
Zenhaven is the latex mattress that provides you with the overall comfort of your body including breathability, support. Etc.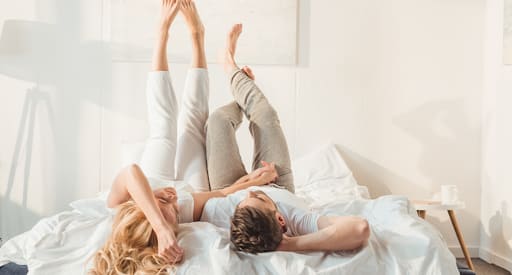 Relief from everyday pain:
Are you waking up with an OUCH every day? Most people are reported to have back pains due to injury or sleeping on an uneven mattress. If you do not take care of these issues in your 20s or 30, then they might become your lifetime partner.
So, what's the possible solution for avoiding this problem? The answer is obvious. Buying a latex mattress will give you relief from this nuisance. People who use latex layered beds showed average pain relief.
You will be surprised to see that many physical therapists, osteopaths, and obstetricians recommend latex mattresses. They distribute the body pressures tremendously and can easily nullify your back pains that's why they are advisable.
Natural way of aligning your spine:
Every day you are waking up with neck, shoulders, and back pains, then consider your mattress as the culprit. If you want to reduce your joint and muscle pains, then keeping your spine aligned is a must.
Many types of research have shown that if your spine is not aligned correctly, then you will lose 49% of your sleep in the REM stage.
A natural latex mattress helps in contouring your natural curves. It is due to its ability to push back. Due to this capability, you are allowed to have a freestyle sleep. You will see that whenever you'll lay down on the mattress, your more substantial parts of the body will sink in and the lighter elements will be supported to keep your spine aligned.
It will provide incredible support to pressure points, including buttocks and shoulders.
Plushbeds, one of the great names, is the natural organic mattress which helps in alleviating all your back problems.
Yes, you heard it right. The organic latex mattresses are chemical free. The other types like synthetic and blended have chemicals in them. But if you purchase the natural latex bed, you will feel the nature near you.
Avocado Green mattress is a combination of 100% all natural products like organic rubber, cotton, and wool. We can easily say that it is a chemical free bed. It provides you with outstanding natural cushioning for supporting your spine.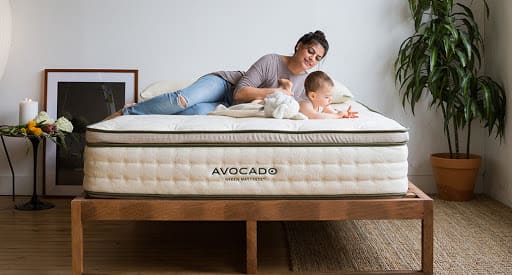 If you are sleeping with a sweaty body every night, then latex mattress can help you in regulating the temperature. When the outer cotton and inner wool layer combine, they provide breathability for a calm and peaceful night. So no more boiling nights.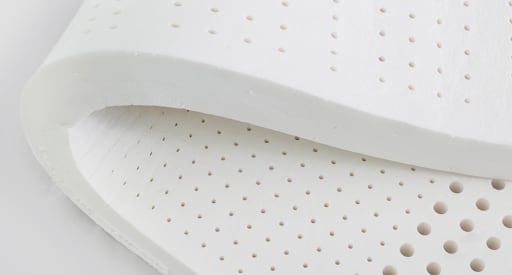 You'll get the worth of all your invested money with a latex mattress because the wool inside the mattress provides durability. The outer wool layer acts as an umbrella for the inner layers.
Are you tired of your partner tossing and turning during sleep? But not anymore. Latex mattresses are known as an excellent means of motion isolation. They minimize the motion transfer and helps in having a peaceful night.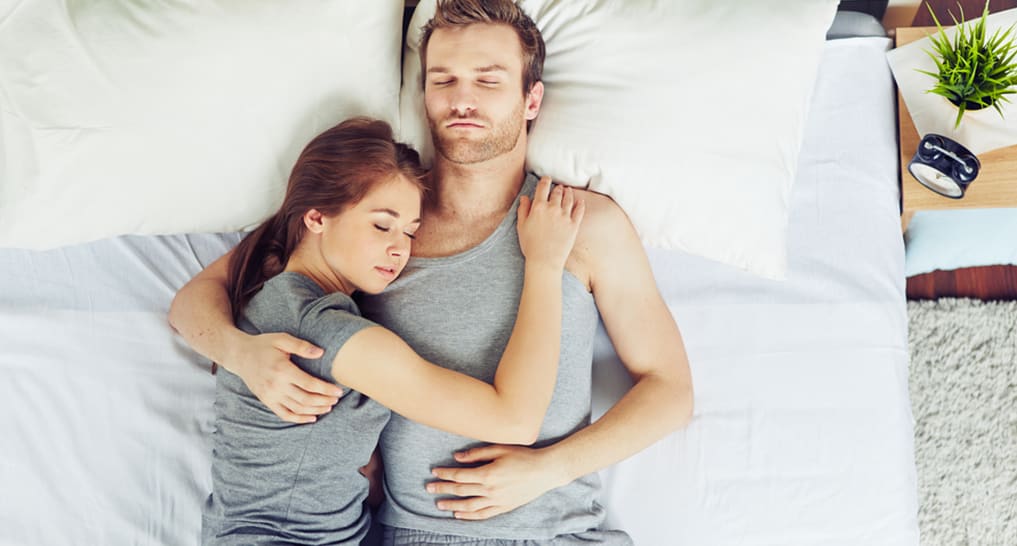 Organic latex beds are made up of all natural materials. So they are considered as environment-friendly.
Now it's obvious not to cut the rubber trees because they help in purifying the air and they are biodegradable too.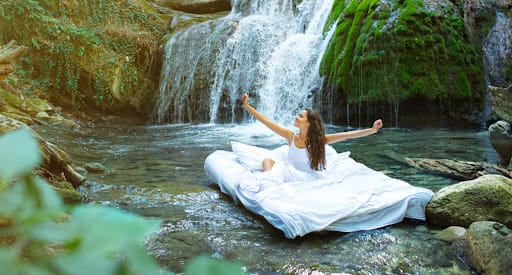 Cons of latex mattresses
There is no such thing as a perfect mattress. You will still see some drawbacks of latex beds as well. So let's have a look at the disadvantages:
Bouncy:
Bouncy mattresses are not everybody's cup of tea. As reported by many people, it becomes the cause of disturbance, especially during the night.
Latex beds are quite bouncy due to all natural material in it. So the bounciness can become the cause of your disturbed sleep
Costly:
The price factor is the main complaint that many retailers have to face. Organic latex mattresses are costly for the pocket due to the expensive and natural material used in them. But at the same time, you can find them to be the most durable beds in the market.
Weight:
Latex mattresses also tend to be heavier than traditional memory foam or innerspring mattresses of the same size. While this does make them more durable, your unboxing and setup experience can be somewhat inconvenient.
Weight isn't a serious drawback and shouldn't be much of a problem if you don't plan on moving your mattress frequently.
Material allergy:
Although only 1% of the population suffers from latex sensitivity, it is still a factor you might want to consider when selecting a new product.
This allergy triggers when you come in contact with latex or rubber products. According to The American Latex Allergy Association, there are 13 different types of proteins found in the sap that might provoke latex hypersensitivities.
To be on the safe side, consult with a physician or a dermatologist before going for latex, especially if you've never slept on this material before.

Conclusion:
Latex is an amazing material for use in mattresses but it's not for everybody. Hopefully, this article will help you in making an informed decision regarding your next mattress purchase.
Trying a latex bed before buying is the best way to understand how your mattress would actually feel. You can visit the SleePare showroom, located at 166 Bowery, NYC to try the latest bed-in-a-box latex mattresses. We feature products from both popular and emerging brands.
If you just can't get enough of latex, many brands also offer latex pillows. These will further enhance your overall sleep experience.
References: