Once upon a time, the American air mattress industry was noticeably insignificant. People only bought airbeds for outdoor adventure gears.
But over the last few decades, the air mattress market size has expanded at an impressive rate.
In fact, Technavio estimated the figure to hit  $60.36 million within the next few years.
Frankly, it isn't surprising at all. What once was just a camping essential, is now becoming a permanent lifestyle accessory of some homes.
Additionally, airbeds come with their own benefits to accommodate various sleep styles.
A 2015 Sleep Health research showed improved sleep quality among individuals with back pain who slept on air mattresses.
Despite their booming popularity, you might still be on the fence about choosing an air mattress for your sleep needs.
So to ease your decision-making process, we will explore the popular air mattresses in this blog and their outstanding features. We'll also share some buying considerations to help you find the right product.
Air Mattresses – Then and Now
The air mattresses of today are quite different from their original forms decades ago.
The air mattress industry dates back to the early 19th century. However, it wasn't until the 1960s that air mattresses were even considered as durable sleep products.
You'll find the current air mattresses to be much more sophisticated in design, durable and lasting, and some even with a high price tag. Most innovative products rely on air for better support and temperature regulation, making them unique from the traditional foam and spring sleep surfaces.
In order to buy the best air mattress for you and your family, you should be aware of their features and construction essentials to ensure you invest in the perfect product.
So let's check the key factors to consider before you purchase your next air mattress.
Buying Considerations for Air Mattresses
Modern air beds come in all shapes and sizes and cater to a plethora of needs. Thus, finding a dream mattress can be quite overwhelming.
Here's what you need to notice while narrowing-down the ideal options.
Types and usage
Air mattresses are generally of two types—indoor and outdoor. It's good to have an idea about how you'll be using your new bed before spending the bucks. You can then make a more informed decision.
For Indoor Use

For Outdoor Use

Pros

Cons

Pros

Cons

Adjustable firmness levels

Designed for deep support

Come with luxury comfort layers

Generally on the higher end of the price spectrum

Not portable

Heavy and are big in size

Affordable and budget-friendly

External pump for inflation/deflation

Portable, easy to set up and store

 
If you are looking for products that are suitable for both uses, you can find some viable options for that too. While not ideal for daily use, these airbeds would be perfect for unexpected guests and any temporary indoor needs. 
Frequency of use
Figuring out early on how often you'll be snoozing on your new airbed can save you from future inconveniences and regret. 
Experts recommend a permanent air mattress with foam/coil support and comfort layers if you will use it every night. You'll get the best of both deep support and durability with long-lasting air mattresses. 
For less frequent use, you want to find a mattress that's easy to store. Ease of inflation/deflation and compactness should be your key priorities.
Construction

Air mattresses designed for permanent use contain air chambers. These compartments have air as core bed support. Air chambers are made from different durable materials making them less susceptible to leakage.
The amount of air in the chambers in permanent airbeds is controlled using an electrically-powered pumping mechanism. Depending on the model, the mechanism can be external or built into the mattress.
Indoor air mattresses also feature foam or spring based layers that lie atop the air chambers. They provide additional comfort and allow you to experience a feel similar to conventional beds.
In addition, most permanent air mattresses are also compatible with a separately-sold adjustable base. When paired with the mattress, the base allows you to adjust head and foot positions to assist with snoring.  
On the other hand, outdoor air beds have a straightforward inflate-deflate construction without any fancy air chambers. They are waterproof, rugged and may or may not include an external pump.
Firmness and support
The best part about any air bed is its adjustable firmness. You can easily pump more air in or release some of it out as you desire. However, with permanent airbeds, it gets better.
Indoor designs allow more levels of firmness but come at a higher cost. These also have multiple air chambers catering to different regions of the body. Hence, providing more effective pressure relief and weight distribution.
A few smart air mattresses can automatically adjust the comfort level of the bed based on your movements during the night. 
Bed-sharing with partner

If you sleep with a partner,  you also need to assess their needs while selecting an air mattress. 
Some companies design air mattresses specifically for couples. Fully adjustable air chambers on each side of the bed allow the change in settings to suit varying sleep preferences.
 This way, neither of you will have to compromise on firmness and comfort while resting side by side. 
Budget
You'll come across various pricing differences while finding your dream air mattress. So before you delve into this process, it's best to keep a budget in mind to save your time and energy. 
The pricing usually depends on airbed features. Each brand offers something new and unique, which might affect the price tag. 
Permanent air mattresses are expensive because of their impeccable durability and superb features for a relaxing night's rest. On the other hand, temporary air beds are budget-friendly but you might have to compromise on comfort and longevity. 
 All air mattresses come with some means of controlling comfort preferences. But the options with automatic or smart controls are more expensive than ones with manual controls. 
Price may also depend on the number of coils. Another thing to consider are the post-sales customer services, such as delivery options, returns, and warranty, which can raise the total slightly.
So we suggest you do in-depth research and be mindful of features you need in an ideal sleep surface. Then compare different products side-by-side and choose the best air mattress for your money.
Ease of use
Advanced firmness controls, smart positions, and app integration may seem tempting  features in an air mattress. But if you aren't that tech-savvy, you might get confused and overwhelmed with the technicalities.
Some air mattresses can be quite bulky due to their added layers and raised profile. This can make them difficult to move around indoors especially if space is limited.
Air mattresses with built-in pumps offer the most convenience as they allow you to quickly adjust firmness and top-off air levels in case of deflation. However, if the built-in pump fails, maintenance and repair can be tedious.
Temperature regulation
Air mattresses are generally cool sleep surfaces thanks to the core air support. 
Thus, depending on the climate where you live, you might want to consider this factor. Airbeds would be perfect for you if you sleep hot or are going on an outdoor adventure in a humid place. 
If you live in a cold area, you need a bed that regulates your body temperature mid-sleep and helps you stay warm. An air mattress, in this case, may not be a suitable option. 
Freedom of movement/Motion isolation

Air mattresses offer good freedom of movement and aid in changing sleep positions due to their bounciness. This is good news for couples and pet owners.
However, if you are a light sleeper, noise can be an issue. It is especially concerning if your companion tends to toss and turn a lot.
Because of coils and air chambers, airbeds can be noisy which will instantly wake you up. Another reason for noise in permanent air beds are the air pumps that remain active most of the time.
On the whole, consumers offer mixed reviews for motion isolation. Depending on the use and your sleep needs, you may or may not be bothered by motion transfer. 
Bed height
If you are looking for a more conventional mattress experience, you may opt for a 'raised' mattress with a height ranging from 17 to 20 inches. This will keep you away from the floor and make climbing out of bed much easier.
For use inside tight spaces such as a tent, a smaller footprint is advisable. This will make getting inside and out the tent as well as carrying your bed around much simpler.
Without further ado, here are the 10 best air mattresses you can find on the market today.
Bodyweight considerations
Most air mattresses can support more than 300lbs, making them a good choice for heavyweight individuals. But to ensure maximum comfort, you will need an air mattress that provides the best weight distribution for your body type.
Weight distribution requirements differ as pressure points develop in different regions of the body depending on its type. Heavier individuals would prefer a more firm bed whereas a softer bed is better suited for lightweights.
Many air mattresses come with adjustable levels of firmness, making them suitable for most body types. More expensive options can even provide different firmness levels for different body regions as well as multiple people.
Top 10 Highest-Rated Air Mattresses
| | | | | | |
| --- | --- | --- | --- | --- | --- |
| Brand | Mattress | Best Feature | Trial Period | Warranty | Review Link |
| Fox Airbeds | Fox Airbeds Plush High Rise | Comfortable pillow top | N/A | 90 days | |
| Intex Recreation Corp. | Intex Classic Downy Airbed | Most affordable option for outdoor use. | N/A | N/A | |
| Boyd sleep | Night Airbed | N/A | N/A | N/A | |
| SoundAsleep | Dream Series | Durable and easy to use | N/A | 1 year | |
| Sleep Number | 360 P6 | Sleep IQ integration for sleep tracking | 100 nights | 25 year | |
| Select-a-bed | Air-Pedic | No midsection sagging | 120 nights | 30 year | |
| King Koil | Luxury Raised Airbed | Endorsed by the International Chiropractors Association | N/A | 90 days | |
| Coleman | Airbed Cot | Cot for added durability and comfort. | N/A | 1 year | |
| Responsive Surface Technology | Rest bed | 5 Medical grade air chambers on each side | 90 nights | 10 year | |
| Insta-bed | Insta-bed w/ Internal AC Pump & NeverFlat Fabric Top | Well thought out accessories bundle | N/A | 1 year | |
Overview of Best Air Mattresses
1. Fox Airbeds Plush High Rise — Pillow Top for Extra Comfort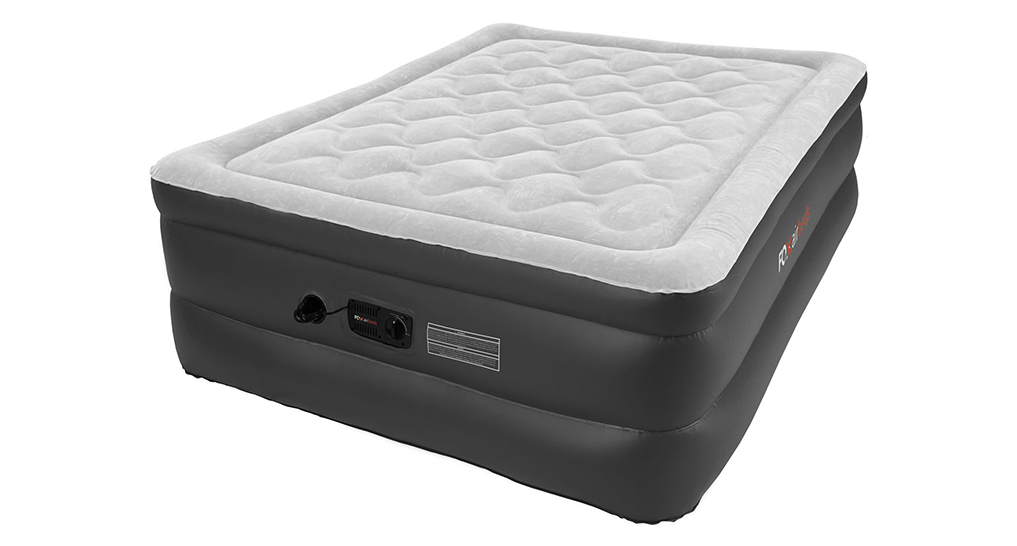 Customer Satisfaction Ratings for Fox Airbeds Plush High Rise Features
 

Comfort

Support

Temperature Regulation

Durability

Overall Value

Buy Now
Pros:
Comfortable and durable
Raised profile makes it easy to move in and out of bed
Suitable for indoor and outdoor use
Cons:
Not ideal for everyday use
Fox Airbeds has made a big splash in the mattress industry in the relatively little they've been around. They are comprised of a diverse range of online stores that deal in everything from premium air mattresses to high-tech snorkeling equipment.
Fox Airbeds Plush High Rise comes with all the essentials for a good night's sleep and even gives some of the more premium mattresses a run for their money.
This air bed comes with a pinch valve that lets you inflate it using an external pump. This makes it suitable for prolonged outdoor use or in places where you don't have access to a power socket.
The Plush High Rise has also been reinforced with thick vinyl that adds to its durability and gives it a higher puncture resistance than most other mattresses in this price range. It gets really firm once fully inflated and offers good back support.
This mattress also holds air really well. It is suitable for prolonged use if you don't mind reinflating it after a few days.
2. Intex Classic Downy Airbed — Most Affordable Air Mattress for the Outdoors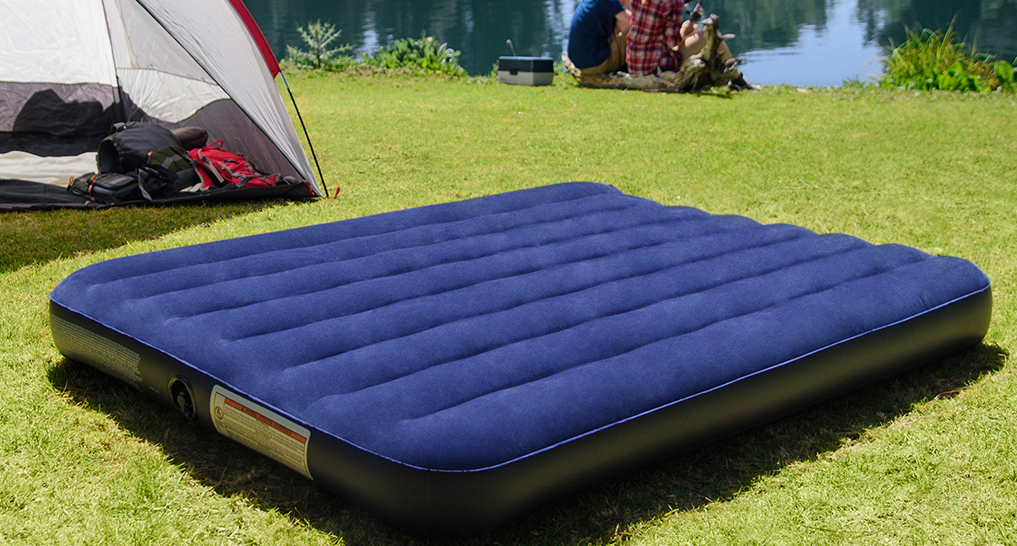 Customer Satisfaction Ratings for Intex Classic Downy Airbed Features
 

Comfort

Support

Temperature Regulation

Durability

Overall Value

Buy Now
Pros:
Good durability for the price
Hand pump included
Can be used indoors and outdoors
Cons:
Prone to air leakage
No manufacturer warranty
Not suitable for everyday use
The Intex Classic Downy Airbed is a pretty barebones experience, but at this price point, it is hard to complain. It is reasonably tough, easy to transport and suitable for both indoors and outdoors. Starting with beach equipment, Intex Recreation Corp. has expanded its portfolio over the last 40 years to include airbeds, above ground pools, boats, and more.
The included hand pump works well but can be tedious for some users. Fortunately, you can always connect an electric pump to make things easy. Regardless, the hand pump is still a welcome addition.
The top is waterproof, and the vinyl-covered bottom and sides offer some semblance of puncture-resistance. However, make sure to check for any holes or deformities at the time of purchase since there is no manufacturer warranty. In such cases, the store's return policy is your best bet, but your mileage may vary.
The bed offers a comfortable sleeping experience. It does not get very noisy and is compact enough to fit inside a tent. It does have a slight odor but nothing too unpleasant.
3. Night Airbed Ultra Series – Six-Chamber Adjustable Firmness
Customer Satisfaction Ratings for Night Airbed Ultra Series Features
 

Comfort

Support

Temperature Regulation

Durability

Overall Value

Buy Now
Pros:
6-chamber technology enables adjustable zoned firmness levels
Personalized comfort for couples
Separate, customizable lumbar support
Precise level of adjustable support
Cons:
May get noisy
Pricey mattress
Night Airbed Ultra Series by Boyd Sleep has made a big leap in the mattress industry for the number of comfort options it puts on board. The unique and innovative adjustable zones give you full control over the comfort and support of your mattress.
The 6-chamber technology allows you to finetune the firmness under your head, back, and feet to your required comfort level. For a healthy body and rejuvenating sleep, it is essential to provide your back the necessary support while letting your shoulders, hips, and thighs sink in a little.
As a result, your spine remains in perfect alignment and keeps the stress off of muscles and joints. With Night Airbed Ultra Series mattresses, you can achieve this exact configuration for an ideal posture.
Moreover, Night Airbed Ultra by Boyd Sleep is perfect for couples with different comfort preferences. The built-in partition helps you and your partner set up your desired firmness level separately on either side of the bed. All you need to do is press a button and achieve the split firmness.
4. SoundAsleep Dream Series — Hassle-free Sleeping Experience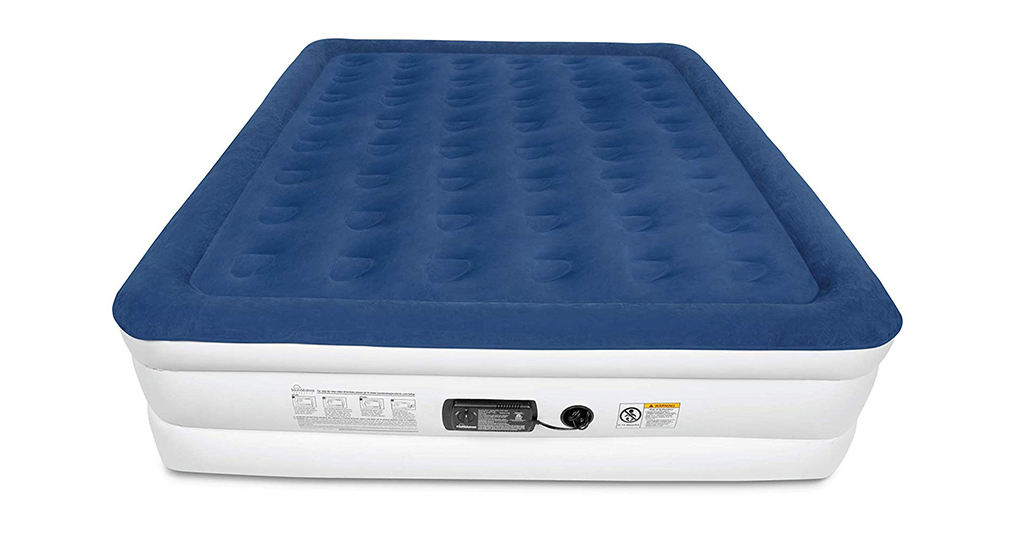 Customer Satisfaction Ratings for SoundAsleep Dream Features
 

Comfort

Support

Temperature Regulation

Durability

Overall Value

Buy Now
Pros:
Made with eco-friendly PVC
Durable and comfortable
Grippy bottom prevents sliding
The raised profile makes it easy to move in and out of bed
Cons:
Not suitable for outdoor use
The limited warranty does not cover everyday use
New Jersey-based SoundAsleep Products specializes in a variety of sleeping solutions that cater to different use-case scenarios.
All of their products come with a Sure-Grip bottom to prevent the mattress from sliding and a puncture-resistant, eco-friendly, synthetic material that ensures the longest life possible for the product.
The SoundAsleep Dream Series is designed solely for indoor use as a temporary sleeping solution. It is also not intended for daily use as made clear by SoundAsleep's limited one year warranty.
The mattress itself is made of durable, high-quality, and eco-friendly materials. It contains 40 internal air coils that provide balance, firmness, and support. That being said, it's very comfortable as far as temporary sleep solutions go. The grippy bottom also helps it stay in place and prevent it from sliding across slippery floors.
The included carrying case makes it easy to store and transport, while the waterproof top allows this airbed to weather outdoor conditions to some extent. Inflation and deflation are also made very simple due to the built-in air pump.
However, it does need to be topped-off after a few days and thus, the lack of external air pump support renders it unsuitable for prolonged use away from a power socket. The SoundAsleep camping series is better suited for this purpose.
5. Sleep Number 360 P6 — Sleep IQ Integration
Customer Satisfaction Ratings for Sleep Number 360 P6 Features
 

Comfort

Support

Temperature Regulation

Durability

Overall Value

Buy Now
Pros:
Durable construction with 2 air chambers
Automatic and manual firmness and support adjustment
Stays cool and contours to body type
SleepIQ app integration
Cons:
There is a learning curve, especially for non-technical users
All bed sizes with two air chambers sag slightly in the middle
Sleep Number has emerged as a key player in the mattress industry since its inception in the 1980s. It deals in various bedding products, but its most famously known for its Sleep Number beds and SleepIQ technology.
Sleep Number's '360' line of smart beds brings some of the company's key innovations together. The mattresses can automatically sense your movements and then make necessary adjustments to mattress firmness, comfort and support to provide a one of a kind experience tailored around your sleeping habits.
The P6 targets 6 body zones (head, neck, shoulders, lower back, hips, and knees) with the help of air chambers. There are two air chambers (one on each side) in all sizes higher than Twin XL so that the P6 can cater to your unique sleeping preferences as well as those of your partner.
Sleep Number's Responsive Air technology makes use of pressure sensors to dynamically adapt all 6 body zones according to your movements throughout your sleep. These zones can also be configured manually using the remote controls.
The P6 seamlessly integrates with the Sleep Number SleepIQ app, allowing you to track and monitor your breathing, heartbeat, and sleep quality from the convenience of your bed. All of this information is summarized in your Sleep score that can be viewed from the app.
6. Air-Pedic 600 — Sag-free Experience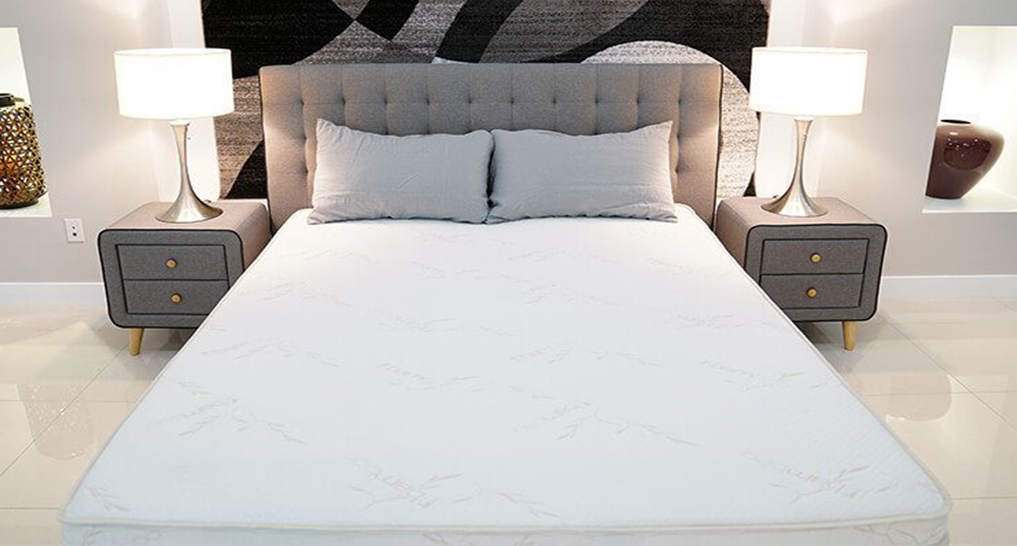 Customer Satisfaction Ratings for Air-Pedic 600 Features
 

Comfort

Support

Temperature Regulation

Durability

Overall Value

Buy Now
Pros:
Manual firmness adjustment via remote control for each side of the bed
Comfortable and sag-free experience
6 mold and mildew resistant air chambers
Cons:
No automatic firmness adjustment
California based SelectaBed makes not only air adjustable beds but also memory foam, latex, and hybrid mattresses. They also specialize in designing custom mattresses that cater to unique customer needs. All of their products are built in-house with great precision and care.
The Air-Pedic 600 is one of the finest mattresses in Selectabed's repertoire. Besides firmness control and temperature regulation features, this mattress is built with natural and certified safe materials that are made in the USA.
There are 6 fully adjustable air chambers (3 on each side of the mattress). These allow you to adjust firmness control for different body regions to ensure better spinal alignment and support. Chambers on each side also work independently to cater to your needs as well as those of your partner.
Unlike some of its competitors that use untreated vulcanized rubber, Air-Pedic uses urethane chambers that are inherently resistant to bacteria and mold and don't need to be chemically treated.
The mattress also features flexible and indiscernible center support. This, coupled with Selectabed's comfort layers, makes for an even feel across the whole mattress without any sagging.
7. King Koil Luxury Raised — International Chiropractors Association Approved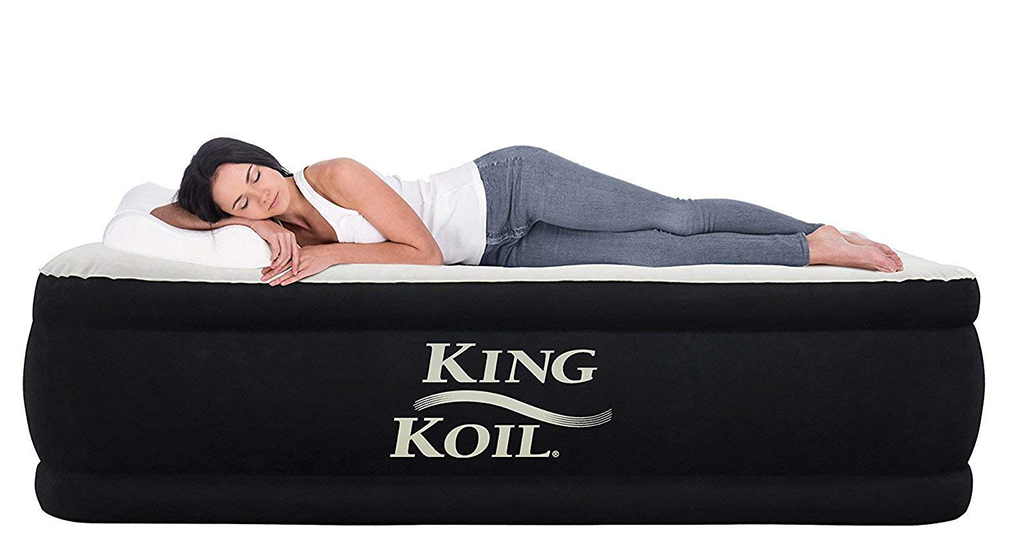 Customer Satisfaction Ratings for King Koil Luxury Raised Features
 

Comfort

Support

Temperature Regulation

Durability

Overall Value

Buy Now
Pros:
Suitable for indoor and outdoor use
Durable and comfortable construction
Raised profile makes it easy to move in and out of bed
Cons:
A compatible external pump will be necessary for prolonged outdoor use
Not ideal for daily use
From its humble beginnings in 1898, King Koil has steadily evolved over the years and now caters to more than 90 countries throughout the world. It is the only mattress manufacturer endorsed by the International Chiropractors Association and strives to provide quality sleep products at the best value.
The King Koil Air mattress does not make any outrageous claims, but it certainly delivers on what it promises. This is a no-frills, affordable, and easy to use air bed that is suitable for most real-world situations.
Your guests will undoubtedly appreciate King Koil's soft top flocking layer and built-in pillow. These quirks set it apart from the cheaper air beds by providing a premium feel. It can be used regularly but would need to be topped-off after a few days.
The extra-thick, water-resistant comfort quilt top, grippy bottom, and durable side fabric make it a viable contender for camping and outside use.
However, for extended outdoor use, it is recommended to have a power socket or compatible external pump nearby for a quick top-off. Despite being on the heavier side, it can be easily rolled up and carried around with relative ease in the included carrying case.
8. Coleman Airbed Cot — Most durable mattress for the outdoors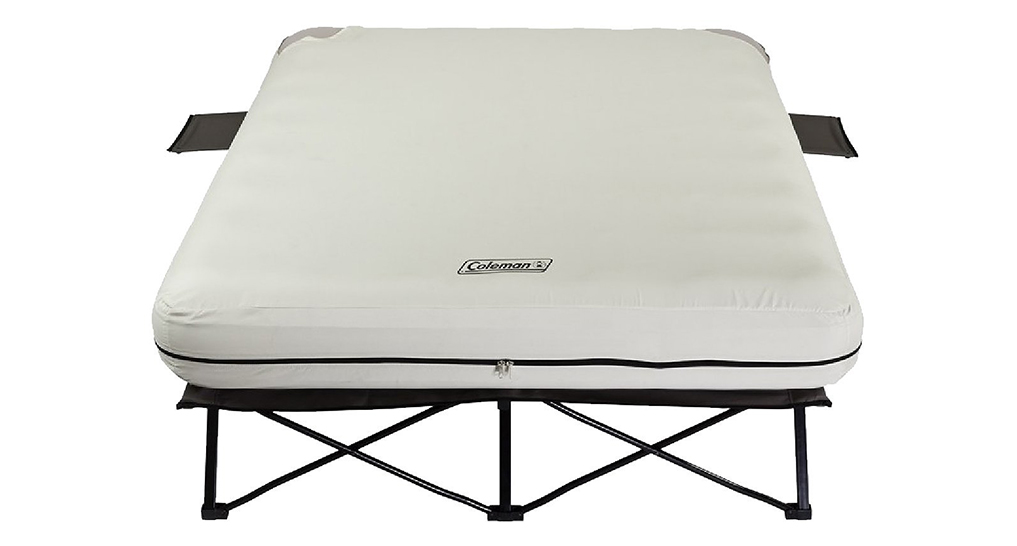 Customer Satisfaction Ratings for Coleman Airbed Cot Features
 

Comfort

Support

Temperature Regulation

Durability

Overall Value

Buy Now
Pros:
Durable and comfortable
Cot prevents the mattress from making direct contact with the floor
Cot and mattress can be used separately
Cons:
The mattress cover is sewn onto the cot which makes washing difficult
Air pump is weak
Not ideal for daily use
Founded in 1900 and based in Kansas, the Coleman Company is a one-stop-shop for all types of adventure and outdoor gear. Its products range from lanterns and stoves to sleeping bags, tents, and airbeds.
The Coleman Airbed cot is suitable for both indoor and outdoor use, but it is almost immediately obvious that it has been designed with the adventurer in mind.
The Airbed's sturdy design ensures that it can take a beating. It comes with Coleman's patented AirTight system that helps prevent leaks and makes it suitable for most outdoor environments.
This is also reflected by the included accessories. It comes bundled with an external air pump that lets you inflate and deflate your mattress with ease regardless of where you are. There is also a rugged carrying case with wheels that makes it easy to move around the bed.
Excellent comfort and spinal support are ensured through ComfortStrong circular coils. It even comes with two detachable side tables with cup holders so that you have no trouble managing your belongings while on the go.
The cot and mattress can be used separately, but we would advise against this as the cot helps the mattress avoid direct contact with the ground below and prevents it from puncturing.
9. Insta-bed w/ Internal AC Pump & NeverFlat Fabric Top — Comes with all the Essentials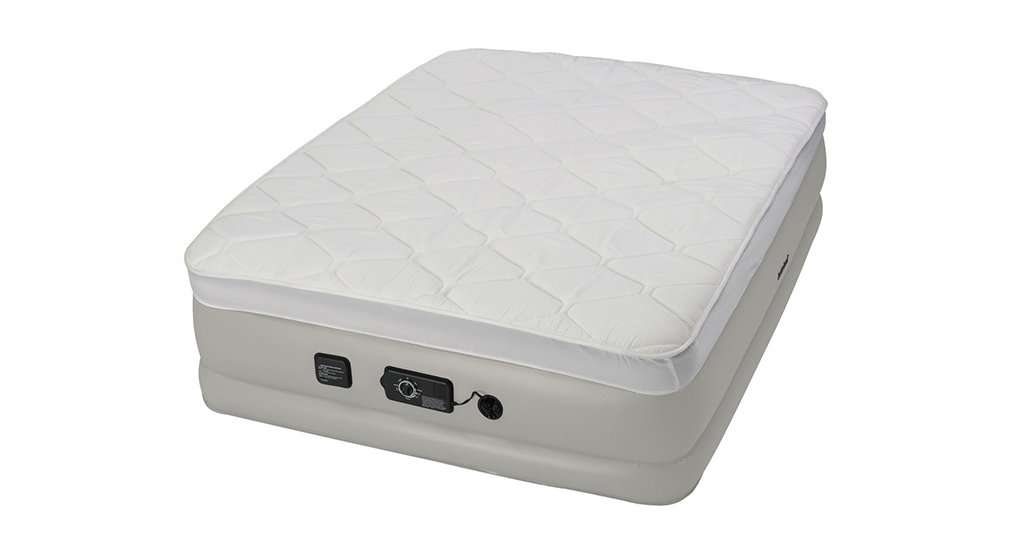 Customer Satisfaction Ratings for Insta-bed Features
 

Comfort

Support

Temperature Regulation

Durability

Overall Value

Buy Now
Pros:
Durable and puncture-resistant NeverFlat fabric top
Circular air coils aid with stability, support, and comfort
Raised profile makes it easy to move in and out of bed
Insta-bed specializes in air beds and aims to provide quality sleep solutions for both indoor and outdoor solutions. They have made key innovations in the mattress industry, including their NeverFlat technology, which they swear by.
This mattress comes with a NeverFlat fabric top that adds durability and stretches less under pressure than traditional mattresses. This prevents it from sagging or losing firmness throughout the night.
The circular coils do a better job than beam designs in terms of support and weight distribution.
We were delighted by the number of peripherals it comes bundled with. This very thoughtful selection includes a powerful and user-replaceable external AC pump, carrying bag, and repair kit.
The provided external AC pump is powerful and will especially come in handy during camping and outdoor use as you will need a quick top-up.
10. RestBed — Targets 5 Individual Body Zones
Customer Satisfaction Ratings for RestBed Features
 

Comfort

Support

Temperature Regulation

Durability

Overall Value

Buy Now
Pros:
Durable and puncture-resistant NeverFlat fabric top
Circular air coils aid with stability, support, and comfort
Raised profile makes it easy to move in and out of bed
Atlanta based Responsive Surface Technology (ReST) aims to provide the ultimate sleeping experience. It promises a highly customized sleeping environment so you may sleep and perform better.
Their flagship product, the ReST be,d leverages their patented Adaptive Sleep Think technology to automatically sense changes in pressure, allowing it to adjust to your body's needs in real-time.
There are five medical-grade, polyurethane air chambers on each side of the bed. This allows the bed to provide 5 independent air pressure support zones (head, shoulders, hips, back, legs) for you and your partner. Air chamber seams are welded shut to prevent any air from leaking.
For more hands-on control, you can manually increase or decrease the level of pressure in each support zone from the comfort of your smartphone or tablet using the ReST dash app. The ReST bed already comes bundled with two tablets.
The ReST dash also keeps complete track of your sleeping patterns and provides actionable data to help you make the most out of your sleep.