A mattress guide for overweight people
The key to a successful mattress shopping experience is being in tune with your body and its needs. This is true for everyone, but particularly so for plus-sized shoppers who need a little more from a mattress than lighter or average-weight sleepers. Good sleep is vital to overall health and wellness, and a quality mattress is an essential component of healthy sleep habits.
There are a variety of things that get in the way of a good night's sleep, and being of a larger build comes with a unique set of obstacles. When it comes to finding the best mattress for heavy people and not break the bank at the same time, it can be a challenge. Some of the issues that heavy people experience when it comes to sleep and mattress shopping include:
There is no reason that customers of all body shapes and sizes can't have a comfortable, restful night's sleep, however – you just need to keep some things in mind while you shop.
Let's take a look at the 3 best mattresses for heavy people, and then we'll do a comparison of the industry's top mattresses and how sleep experts have rated them for full-figured sleepers. By the way, you can find all of these in our Manhattan Mattress Store.
Skip ahead the rest of the best mattresses for heavy people here below!
1. Winkbed Plus
2. Helix Plus
4. Saatva
5. Big Fig
6. Loom & Leaf
Ready to explore the mattresses that have been hand-picked as ideal for heavy individuals? Our collection of top-rated mattresses is solely based on customer experience and our smart software scours the internet to gather feedback from people of all body shapes so that we can help you find the right mattress to meet your needs.
Loved by their owners and approved by trusted sleep experts, these are the mattresses that we suggest for restful and healthy sleep.
Mattress Category: Hybrid Innerspring
Best For: Back and Side Sleepers
Height: 14.5-inch
Firmness: Medium-Firm
Warranty: Forever
Bed-In-a-Box: Yes
White-Glove Delivery: $150
WInkbeds Plus is our winner for every type of sleeper, and our top pick as the best mattress for heavy people. This mattress Has incredible support to a huge variety of sleepers. people with overweight will enjoy it as well as a 120-pound sleeper.
This is made possible due to the incredibly heavy-duty base that this mattress has. This allows for very high stability and durability while still keeping the top part comfy and non-saggy.
Most customers admire its luxurious feel and excellent support. Winkbed Plus has the right amount of foam reinforcements to prevent any pressure points, so side sleepers can enjoy a restful night without any fear of soreness in hips and shoulders, regardless of their body weight.
For all of us who prefer a bouncier bed, Winkbed Plus offers a highly resilient surface that allows for easy changing of sleep position while still isolating motion, thanks to pocketed coils. Winkbeds Plus uses a second layer of micro coils for enhanced contouring and heat ventilation.
To our opinion, The Winkbeds plus is a clear winner in the search for a mattress for heavier people, because it gives comfortable luxurious sleep feel for light and heavier people, without sagging or sinking .due to Its heavy-duty base core, we are betting that this mattress will outlive every mattress in this list as well. 
Read our detailed Winkbed Plus mattress review or check out the current best price for Winkbeds Here.
Mattress Category: Innerspring
Best For: Back and Stomach
Height: 13-inch
Firmness: Medium Firm
Warranty: 15 years
Bed-In-a-Box: Yes
White Glove Delivery: $150-200
The Helix Plus is Helix's newest mattress-in-a-box designed with overweight and big and tall sleepers in mind. Formerly known as the Helix Nightfall, the Helix Plus was made for comfort and designed to be more durable and supportive.
The mattresses wrapped coils give in just the right places and the foams properly contour the body to give you a restful sleep. The use of gel memory foam and pocketed springs allow for a breathable and airy sleep that moves heat away from the body to provide adequate motion isolation.
Unlike most Helix mattresses that come with a ten-year warranty, the Helix Plus has a fifteen-year warranty, so you can sleep easily knowing your mattress will last.
Read our detailed Helix Plus review to know if it is the right choice for you, or check out Helix's best price here.
Mattress Category: Innerspring
Best For: Back and Stomach
Height: 12-inch
Firmness: Medium Firm 
Warranty: 10 years
Bed-In-a-Box: Yes
White Glove Delivery: No
Sold exclusively by Brooklyn Bedding, the Titan was created as a Plus-sized solution for Plus-sized sleepers. The Titan holds its own when compared to other mattresses. The Titanflex foam adjusts and adapts to your body's movement faster than traditional memory foam so you are more on top of the mattress instead of sinking in it. The heavy-duty premium pocket coils deliver extra lift and durability while causing next to no motion transfer.
The Brooklyn Bedding Titan also comes with two additional optional features. Option 1: a cooling top panel that delivers a sensational cooling feel on contact. Option 2: a three-inch cooling Talalay latex mattress topper that adds additional contouring and pressure relief to the body. So you can find the right combination of comfort. Brooklyn Bedding are known for offering great discount sales.
Check out their latest best offers here, Read our detailed Brooklyn Bedding Titan review to know if it is the right choice for you!
Mattress Category: Innerspring
Best For: Hot sleepers, Budget choice
Height: 14.5-inch
Firmness: Plush soft, Luxury Firm, Firm
Warranty: 15 years
Bed-In-a-Box: No
White-Glove Delivery: $150
Saatva Premier Luxury is perhaps the best value for quality in terms of mattresses on the market. It's excellent for anyone who loves a bouncier, more resilient surface. Saatva uses coil-on-coil design to increase the support and breathability of its cooling mattress. If you tend to sweat a lot while sleeping, Saatva's organic cotton cover wicks away moisture to make sure you stay dry.
Customers appreciate Saatva's lumbar support above all other features. The company is known for its eco-friendly, quality materials that don't sag prematurely. Saatva is surprisingly affordable for such a durable mattress, serving up both value and quality that makes it appealing to customers of all body shapes and sizes.
Check out the latest Saatva prices Here , or Read our detailed Saatva mattress review to know if it's the right choice for you!
Mattress Category: Hybrid
Best For: Couples, Back and Stomach sleepers
Height: 13-inch
Firmness: Firm
Warranty: 20 years
Bed-In-a-Box: No
White-Glove Delivery: $150
Big Fig is designed explicitly for the plus-sized consumer. The mattress is not only sturdy but also offers a cool, comfortable night's sleep. Stomach sleepers report it to be exceptionally supportive, which isn't surprising given the use of high-density foams and the mattress's hybrid construction. The Big Fig is a very firm mattress, so if you like any kind of sinking in, this mattress isn't for you.
Edge support is one of the most appreciated features of Big Fig. With a 1000 lb maximum weight for couples and 500 lb limit for individuals, Big Fig is a good mattress to buy if what you need is a resilient mattress with a durable support core.
With its specialized foundation, the Big Fig sleep system fits the sleep needs of a full figure for long-lasting comfort and quality sleep. We ranked it high in our best mattress for heavy people list, but we would only recommend this mattress for heavier people, as other sleepers will probably find it to firm for them, especially for side sleeping.
Read our detailed Big Fig mattress review to know if it's the right choice for you!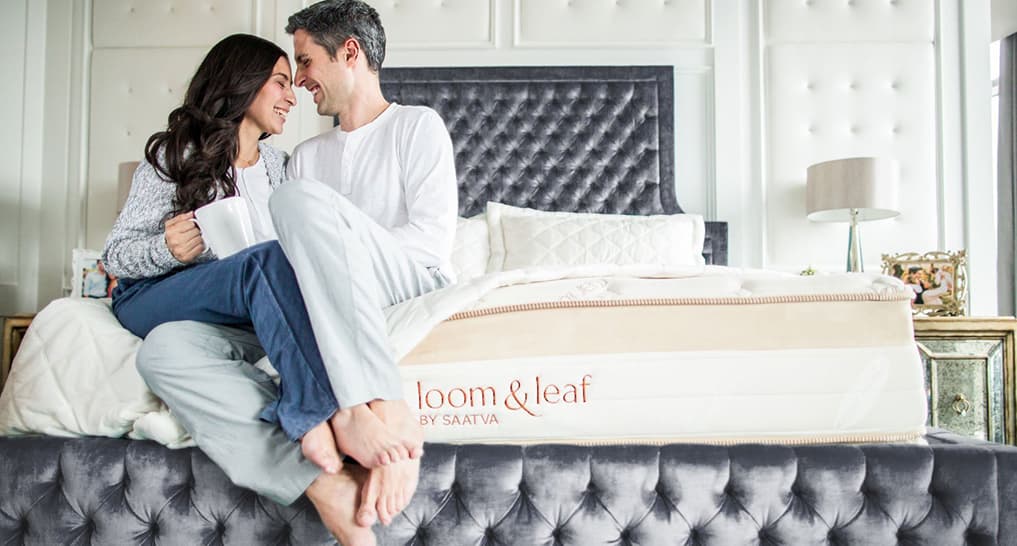 Mattress Category: Memory foam
Best For: Couples and pet owners
Height: 12-inch
Firmness: Relaxed Firm, Firm
Warranty: 15 years
Bed-In-a-Box: No
White-Glove Delivery: $150
The hugging feel of memory foam makes this mattress attractive for heavy sleepers. Due to excessive sinkage, memory foam isn't very popular among bulky individuals. However, Loom & Leaf offers deep compressional support, owing to the transition layers and thick high-density foams.
The company uses 5 lb memory foam for excellent pressure relief. Such a dense foam also resists sagging under heavyweight. Overweight persons usually sleep hot. Loom & Leaf prevents heat retention by using gel infusion. The use of convoluted foam also improves airflow so you may enjoy a refreshing slumber on this best memory foam mattress for heavy people.
Read our detailed Loom & Leaf mattress review to know if its the right choice for you!
Mattress Category: Latex
Best For: Hot sleepers with backache
Height: 10-inch
Firmness: Dual firmness
Warranty: 20 years
Bed-In-a-Box: No
White-Glove Delivery: $150
Zenhaven is an all-latex mattress offers two comfort levels in one mattress. It boasts a latex "5-Zone" comfort layer designed for optimal spinal alignment and a 100% Talalay latex support core for increased resiliency. It's the best mattress to buy if you're looking to alleviate mattress-related aches and pains and suits any sleeping position.
Zenhaven's latex construction means the mattress sleeps cool, and breathable organic wool cover makes sure you stay dry and sweat-free. The flexible Talalay latex used in the support core provides for a bouncier surface that facilitates position changes and makes it easy to get in and out of bed. If you're worried about foam mattresses that may prematurely sag, you should give Zenhaven ago!
Read our detailed Zenhaven mattress review to know if it's the right choice for you!
Mattress Category: Latex
Best For: Customization
Height: 10-inch
Firmness: Soft, Medium, Firm, Extra Firm
Warranty: 10 years
Bed-In-a-Box: Yes
White-Glove Delivery: No
The spindle is unique in that it gives you the freedom to select and customize the firmness of your mattress. You can arrange and rearrange the latex layers until you reach a support and comfort level that you are happy with, making it truly customized for you and your needs.
Spindle is made with three layers of Dunlop and a wool topper for a cool and refreshing sleep. The latex and wool construction also adds longevity to the mattress's life span.
The spindle is made with all-natural and organic materials that are resistant to molds, mildew, and other allergens. If you're in the market for a nearly hypoallergenic mattress, or if you simply value sustainability and eco-friendliness, then give the Spindle mattress a try.
Read our detailed Spindle mattress review to know if it's the right choice for you!
Mattress Category: Memory foam
Best For: Hot sleepers, Back and stomach sleepers
Height: 11-inch
Firmness: Soft, Medium, Firm
Warranty: 15 years
Bed-In-a-Box: Yes
White-Glove Delivery: $150
Novosbed is an environmentally conscious brand that aims to reduce its carbon footprint to promote sustainability. They use quality materials to make durable products in an effort to keep them out of the landfills for the longest period possible. The contouring ultra-dense memory foam is supported by a thick layer of high-density support foam. Stomach sleepers in particular admire the deep compression support offered by this multi-layered construction.
A unique feature of Novosbed is the ability to customize the mattress even after purchasing. If you find over time that the mattress is not as comfortable as you'd hoped, Novosbed will send you a firming or softening layer as a part of their free Comfort+ firmness adjustment kit. This is also part of Novosbed's commitment to sustainability – by making the comfort-level adjustable and customizable with added layers, you're less likely to dispose off the mattress and purchase an entirely new one.
Read our detailed Novosbed mattress review to know if it's the right choice for you!
Things plus-sized consumers need to pay attention to when shopping for a quality mattress

1. Mattress Dimensions
The overall size of the mattress is obviously going to be of significant importance, as well as one of the determiners of overall mattress comfort. If you sleep alone, consider a full or Queen-sized bed to allow yourself the space to roll over comfortably and change sleep position. Plus-sized couples should consider a King-sized bed so that each party has enough room to move. Even more than surface dimensions, however, full-figured customers should pay attention to the mattress's thickness. When weight is applied to the mattress and the mattress is pushed down, a too-thin mattress will more easily become compressed, perhaps even to the point that you'll begin to feel the bed foundation underneath. This is a guaranteed recipe for mattress-related aches and pains and poor sleep.
The recommended average mattress thickness for plus-sized sleepers is between 10-14 inches, but sleep experts recommend a thickness that is proportional to overall weight, as is indicated in the table below.
Weight Range
(lbs)
Recommended Mattress Thickness
(inches)
200 - 250
10 or more
250 - 300
12 or more
> 300
14 or more
2. Max. Weight Recommendations
It's not always a glamorous conversation, we know – but awareness of your mattress's maximum weight capacity is an important specification. Most brands are upfront about this information, but you may need to ask or do a little digging online if you're not sure. Couples should keep in mind that the mattress will be supporting both sleepers and will therefore need a mattress with a higher maximum weight capacity.
Most mattresses will support comfortably up to 300 pounds. For individuals or couples who exceed a 300-pound weight limit, brands like Winkbed or Big Fig have models that can support as much as 900 or even 1,000 pounds combined.
3. Firmness and Comfort Level
Plus-sized sleepers should keep in mind that most comfort descriptors are, unfortunately, designed with average-weight or slim people in mind. For full-figured individuals, mattresses will skew "softer" than their descriptors imply – in choosing a mattress already described as "soft", remember that you will likely feel more pronounced sinkage, making the mattress less comfortable than you would like.
Recommended firmness: Medium, Medium-firm
A medium or medium-firm mattress will still provide support for hips, back and shoulders, while providing a softness that doesn't feel like you're sinking into quicksand.
4. Support
A supportive mattress is key to relieving mattress-exacerbated aches and pains due to improper spinal alignment during sleep. Regardless of the comfort level of your mattress, it's important to find one made of supportive and resilient materials, such as latex and innerspring support cores. These materials are highly resilient, which means that the more they are compressed, the more the push back in return. A transition foam layer is also a great complement to these kinds of mattresses, because it ensures a progressive change in feel as your weight pushes the comfort layers and engages the firmer support.
Zoned support can alleviate pressure point-related aches and pains
Mattresses with zoned support prevent the formation of pressure points. Zoned mattresses allow less sinkage in the middle third of the bed, supporting the natural curvature of the spine. Thus, you enjoy a well-supported rest without any aches and pains.
5. Edge Support
Plus-sized individuals should consider a mattress with reinforced edges, otherwise getting in and out of bed can become a hassle. Soft edges compress under your weight to such an extent that you may roll off the bed.
Recommendations: Dense foam or lower gauge coils at the edges
Look for mattresses that have a separate foam perimeter of high-density edge foam, as they last longer and prevent premature sagging. Most hybrid mattresses use foam rails to secure the mattress's perimeter.
Some brands use lower gauge coils instead of foam. Such springs are thicker and more durable, but remember that these low gauge coils should only be present in the mattress edges and not in the layers themselves. High gauge coils are the ones used in a mattress's support core as they are softer and more comfortable to sleep on.
6. Bounce/Flexibility
The best mattresses for people with mobility problems – regardless of whether or not they are weight-related – should have a subtle bounce. The "bounce" is helpful when it comes to more easily changing positions during sleep or getting comfortable in and out of bed without having to apply too much force. Look for flexible materials like latex or innerspring – these are the best high-resiliency materials that will "push back" when compressed.
Recommendations: Latex or Springs in the support core
Memory foam has the least bounce. If you must have a memory foam mattress, look for one that also uses gel, charcoal, copper, or other springy materials to enhance its resilience. A relatively thicker layer of support foam or coils can be used in the mattress core to counter the sinking feel of the memory foam.
7. Temperature Regulation
A common complaint amongst plus-sized sleepers is that they sleep "hot", which can be very uncomfortable and disrupting to sleep. A breathable mattress will promote ventilation and keep you cool during sleep.
Recommended materials for a cooler sleep: Latex, Innerspring, and Hybrid mattresses
Foam traps heat more, especially high-density ones like memory foam. Innerspring mattresses are best for heat distribution, but without foam reinforcements, plus-sized sleepers may find them quite uncomfortable. Latex and Hybrid mattresses are the best choices as they combine support, breathability and surface comfort.
If you've got your heart set on an all-foam mattress, avoid "budget brands" and instead privilege brands using innovative mattress technology such as Winkbeds, Brooklyn Bedding, or Helix.
8. Durability
Let's face it – mattresses are expensive, and no one wants to run out and purchase a new one after just a few years of use. While mattress durability and longevity are important to all consumers, plus-sized shoppers are particularly concerned with durability as they may find that their mattress tends to sag more quickly than they'd like. Luckily, all consumers can ensure the longevity of their mattresses by choosing products made of high-quality, durable materials.
As a rule of thumb, no low-quality foam should be more than an inch thick. Since it will be the first thing to break down, it should only be used on the comfort surface and never in the support core of the mattress.
| Mattress Material | Durable Version |
| --- | --- |
| Memory foam | 5 lbs or higher |
| Polyfoam | 2 lbs or higher |
| Innerspring | 13 gauge or lower |
| Latex | Natural (Dunlop/Talalay) |
9. Delivery and Mattress Setup
Anyone who struggles with mobility knows that transporting and setting up a mattress can be a challenge. In fact, they may spend years with an old, broken-down mattress just for fear of having to struggle to set up a brand new one. Fortunately, most of the mattresses on the market today have delivery options that make new mattress setup relatively pain-free.
White glove delivery takes the hassle out of mattress setup
Many popular mattress brands such as Saatva offer complimentary white glove delivery – that is, a delivery person not only brings the mattress to your home but also sets it up and cleans the surrounding area. Some brands even offer a complete package with free old mattress removal. When shopping for a new mattress, inquire about their delivery and setup options – sometimes, all you need to do is ask!
10. Long-Term Maintenance
Few people think of a mattress as something that needs to be regularly maintained, but the truth is that no matter how durable a bed is, its lifespan shortens as it is consistently subjected to weight. Proper maintenance – such as flipping or rotating it for more even weight distribution over time – can prevent premature sagging and increase the lifespan of your mattress.
Recommendations: Choose a high or low maintenance mattress based on your own preference and with regard to any mobility concerns that you may have.
The best mattress for anyone with reduced mobility or other health concerns is one that requires the least maintenance. For instance, if you have heart problems or even a bad back, a flippable mattress may not be the best choice for you. Look for mattresses that requires rotating every six months (no less!) to help hold its shape.
If you are free of any health or mobility concerns that may make flipping a mattress or rotating it more difficult, feel free to choose a high-maintenance mattress and rotate or flip it every three months.
The Best Mattresses Materials for Heavy Sleepers
As we've seen, not all mattresses are created equal, and different body shapes and sizes have different needs when it comes to selecting a quality mattress. Pressure-point relief and proper alignment are particularly crucial for full-figured customers, making the ideal mattress for this body type one that is flexible and that conforms easily to the body. Here are some of the best mattresses for heavy sleepers.
Latex Foam – Cool and Durable
A Latex Foam Mattress
Latex is one of the best-rated mattress materials for both cool sleep and durability. Latex has a subtle bounce, allowing you to move in and out of bed quite quickly and without overexertion. Unlike memory foam, latex is quite responsive, so shifting sleep positions is easy and comfortable.
As a flexible material, latex doesn't develop body impressions as easily as foam, which means it will retain its shape and support longer than a foam mattress as it is resistant to premature sagging.
There are two processes by which latex mattresses are created: the Talalay process and the Dunlop process. Talalay latex mattresses are softer in comparison to Dunlop latex mattresses, which means that Talalay is preferred for use in comfort layer and Dunlop as support core. As firmer mattresses are recommended for plus-sized consumers, keep an eye out for mattresses with more Dunlop latex – they'll last longer and provide more support than those with more Talalay latex.
Popular Latex Picks:
Hybrid Construction – Abundant Mattress Varieties
A typical hybrid construction mattress
Hybrid construction offers balanced comfort and support to all sleepers. Mattress constructed with a hybrid of materials combine the contouring and hug of foams, and the flexibility and bounce of innerspring. For instance, while memory foam is the best for pressure-relief, a heavier physique will more quickly sink into the foam, making it difficult to move and compressing the mattress to the point that it may be uncomfortable to sleep on.
However, in a hybrid construction mattress, as your weight pushes the comfort foams down, the flexible support core innersprings will "push back", providing comfort and support as you sleep.
The pocketed coils of an innerspring mattress balance the lack of bounce in the outer foam layers. Bounce is very important for moving and changing positions with ease, and the air passages between the coils also improves the heat distribution of the mattress, which will prevent overheating during sleep.
As there are many possible material combinations when it comes to hybrid mattresses, there are no shortage of hybrid construction options on the market, so consumers truly have their pick of the litter. Hybrids are usually quite durable, but it does depend on the quality of the materials used.
Popular Hybrid Picks:
Innovative Technology Mattresses
Purple Hyper-Elastic Polymer Grid
Due to the unique sleep needs of heavy people, many brands are introducing innovative technologies into the mattress market.
Memory foam makes the best sleep surface for side sleepers. It's top-rated for pressure-relief, but the lack of bounce and heat retention may be problematic for those who change position a lot during sleep or who tend to sleep hot. Some brands – Novosbed – will use gel infusion and pores in foam to improve the breathability and flexibility of the mattress.
However, brands like Leesa and Brooklyn Bedding make their own viscoelastic foam blend. These materials have resilience similar to latex, making them bouncier and more supportive overall. Another such example is Avena foam by Leesa, famous for its balanced hug and support.
Brands like Purple have taken innovation to an entirely new level. Their no-pressure hyper-elastic polymer is quite popular for heat distribution and support. The new Purple line combines the grid layer and pocketed coils, offering a variety of options suitable for heavier individuals.
Bariatric Mattress – Are They Worth the Hype?
A Typical Bariatric Mattress
Over the years there's been an emergence of beds labelled "bariatric" that claim to be medically approved and recommended for overweight persons. Most bariatric mattresses say that they use high-quality materials that can support heavier weights, which is why they also come at a significantly higher price point than other mattresses on the market.
Bariatric is a medical term associated with weight-loss. Some people believe that these mattresses are intended only for bedridden, obese patients. Others relate them to those who've undergone bariatric surgery for weight loss. Another misconception is that bariatric mattresses conform to high-quality standards and are the most durable. The fact is that the use of bariatric mattresses can indeed be beneficial to larger individuals – primarily those who are classed as "morbidly obese" – but they are typically not necessary if what you're after is a comfortable, healthy sleep.
Additionally, not all mattresses labelled as "Bariatric" have design elements that a true bariatric mattress should have. In the end, it's the quality of the mattress materials that matters. A bariatric label doesn't imply that the bed is made for durability.
Come and visit us at SleePare!
Regardless of your body size or shape, every mattress material has its own unique feel. In-store mattress testing is an invaluable part of choosing a mattress that will lead to healthy, restful sleep.
Visiting our stores allows you the chance to test all of the brands mentioned here – and more! – before committing to a purchase. Our friendly and dedicated staff is well-trained to help you select the best mattress for you, based on a variety of criteria including sleep position and comfort preference, and to help you achieve comfortable and healthy sleep.
SleePare Stores
Ready to upgrade your sleep? Book a free in-store trial at the SleePare showroom, where you can find more than 20 online-only brands side-by-side under one roof.
Schedule an Appointment