Want to spice up your sex life?
Ditch your old bundle of hay, and get yourself the best mattress for sex! Any sleep surface good for couples must support sound sleep and comfy sex. In fact, the benefits of good intimacy go far beyond your bedroom. Research proves that lovemaking boosts immune system, reduces anxiety, and improves your overall health.
The market is full to the brim, with each mattress brand claiming excellence over the other. Therefore, our sex and sleep experts have joined heads and selected some of the best mattresses for lovemaking.
Top 10 mattresses for sex
| Brand | Mattress | Mattress Type | Best Feature | Trial Period | Warranty | Review Link |
| --- | --- | --- | --- | --- | --- | --- |
| | Leesa Hybrid | Hybrid | The Most Responsive Mattress | 100 nights | 10 years | Read Full Review |
| | Velika | Innerspring | Best Natural Mattress for Couples | Nil | 15 years | Read Full Review |
| | Winkbeds | Innerspring | The Most Durable Mattress for Couples | 120 nights | 10 years | Read Full Review |
| | Luft Hybrid | Hybrid | Best for Comfort and Targeted Support | 100 nights | 10 years | Read Full Review |
| | Brooklyn Aurora | Hybrid | The Best Value Hybrid Mattress | 100 nights | 10 years | Read Full Review |
| | Botanical Bliss 12-inch | Latex | Best for Adjustable Firmness | 100 nights | 25 years | Read Full Review |
| | Bear Hybrid | Hybrid | Best Mattress for Active Couples | 100 nights | 10 years | Read Full Review |
| | Avocado Green | Hybrid | Best For Overweight Couples | 365 nights | 25 years | Read Full Review |
| | Puffy Lux | Foam | Best for Maintenance | 101 nights | 25 years | Read Full Review |
| | Casper Wave | Foam | Best Cooling Foam Mattress | 100 nights | 10 years | Read Full Review |
Our Pick of Top 10 Best Mattresses for Sex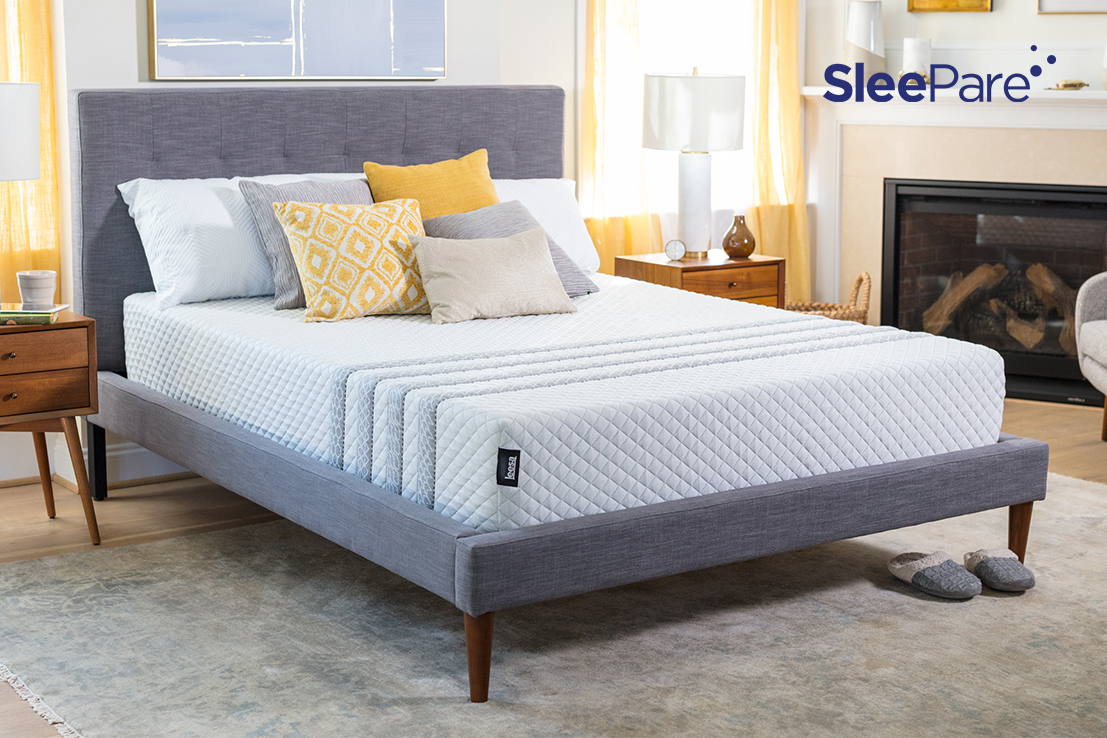 Customer Satisfaction Ratings for Leesa Hybrid Features
 

Comfort

Support

Temperature Regulation

Durability

Overall Value

Buy Now
Pros:
Breathable mattress with enhanced airflow
Ideal bounce for couples
Superior responsiveness
Amazing balance of comfort and support
Cons:
Unsuitable for overweight folks
Offered by one of the most popular online mattress companies, Leesa Hybrid could be a worthy bed for those who sleep with their partners. With an improved motion isolation technology, this bed is ideal for couples who sleep lightly or change sleep positions frequently.
A key feature that sets Leesa Hybrid apart is the bounce and responsiveness it offers, making it an ideal mattress for sex. These "latex-like" properties make your movements fluid on this mattress. While you are lying on your front, the mattress gives you a push-back feel that keeps the spine straight, allowing you to enjoy intimacy rather than getting a backache.
Leesa Hybrid is available in a medium-firm comfort level only. It offers a blend of both cushioning comfort and sturdy support. The innerspring support core keeps the mattress cool as things get hot. And, when you're done with your shenanigans, you can enjoy a comfy snooze in your bed. In short, this mattress is a worthy investment for couples who require a responsive bed without motion transfer.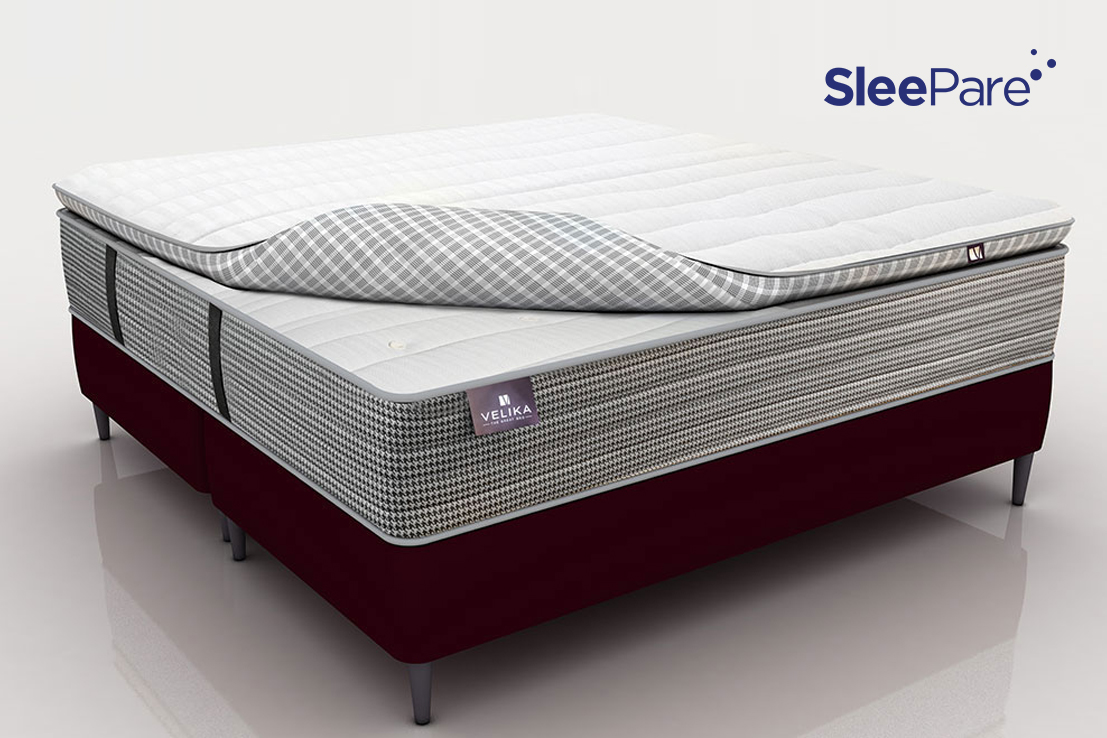 Customer Satisfaction Ratings for Velika Features
 

Comfort

Support

Temperature Regulation

Durability

Overall Value

Buy Now
Pros:
Eco-friendly construction
Super contouring Talalay latex
Flippable, dual-firmness mattress
Premium edge support
Cons:
High-value expensive mattress
Owing to its fine selection of natural materials, Velika is an entirely eco-friendly mattress. You can enjoy a health-promoting sleep on this mattress thanks to the presence of organic wool, natural cotton, and Talalay latex.
Velika bed gives you a perfect blend of comfort and support. It is a dual firmness mattress, so you can flip it to choose between the medium-firm and soft sides. The soft side is designed specifically for lightweight and petite individuals. However, you might prefer the medium-firm side for sex if you find yourself sinking too much when the weight is concentrated on one part of the bed.
The use of Talalay Latex ensures a subtle bounce with excellent contouring and is thus an excellent choice for couples who are at risk of back pain. Along with that, its LifeEdge™ mattress perimeter support allows individuals to roll to the periphery of the bed without falling off.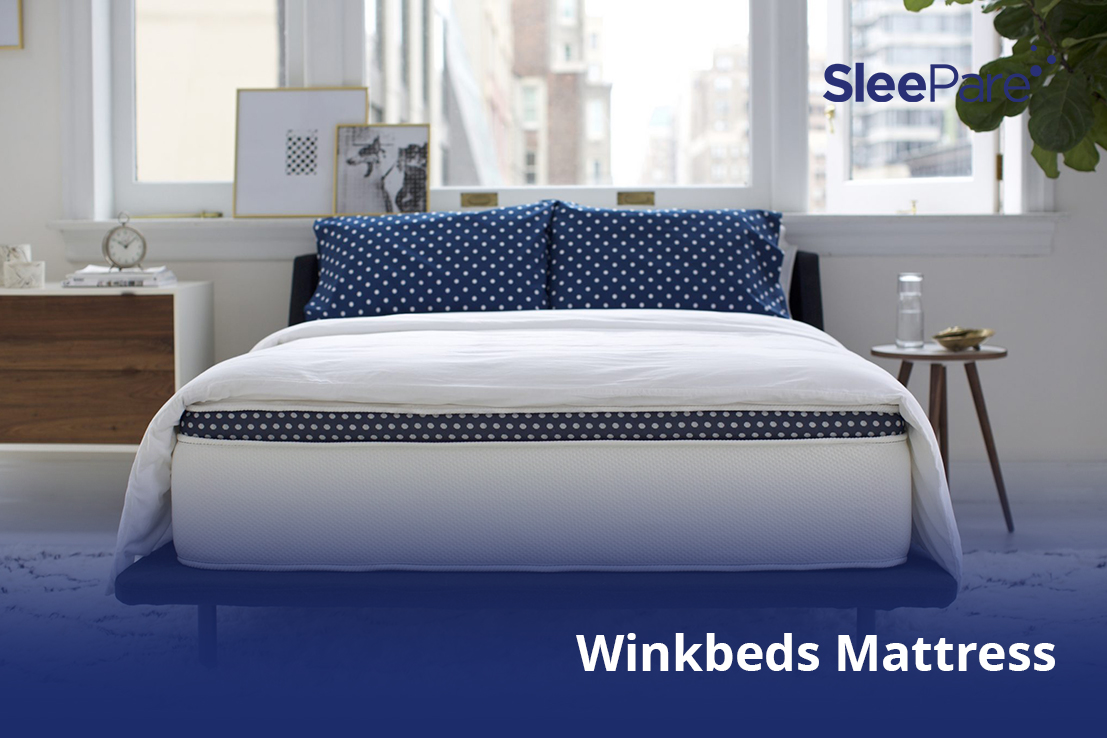 Customer Satisfaction Ratings for Winkbeds Features
 

Comfort

Support

Temperature Regulation

Durability

Overall Value

Buy Now
Pros:
Luxury innerspring mattress
Improved motion isolation
Best for hot sleepers
Excellent bounce
Durable high-quality mattress
Cons:
High-cost innerspring bed
Has only one firmness option
Durability is a major plus if you wish to get the best bang — for your buck or otherwise! The sturdy innerspring structure ensures years of pleasure and long term support. Top foams cover the coils for comfort and noise absorption.
Thanks to the presence of microcoils, the Winkbed conforms to your curves. Instead of resisting your movements, the mattress aids them, allowing you to find your rhythm. Two layers of pocketed coils also ensure bounce without motion transfer, making it a desirable bed for couples.
If you and your partner are overweight, you can try out Winkbed Plus model to remove the risk of bottoming out. The responsive and quickly adapting mattress materials offer the desirable firm, yet molding surface. Secure edges increase the area for sexual activities.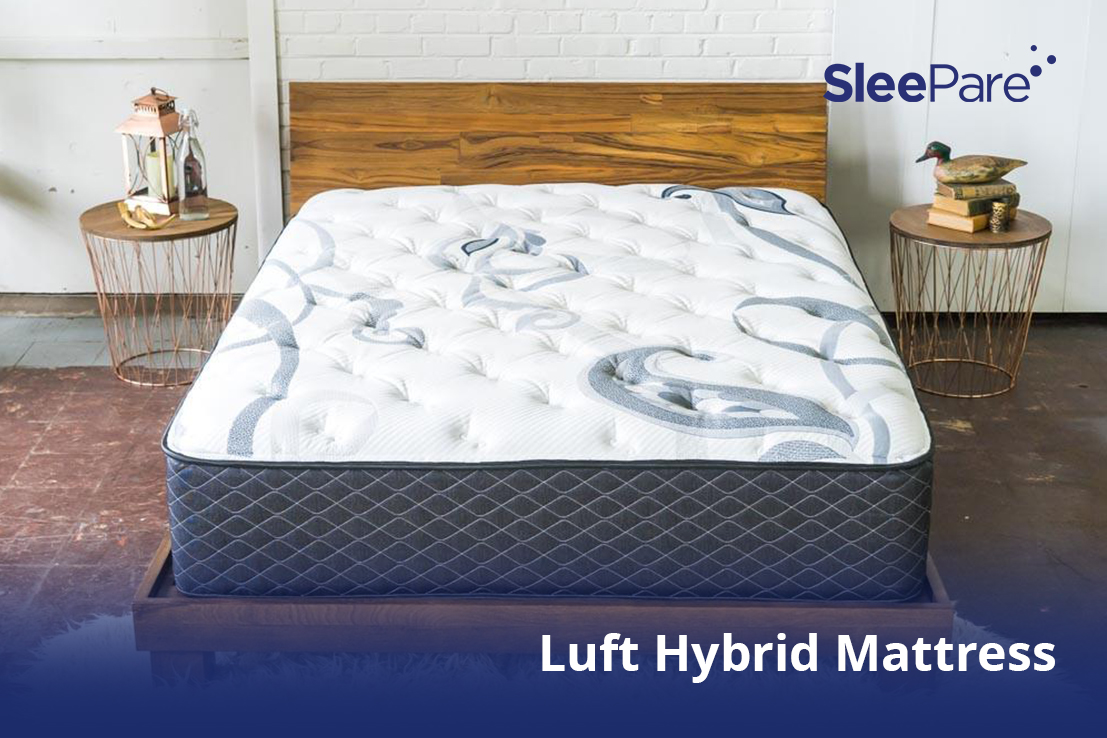 Customer Satisfaction Ratings for Luft Hybrid Features
 

Comfort

Support

Temperature Regulation

Durability

Overall Value

Buy Now
Pros:
Specifically designed for couples
Best for combination sleepers
Available in three comfort levels
7-zone targeted support
Amazing pressure-relief
Cons:
Slightly noisy during extreme movement
Luft Hybrid offers a variety of firmness options: medium-soft, medium-firm, and firm. The Luft mattress is specifically designed for couples, keeping their intimacy and rest requirements in mind.
The zoned pocketed coil layer in Luft Hybrid provides targeted support to key body parts. Moreover, the graphene memory foam distributes your weight evenly and offers amazing pressure-relief. The Serene foam transition layer allows for soothing comfort, while pocketed coils provide deep compression support.
As a result, you feel well supported, whether you're sleeping or having fun in the bed. The bounce, the responsiveness, and resilience are on point. Firm edges make you feel secure during sex. Lastly, the smooth and breathable mattress cover fabric is gentle to the skin and keeps the sleep surface fresh.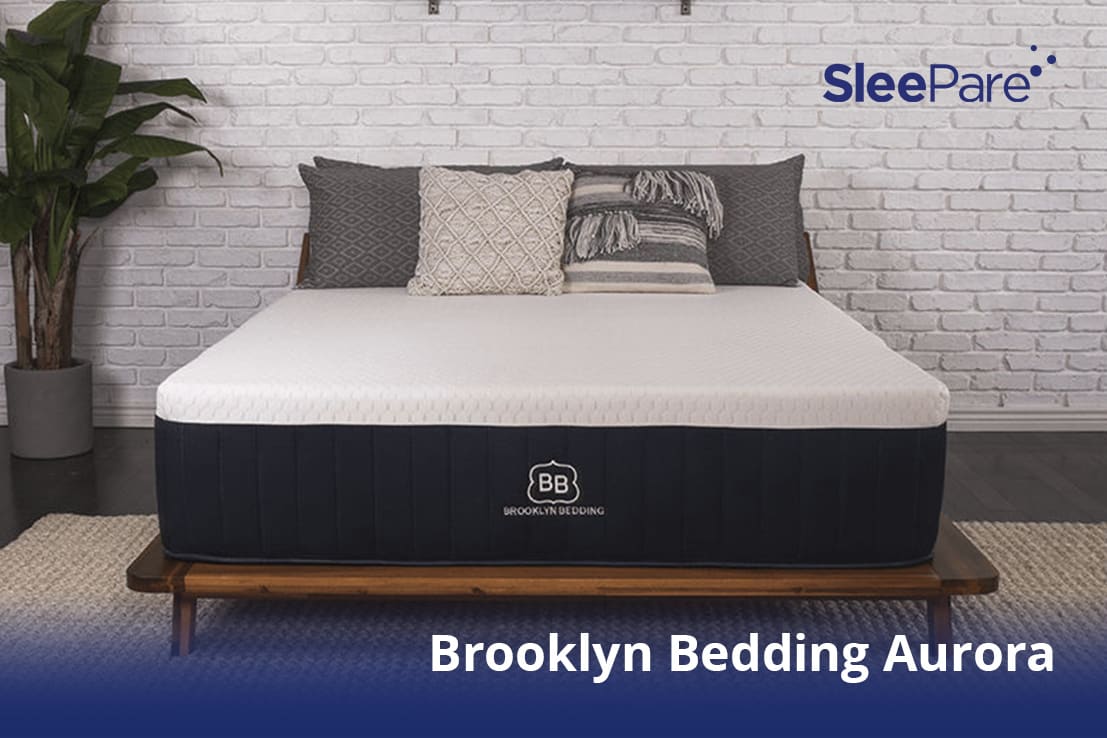 Customer Satisfaction Ratings for Brooklyn Bedding Aurora Features
 

Comfort

Support

Temperature Regulation

Durability

Overall Value

Buy Now
Pros:
Copper and titanium infused foams
Clean and cool mattress
High-value affordable hybrid
Excellent for skin allergy
Three firmness levels
Cons:
Unsuitable for people on a tight budget
Brooklyn Bedding Aurora is a luxury hybrid mattress for an affordable price. The brand uses proprietary foams infused with Titanium and Copper for a hygienic slumber. Its cool and crisp surface keeps you fresh when things get too hot.
TitanFlex blends viscoelastic comfort to latex-like responsiveness. The resulting feel is the best of both worlds with an excellent bounce and a little traction to complement the passion. The edges are secure, and a 13.5-inch height is suitable for those who like to start off standing.
Layers of foam allow you to enjoy discreet sex. Moreover, Brooklyn Bedding is a reliable company known for high-quality, durable products. So, your mattress is going to keep the neighbors out of earshot for many years to come.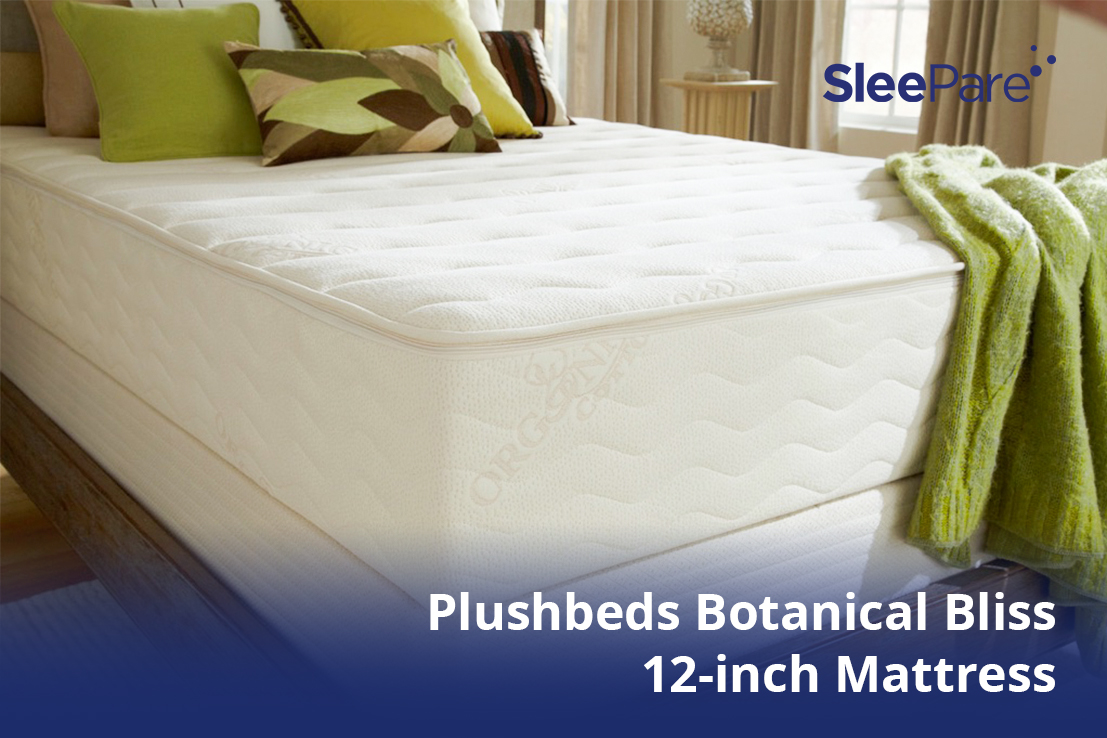 Customer Satisfaction Ratings for PlushBeds Botanical Bliss Features
 

Comfort

Support

Temperature Regulation

Durability

Overall Value

Buy Now
Pros:
Adjustable firmness
Naturally cool and germ-free
100% natural, eco-friendly mattress
Quick response time
Amazing bounce and support
Cons:
Unsuitable for people on a tight budget
The Plushbeds Botanical Bliss allows you to rearrange layers until you find your desired comfort. The natural Dunlop latex is responsive and bouncy but minimizes disturbance due to motion transfer. That's why couples with natural/organic lifestyle prefer Botanical Bliss as it makes intimacy comfortable and sleeps peacefully.
Latex has no noise, just like memory foam, but it adapts to position changes quickly. That's a great plus with latex, not seen in most other foams. The last thing you need to worry about is kids (or neighbors) hearing you huff and puff in the bed. Similarly, an uncomfortably sinking mattress limits your sexual positions and drains your passion.
Plushbeds Botanical Bliss is the best eco-friendly mattress for sex. Latex is truly allergen-resistant and represses the growth of bacteria and mold. The organic cotton cover keeps you sweat-free. It can be removed and spot cleaned along with the latex layer underneath.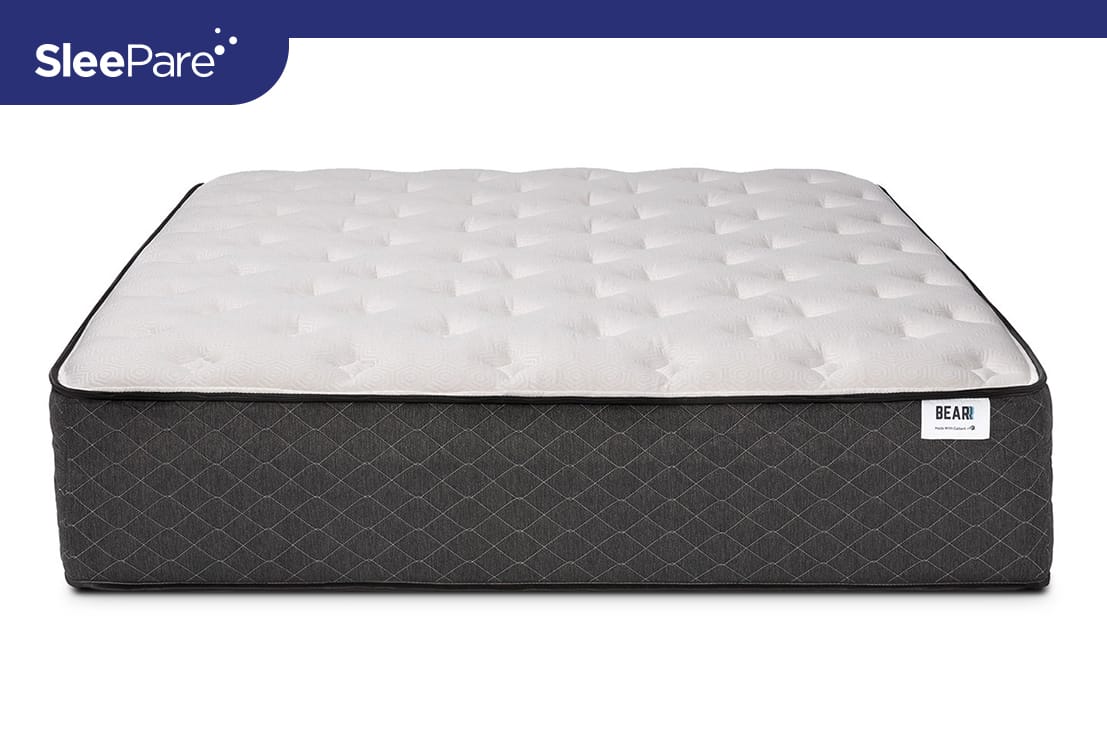 Customer Satisfaction Ratings for Bear Hybrid Features
 

Comfort

Support

Temperature Regulation

Durability

Overall Value

Buy Now
Pros:
Celliant technology for enhanced cooling
Enhanced performance and muscle recovery
Responsive pillow-top mattress
Improved blood circulation
Supportive for active couples
The more you huff and puff in bed, the more energy you release. Celliant yarns harness this energy to promote recovery and wellbeing. As you feel more rested and relaxed on this supportive mattress, you can concentrate on your feelings and passion.Bear Hybrid is a popular mattress, expertly-engineered to relieve achy muscles of athletes, fitness workers, and gymnasts. The Serene comfort foam and Quantum support core create a stable, pressure-relieving mattress surface. In addition, the remarkably cooling Celliant cover improves blood flow and ensures sweat-free intimate moments.
At the same time, Bear Hybrid ensures proper posture and spine alignment in every position to prevent backache and body pains. The bounce, the edge support, and motion isolation, all make Bear Hybrid the best mattress for couples who lead an active life.

Customer Satisfaction Ratings for Avocado Features
 

Comfort

Support

Temperature Regulation

Durability

Overall Value

Buy Now
Pros:
Certified natural and eco-friendly mattress
Handmade from recycled and sustainable materials
Superb cooling and breathability
Best for overweight couples
High-value healthy mattress
Cons:
Unsuitable for lightweight side sleepers
Avocado is another excellent option for overweight couples. An optional pillowtop makes it a preferable choice for people who like a softer mattress to support their bedroom antics. It's a simple latex hybrid mattress without any extra bells and whistles.
The mattress uses wool for sweat control and heat dissipation. However, they have a special vegan model with cotton batting instead of wool. The latex and coils offer the best bounce for finding the rhythm and reaching the climax effortlessly. It's the best bed for sexually active couples who love experimenting in bed.
The luxurious cotton cover keeps them cool and fresh at all times. But this also means that fluids can seep into the latex layers. Being naturally hypoallergenic, the fluid left after spot cleaning shall have little effect on the overall hygiene. But to eliminate the risk of germs growth and to enhance the lifespan of your Avocado, it's best to use one of the best mattress protectors for sex.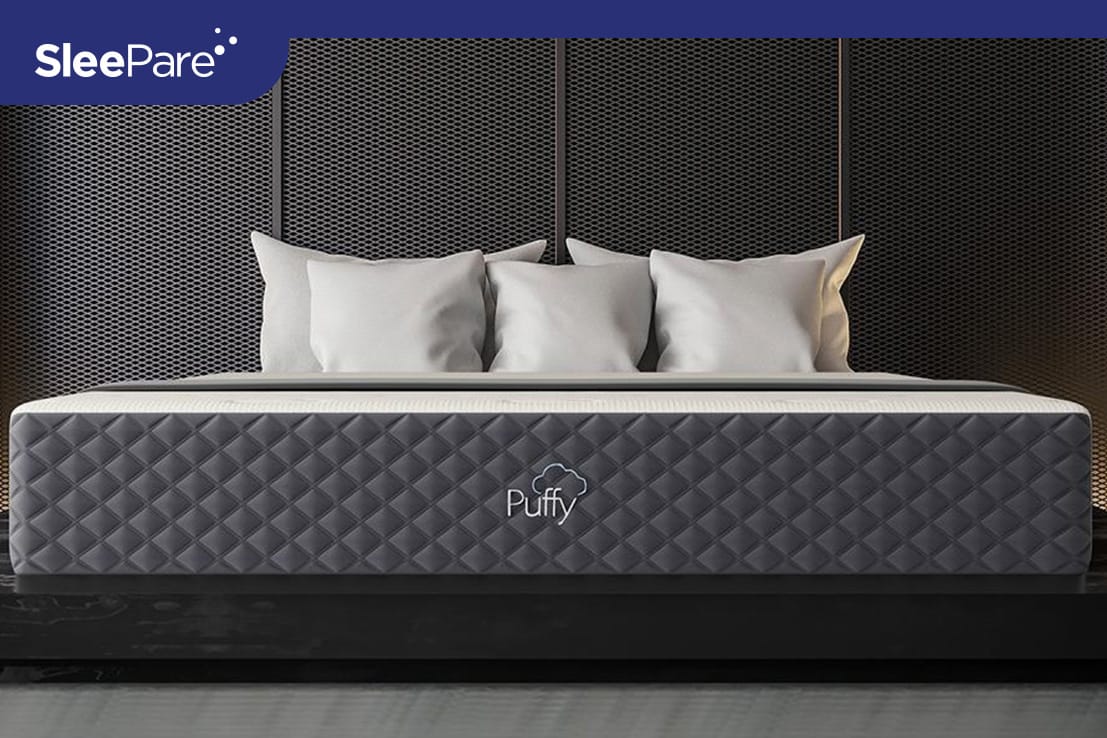 Customer Satisfaction Ratings for Puffy Lux Features
 

Comfort

Support

Temperature Regulation

Durability

Overall Value

Buy Now
Pros:
Great for cooling
Easy to clean and maintain
Gradually increasing support
Great edge support
Cons:
Low bounce
Not ideal for heavy folks
Heat distribution and easy cleaning are the forte of Puffy Lux when it comes to lovemaking. It's an all-foam mattress with gradually increasing support as you engage more layers. The foams adapt quickly and allow fluid, effortless motion, making it the best foam mattress for sex.
Puffy Lux is rated best by couples who prefer a foam mattress without much rebound. If you struggle to find your rhythm on a bouncy spring mattress, Puffy Lux is what you need. The sturdy base foam offers excellent support on deep compression due to concentrated weight.
The removable zippered cover is machine washable; no more messy aftermath for you! The fabric is stain-resistant, and you can easily wipe everything off to enjoy a peaceful slumber or after-sex cuddling.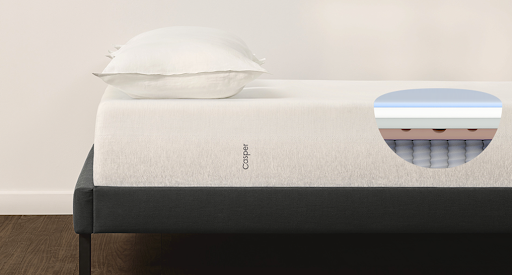 Customer Satisfaction Ratings for Casper Wave Features
 

Comfort

Support

Temperature Regulation

Durability

Overall Value

Buy Now
Pros:
Resilient foams with good bounce
Enhanced comfort
Maximum pressure-relief
Amazing motion
Zoned support for backache relief
Cons:
High price tag
Unsuitable for people with a bigger build
This all foam, bed-in-a-box mattress is one of the best mattresses for hot sleepers. Casper Wave is made of five premium foam layers, including memory foam and latex. The support core is made of high-density polyfoam that offers excellent support in conjunction with the gel pods above it.
The presence of both latex and memory foam ensures a true medium firmness. You can enjoy a perfect balance of comfort, support, and pressure-relief. The sleep surface is a thin layer of Flo foam. It regulates the airflow continuously and keeps you cool by distributing excess heat of your body.
Casper Wave is best for bed-sharing both for sleep and sex. It has excellent motion isolation, given the all-foam construction. At the same time, the bounce from latex lets you have all the fun you're craving for.
Buying Considerations for the Best Mattress for Sex
A Good Mattress for Sex Enhances Intimacy Pleasure
Lovemaking is more than having sex and getting a release. It's an exchange of energies between two intimate souls, a healing process, more profound than sleep itself!
A fulfilling sexual experience plays a healthy role in a couple's happiness and relationship. Therefore, it makes sense to consider the factors that make a bed best for sex while buying the best mattress for couples.
Best Mattress Type for Sex
Mattress Types
Bounce
Comfort
Noise
Temperature
Durability
Ease to Clean
Memory Foam
Poor with excessive sinkage
Conforms well and prevents pressure points
Noiseless
Retains heat
Excellent
Fluids may seep in and encourage bacterial growth
Innerspring
Responsive with excellent rebound
Supports the weight and offers a lot of traction
Can be noisy and squeaky
Cool or neutral
Fair
Fluids may damage the coils
Hybrid
Excellent support with easy position adjustment
Relieves pressure and provides balanced surface for sex
Minimal. Foams absorb coil creaking
Neutral
Good
Fluids may damage the coils and encourage bacterial growth in foams
Latex
Extremely responsive with just the right bounce
Prevents pressure points and is generally comfortable during sex
Noiseless
Cool
Excellent
Relatively easier to clean and naturally hypoallergenic so discourages germs growth.
Waterbed
Superbly bouncy but depends on waterbed type
Contour well and distribute weight evenly, preventing pressure points
Minimal noise if filled properly
Chilled
Good
Vinyl surfaces are effortless to clean
Air bed
Somewhat bouncy and responsive
Usually uncomfortable for sex unless foam or pillow top version
Noiseless unless it has leaks or blows up during sex
Neutral to warm, depends on the construction
Fair
Easy to clean. Top foam layers (if present) are difficult to clean
1. Comfort
Comfort is always the first and the foremost criteria for evaluating a mattress, and it stands true for lovemaking as well. They say that every good sex starts from the mind. If you and your partner are uncomfortable, you cannot enjoy physical intimacy. A good mattress for sex must first be comfortable for both you and your partner.
When you aren't relaxed, your focus shifts away from your partner to your sore knee or numb arm. Mattress comfort is highly subjective but somewhat firm; flat surfaces work best for amorous activities. Comfort is also crucial for your rest and recharging afterward. Therefore, choose the comfiest mattress, best for both sex and sleep.
2. Bounce
Bounce is the push back you experience when you press down the mattress. A surface with good bounce resists and rebounds when pressed, instead of absorbing the pressure. As a result, achieving a rhythm becomes easier and effortless for most couples. That's why most good mattresses for sex have a quick response.
However, a small minority finds bouncy mattresses disturbing. They complain about struggling to find their pace. Others feel as if they're jumping off a trampoline. Most of these complaints arise from excessively bouncy beds like free flow waterbeds, not the best mattress to have sex on!
3. Noise
No one wants to make their orgasm a public announcement to kids or neighbors. Nothing ruins the moment like clinks and creaks of the mattress coils. Noise is a serious consideration for a good mattress for sex whether you live alone or in a shared setting.
Noise also diverts your attention away from your partner. It becomes hard to get into the mood. Squeaky beds are annoying, but when the bed groans at your climax, it feels like a bad joke. The passionate moments of mind-blowing sex dull down to mere intercourse that you can't wait to end!
4. Temperature
When things heat up, your mattress should be able to keep its cool. Physical intimacy generates a lot of heat. With the rush of hormones, your heart rate increases, and so does your respiration. Lovemaking requires energy no less than aerobics.
Most people dislike sweaty sex and if you're one of those, choose a good cooling mattress. If you're not sure, you can select adjustable temperature mattresses like Sleep Number so you can enjoy the ideal temperature at all times, whether making out or basking in the afterglow.
5. Durability
Anything that distracts you from your partner is going to ruin your intimate moments. And, a sagging old mattress does just that! The best bed for sex needs to support two or more adults moving, changing positions, and making love passionately.
Pay attention to the foam densities as they directly translate to mattress quality. Brand reputation is important. Don't forget to read customer reviews, especially older reviews to know whether the mattress holds a few years down the road.
6. Ease to Clean
Not romantic, but quite necessary. The aftermath of sex can be quite messy, and most mattress covers are non-waterproof, non-stain resistant. Cleaning your mattress before fluids seep in is crucial for long-term usage as well as hygiene. That's where mattress protectors come handy. The best mattress protector for sex must be easy to wipe off and prevent fluid seepage.
You can also buy mattresses with removable and machine washable covers to minimize the possibility of damage. Remember that any stains void the mattress warranty. Over time, fluid buildup deteriorates foams and encourages germ growth. Luckily, cleaning a mattress is quite easy, and proper maintenance enhances the life of your product.
Finding a good mattress for sex and sleep is easy in this age of online shopping. Now that you know all the nitty-gritty don't forget to be naughty at your mattress hunt. Discuss all the fun ways you can use your new bed and keep them in mind while testing in store. Don't overdo it though — not in the showroom!