According to a survey published on Statistic Brain, over 43% of the Americans are still fond of offline mattress shopping, even after a surge of bed-in-a-box companies on the market.
Goes to show that around half of the US population, including adults and elderly, feels that interacting with a bed before buying is necessary to assess product features and quality. Checking out a product in real time helps them in making better decisions for sleep improvement.
And that's why, even though the online mattress industry has skyrocketed in the country, a vast number of people are still choosing to go for the conventional shopping experience.
But why so?
Benefits of Offline Mattress Purchase
Although a majority of people believe its time and energy consuming, but buying a mattress from an offline source has its advantages. Following are a few reasons why consumers are opting to buy beds from a physical store.
New York City - Hub of Mattress Showrooms
A plethora of mattress stores are located in New York City, as it is the hub of thriving businesses and eager customers with sleep problems, seeking new products on a daily basis.
Besides the third party retailers, various online bed-in-a-box brands have also opened up their showrooms to give their consumers a chance for mattress testing. The latter sensed that a large proportion of their potential buyers were skeptical about purchasing a product without trying it first. Hence, online mattress companies paved a path into the physical store area to meet customer demands.
SleePare Store – Over 20 Online Brands, Under One Roof!
Tired of going from one brick and mortar store to another, testing products at separate places? It's not only time and energy consuming, but you'd also be spending a lot on travelling!
Since its establishment in 2017, the Manhattan-based SleePare showroom has been serving customers seeking one place where they can try all the trendiest online mattresses. Various mattresses, pillows, and bedding merchandise by more than 20 brands are on display here.
Here is a list of all the mattress brands offered at SleePare Manhattan mattress showroom.
You can test these items side by side and compare features, prices, and other relevant factors to make a more informed decision about buying a bed. After getting an appointment, you can nap for up to 20 minutes and assess which mattress is best for you.
There is a strict no sales-pressure policy, allowing you much-needed space to explore products without any difficulty and nagging salespeople. If you require professional assistance, we have an experienced chiropractor, Dr. Steven Shoshany, to help you find the right mattress to suit your specific needs.
All in all, SleePare is a clean and refreshing platform for a memorable mattress shopping experience.
So if you are a resident of NYC, here we are listing the 10 best New York-based online mattress brands offering showroom experience, besides SleePare.
Brand
Headquarters Location
New York Store Location
Most Popular Products
Best Known For
Customer Satisfaction

(Excellent, Good, Fair)

3200 Pacific Ave, Virginia Beach, VA
Leesa Dream Gallery 112 Wooster Street, NY
Impressive social impact programs
Excellent
Visit Website
12 Hudson Place, Suite 100 Hoboken, NJ
12 Hudson Place, Suite 100 Hoboken, NJ (near NY)
Chemical-free and non-toxic latex sleep products
Good
Visit Website
230 Park Avenue South 13th Floor New York, NY
627 Broadway, NY;
125 Westchester Ave, White Plains, NY;
185 Greenwich street, NY;
160 Walt Whitman Rd, Huntington Station, NY
Ergonomic support
Excellent
Visit Website
835 San Pablo Ave, Albany, CA
196 Bowery Street, NY
Innovative designs and various mattress types available
Good
Visit Website
N/A
166 Bowery Street, SleePare, NY
Eco-friendly, unique and firm airFiber foam
Excellent
Visit Website
123 East 200 North, Alpine, UT
166 Bowery Street, SleePare, NY
Innovative foam with heat distributing technology
Excellent
Visit Website
68 Division St, San Francisco, CA
44 Mercer Street, New York, NY 10013
Multiple models to suit varying sleep needs
Fair
Visit Website
14 East 4th Street, Room 404, New York, NY
1123 Broadway #613, NY
All firmness levels available
Good
Visit Website
350 N Gilbert Road, Suite 104 Gilbert, AZ
166 Bowery Street, SleePare, NY; 611 Broadway, Crate & Barrel, NY
Budget friendly choices
Excellent
Visit Website
16925 Park Circle Drive Chagrin Falls, OH
Naturepedic Organic Mattress Gallery 245 E 60th St, NY
Natural and organic products
Fair
Visit Website
1. Leesa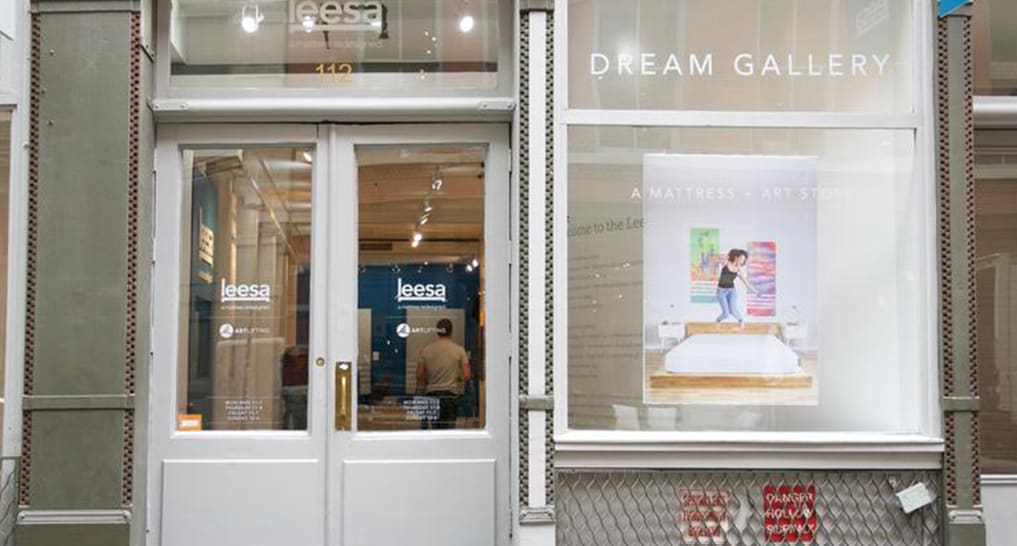 A+ BBB rating
Open 7 days a week
Instant delivery available
Mattresses, pillows, and bedding available
Only 2 showrooms; located in SoHo, NYC and Virginia Beach, VA
Closed on Christmas and New Year's Eve
Same-day delivery costs $150 to $175
Located in the bustling neighborhood of SoHo, the Leesa store is one of the most popular New Yorkers' go-to for mattress shopping. The brand also has a showroom and the headquarters in Virginia Beach.
If you're looking for high-quality foam mattresses, supportive pillows, soft blankets, and comfy bed sheets, Leesa is the ultimate one-stop shop for all your needs. Their prices are also quite affordable, and customers are often happy with their purchase.
The showroom displays a wide range of sleep products, including Leesa and Sapira mattresses, for testing before you make a final decision. Leesa Dream Gallery offers a clean and refreshing shopping experience and donates one out of every ten beds to refuge-seekers.
You can also compare Leesa mattresses alongside other equally popular products at SleePare showroom in New York.
2. Avocado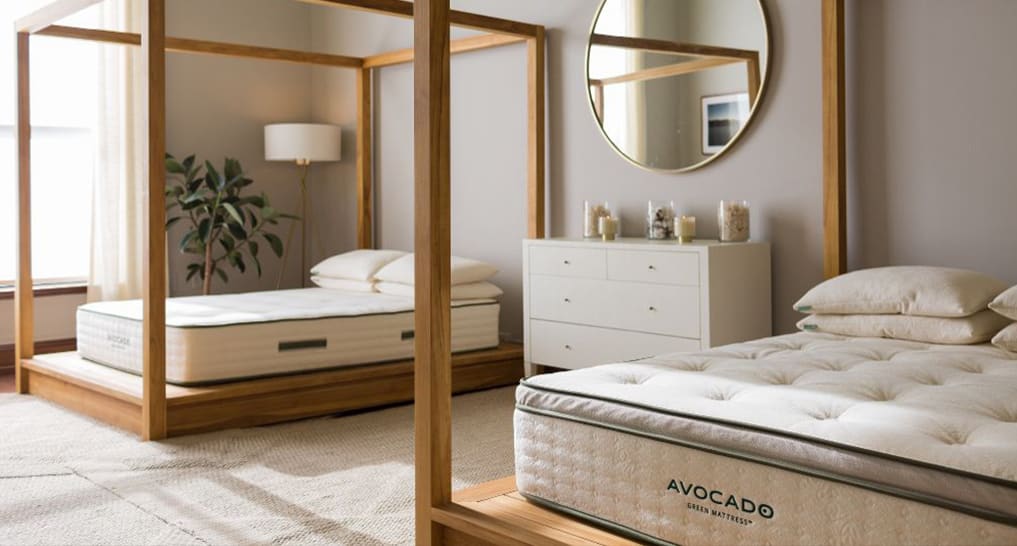 4.6 stars Consumer Reports rating
Open 7 days a week
Mattresses, toppers, pillows available
Fillings showcased for consumers
Only one store
Not available for trial at SleePare
Avocado Green, started in 2015, is an eco-friendly bed-in-a-box company which gradually gained a large clientele in the country through their remarkably designed mattresses. By using all-natural materials in their products, they have specially caught the eye of health-conscious consumers.
To try out their amazing variety of latex mattresses, toppers, and pillows, head over to their showroom called The Avocado Experience Center near the glamorous city of NY. The clean environment, eye-catching cityscape, and friendly salespersons greet you and help you find the most suitable merchandise.
The brand's prices are slightly high, but the numerous certifications, endorsing their sustainability and latex non-toxicity, makes them worth every penny!
3. Casper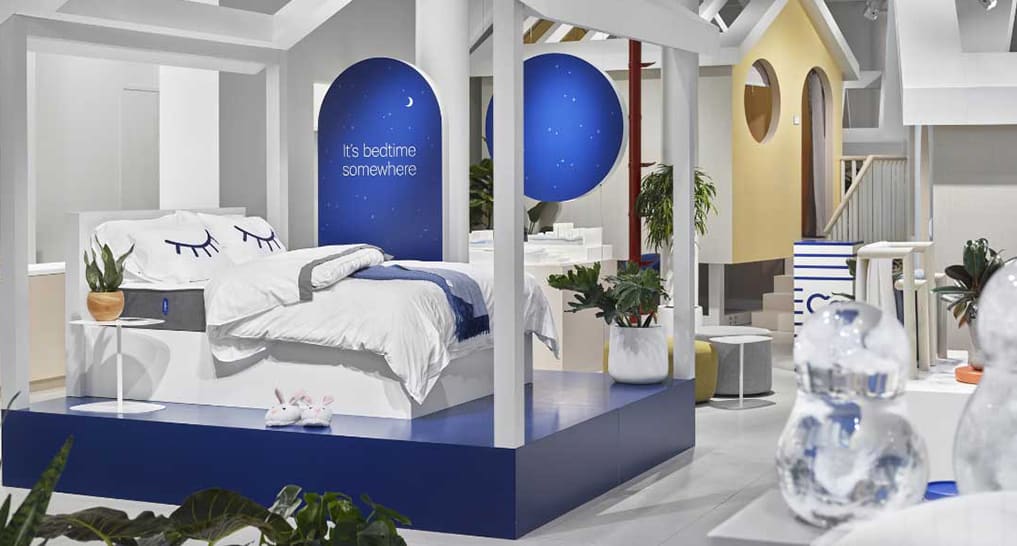 A+ BBB rating
Four showrooms in travel friendly NYC spots
Mattresses, pillows, and bedding items on display
Knowledgeable staff for guidance
Casper Essential not available for showroom trial
Operates only 5 days a week
Mattress testing is not free
Casper Sleep started as a groundbreaking online mattress company and within a short time, successfully improved the slumber experience of millions of Americans. The brand lives up to its promise of providing the Best Bed for Better Sleep to everyone at market competitive prices.
With four showrooms in NYC and over 30 across the country, Casper offers excellent opportunities to test mattresses and various bedding essentials before purchase. This way, you won't have to hesitate to invest in a product.
In order to sleep for 15 minutes on a mattress to assess features such as comfort and support, Casper shops require a small payment of $25 — but you do get a complimentary coffee for free!
But if you're interested in a completely free trial, head over to SleePare. You can test Casper alongside 20 more brands and find out which one is best for you!
4. Nest Bedding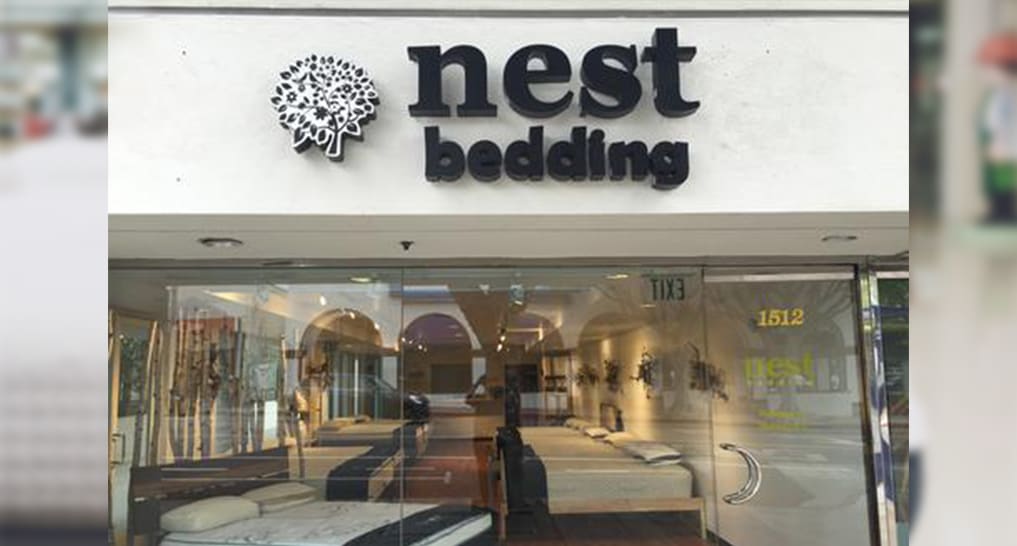 A+ BBB rating
Opens seven days a week
Professional and knowledgeable salespeople guide you at every step
Mattresses, pillows, toppers, comforters, blankets, sheets, duvets available for testing.
Some showrooms are known to be shabby
Nest Bedding is an online mattress brand, aiming to make luxury sleep products, made with environment-friendly materials, affordable for all. Since 2011, the brand has been crafting high-quality and innovative mattresses and bedding essentials for people with unique sleep needs.
The warm and cozy showroom offers a wide range of sleep products on display for consumers. The brand's expert non-pushy salespersons, known as Nestologists, assist you in getting your dream mattress through their professional opinions.
If you wish to compare Nest Bedding mattresses with other online brands, SleePare is just the right place to drop by! You can sleep on different beds for some time and find the best price mattress for you.
5. Airweave
Originated in Japan
Can be tested at SleePare store
Hassle-free delivery and returns
Only available for testing in NYC
Airweave is a mattress company that was first established in Japan. The owner discovered a natural and toxic-free way to create a unique foam called airFiber, made of the same material as a fishing line. After further experimentation, the first proprietary airFiber mesh Airweave was introduced on the market.
Experts believe Airweave is one of the best mattresses for back pain. But if you'd like to experience it firsthand and try before buying it, we suggest you visit SleePare showroom. You can lie down on the bed for some time and see whether it feels good to your back region or not.
6. Purple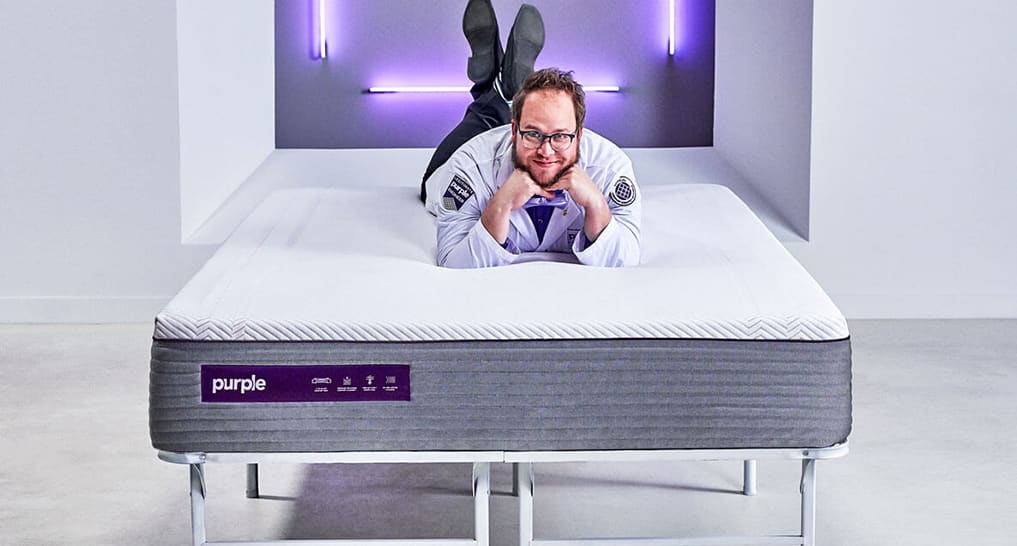 A- BBB rating
Mattresses can be tested at SleePare
Main showroom is in Utah
Closed on holidays
Purple is a brand known for its exceptionally designed hyperelastic polymer foam mattresses, that is quite different from the traditional beds. Consumers love the firm, yet contouring, feel of their products. You can purchase mattresses, cushions, pillows, and sheets from their online store.
The company's main store is located in Utah. However, you can try their sleep products in real time across various showrooms in the US. To compare Purple mattresses with other trending online brands, you can also visit the peaceful and quiet SleePare showroom with no nagging salespeople.
7. Keetsa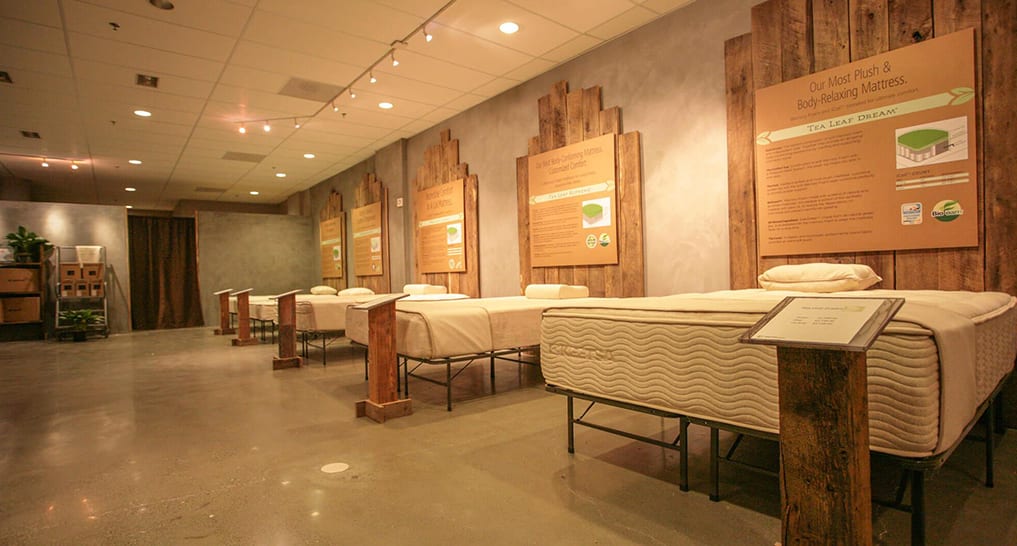 A+ BBB rating
Various varieties of mattresses available
Experienced sleep guides to help with mattress selection
Immediate delivery from store to home
Showrooms are located only in NY and California
Not available for trial at SleePare
Nestled in New York and California, Keetsa opens its doors to well-lit, cozy showrooms. Friendly staff and inviting aura leads you to enjoy a stress-free shopping experience.
The Keetsa sleep shops offer you a comprehensive guide tour to help choose the best mattress from numerous choices. You can also try their cozy pillows and bed bases before investing. Thanks to its customer-centric approach, the store offers a soothing cup of coffee and a hygienic, relaxing environment for mattress shopping.
8. Helix Sleep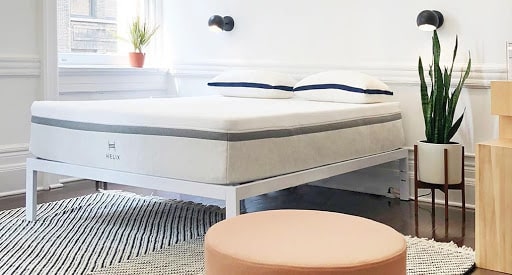 A+ BBB rating
Skilled sleep specialists
Variety of customizable mattresses and pillows
Professional consultation before you make a purchase.
Only appointment-based visitation
Need to rebook an appointment, if missed the grace time
For a personalized shopping and mattress testing experience for Helix sleep products, visit their Flatiron District Showroom in NYC. Book an appointment with a sleep specialist for so you can rest for 15 minutes on different mattresses and find the perfect choice for your body.
The brand believes not one solution fits all and that is why, they have a wide range of customized beds, adjustable pillows and bed bases. The professionals help you at every step to find the ideal product to suit your budget and personal preferences.
In case you'd like to test Helix Sleep mattresses alongside other trending mattresses such as Casper, Tuft and Needle, Sapira etc, you can visit SleePare showroom for wholesome sleep surface testing — for no cost!
9. Tuft and Needle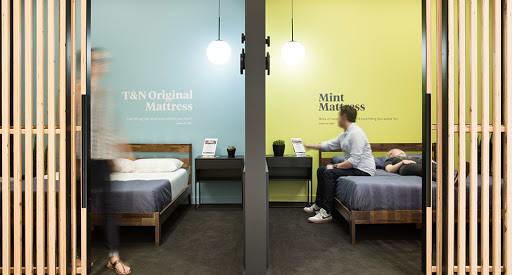 Multiple store locations across the country
Customer-friendly salespeople with years of industry experience
Impeccably clean and well-maintained showrooms
Not available for immediate delivery
Tuft and Needle offers mattress testing experience in different showrooms spread across the country. If you live in New York, you can check out Tuft and Needle sleep products at SleePare or Crate and Barrel showrooms.
SleePare offers you a chance to assess the feel, comfort, price, and overall support of their beds while comparing to other popular online bed-in-a-box companies. The experienced professionals with deep industry knowledge will help you find the best price mattress in a comfy and relaxing atmosphere.
10. Naturepedic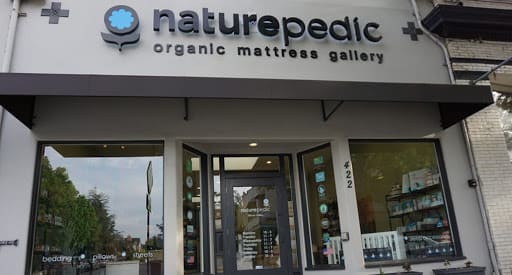 Multiple stores across the US
Works 7 days a week
Numerous products available for testing in-store
Clean and welcoming environment
To explore a wide range of luxury and natural sleep products by Naturepedic, you should visit their beautiful showroom in NYC. They showcase a number of high-quality mattresses, sheets, pillows, and even kids' beds for firsthand trial. The impeccably clean and tidy environment, coupled with friendly and helpful sales people makes your shopping trip memorable and rejuvenating.