Nectar Mattress Trial at SleePare Tysons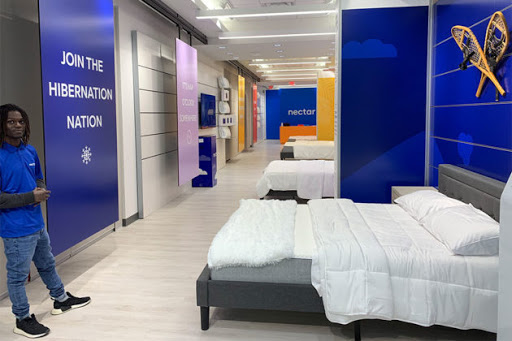 Visit our luxurious mattress showroom in Tysons for testing and buying Nectar mattress. Our sleep experts match you with an ideal product to fulfill all your sleep needs.
Have a chat with the sales staff, discuss your requirements, and take your time to test the beds. No one will try to rush you into a sale!.
Skilled Professionals as Sleep Experts
SleePare showroom has a team of highly skilled and professional sleep experts with years of experience in the mattress industry.
Since we focus on understanding your needs to suggest suitable products, our sales staff goes through rigorous training in sleep and products on display. Hence, they are well versed with the product features and are fully capable of matching you with the perfect beds.
Our professional approach and thorough consultation sets us apart and earns us unmatched customer loyalty.
Scheduled Visits
You can drop by anytime at any of our showrooms and test the mattress. However, we encourage appointment-based visits as it allows us to design a more personalized mattress shopping tour for you.
Informing us beforehand will ensure the availability of a particular brand or mattress type you are interested in buying. If you intend to take the mattress directly with you, our sales team will assist you throughout the process.
Wide Collection
Do you know about any other mattress store besides SleePare, with more than 30 online mattress brands at its showrooms? So, visit us and test all of the Nectar products in one place. You can also compare them with products of other popular brands, such as Puffy, Velika, Leesa, and Casper.
We also help you navigate this vast collection; each bed has a brochure with specs and prominent features. All you've got to do is scan the info and short list the ones that fulfill your requirements the best.
Avail Free Nap Trials
Unlike other mattress stores, SleePare offers a free 30-minutes nap trial to its customers. A 10-15 minutes sleep trial that you find in most showrooms, is quite short for complete interaction with the mattress.
SleePare's perfectly-timed nap trials allow you to experience the support, comfort, firmness, and other features of the mattress that may affect sleep.
Get Discounted Price on Everything
From mattresses to sheet sets and pillows, SleePare is your one-stop shop for buying sleep products at a fair price. We also hold seasonal sales to offer quality mattresses and bedding at a fairly discounted price.
Do you want to buy Nectar at a budget-friendly rate? At SleePare, you can save anywhere from 10% to 50% through various sales and promotions. We also contact our partner brands from time to time, to get exclusive discounts for our worthy customers.
Same-day Delivery in Tysons
With SleePare, you can get your Nectar mattresses and other sleep products delivered at your doorstep the very same day you purchase them. This offer is valid for the lucky residents of Tysons only. At the same time, if you wish to take the mattress home yourself, we gladly serve as a pick-up point without any additional cost.