Discover The "New Washington D.C."
Locals Love Tysons As A Washington D.C. Alternative
Tysons, Virginia is the definition of an "edge city": a place outside of the traditional downtown area of a city that has a cluster of entertainment, shopping, and excellent cuisine. What once was rural farmland is now a development that is garnering attention in its own right. Though Tysons is growing rapidly, it's still an excellent spot to get away from the tourism and bustle of daily life in Washington D.C. proper.
Tysons, Virginia has seen a massive economic boom over the last 70 years. Formerly known mostly for its lush farmlands and peaches, Tysons is now a major competitor to its Washington D.C. neighbor. Tysons is now home to "more Fortune 500 companies (nine vs. four), enjoys a much lower unemployment rate (4 percent vs. 8.7 percent), is bookended by two airports and, with Metro arriving, is slated to add dozens of buildings taller than anything in the District," according to an article from the Washington Post. Tysons is the nation's 12th largest business district, home to company headquarters like IBM, AT&T, Boeing, and Capital One, giving D.C. a run for its money.
Not only is Tysons an edge city growing in intrigue for its booming business sector, but it is also home to Tysons Corner Center, one of the largest upscale malls in the country. This mall services local Tysons and surrounding area residents for all of their fine dining, entertainment, and new mattress shopping needs. After a day of shopping, find refuge at the local SleePare store and schedule a nap right in the middle of the day! Shopping just got a whole lot more fun when you know that you can take a blissful 30 minute nap in the middle of the day at SleePare in Tysons Corner.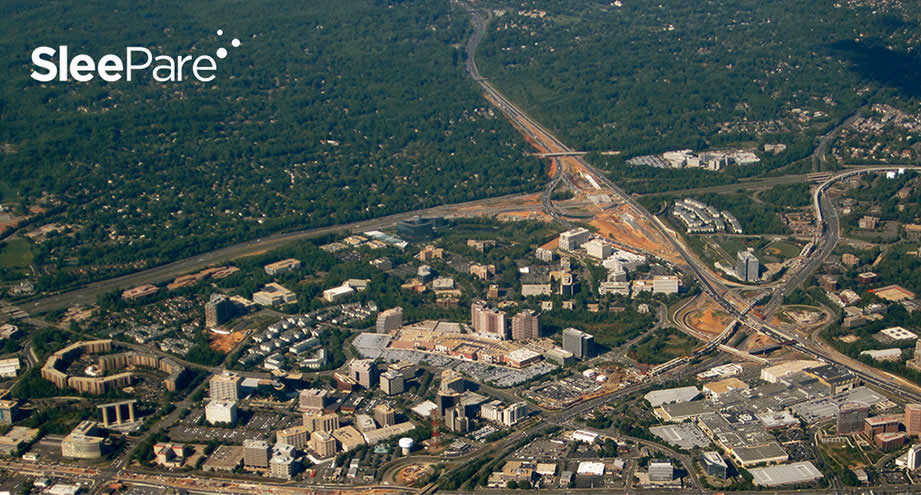 Relax Outside Of The City And Delve Into The Elements
Though Tysons is undoubtedly growing, it's still a perfect in-between of city and countryside life. There are numerous parks and spots to enjoy natural elements in and around Washington D.C., but even more surrounding Tysons. A great way to visit the city and enjoy the beautiful natural elements of the countryside is by bike. Exploring the extensive network of bike paths from Washington D.C. to Tysons is an excellent way to exercise both your mind and body, leaving the stress of the city behind.
Tysons is a "bike-friendly destination for employees and shoppers who choose to bike to the shopping center. There are bike racks located at various locations outside of the shopping center where employees and shoppers can securely lock their bikes." Make a whole day out of your biking adventure with family and friends. When you start from Washington D.C., Tysons Corner Center is a great stopping point to rest, recharge, and get some shopping done. You can learn more about biking and bike paths in Fairfax County by visiting the Fairfax County Bike Program. To take a look at the bike paths right in Tysons Corner Center, you can take a look at the Tysons Corner Bike Map.
Why not continue the wellness trend of your bike excursion and visit the SleePare store for a new mattress while you're at it? Your body will thank you!
Experience The Dreamiest Mattress Store Near Washington D.C.
Daily life in Washington D.C. can get stressful; there's no doubt about that. With rising political tensions, tourism traffic, and 50+ hour work weeks, the life of the "grind" in the city can really take its toll. Prioritizing your health can be one of the most effective ways to mitigate the effects of stress and, in turn, make you a more present employee, spouse, and parent.
The SleePare mattress store near Washington D.C. is, literally, a dream come true. It's one of the only mattress stores near Washington D.C. that houses over 30+ online brands of mattresses that you can test out for 30 minutes at a time. Get your dream on and book an appointment today.

Simple Directions To The SleePare Mattress Store From Washington D.C.
Drive West on I-66 from E Street Expy, crossing over the Potomac River (7.5 miles).
Keep right at the fork to stay on VA-267 W and follow signs for I-495 and Dulles Airport (1.8 miles). At this point you'll pass Mt. Daniel School on the left.
Take exit 17 for VA-684/Spring Hill Road while passing by Hamlet Swim & Tennis Club on the right (0.3 miles)
Turn left onto VA-684 S (0.2 miles)
Make a right onto Spring Hill Road (0.1 miles) passing the American Prime restaurant on the right
Next, turn right onto Tyco Road (476 feet)
Take the next left and you'll find the SleePare store on the right!
If you would like to take a public transport route and avoid tolls, you can try the metro. Hop on 38B at 17th Street and I Street NW towards Ballston Station (30 minutes). Then take train 1A west to Vienna Station (38 minutes). You'll stop at Inova Fairfax Hospital and hop onto the 401 heading towards Tysons West Park (27 minutes). Get off at Greensboro Drive at Spring Hill Road, walk about 3 minutes down Greensboro Drive. Cross over Spring Hill Road. Take a right, then a left, past Meinke Car Care Center and Dogtopia of Tysons Corner until you come to the SleePare mattress warehouse on your left!