Charlottesville — Heaven in the Foothills of Central Virginia
Wine, Dine and Enjoy Life in Charlottesville
Virginia's renowned college town, Charlottesville, is a simple and peaceful place to live. Being home to The University of Virginia, students from all over the country flock to Charlottesville. That's why most of the population here are young and well-educated.
However, Charlottesville is an expensive city. So most residents prefer making significant purchases in the nearby Tysons Corner. With its three humongous malls, Tysons Corner is like a mini D.C. where you can enjoy shopping at affordable prices compared to Charlottesville.
SleePare Tysons is the only mattress store near Charlottesville, where you can test top online mattresses in-person.
We have a diverse collection of sleep products; you will find from the firmest to the softest beds in different categories and price ranges at our mattress store. To make your trip worthwhile, we offer you and all our guests a free 30-minutes nap session on your favorite online mattress. So, book your visit now to make the best of this opportunity!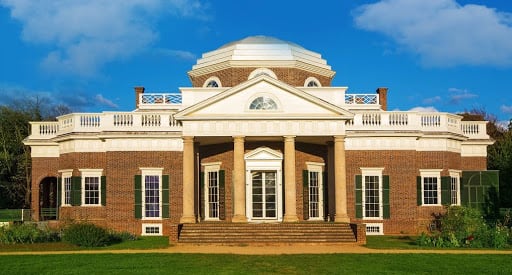 Jefferson's Monticello Amid Struggle for Social Equity
Charlottesville is home to three founding fathers, Thomas Jefferson, James Madison, and James Monroe. However, perhaps the greatest attraction in Charlottesville is the Thomas Jefferson Monticello.
Designed after ancient and Renaissance models, this UNESCO world heritage site is a "unique blend of beauty and function."
Thomas Jefferson used the grounds for plantation and botanical experiments. He designed the house and grounds himself and got them built by his African-American slaves. Today it serves as a house museum and educational institution with guided tours, events, and exhibits available for public.
During the topsy turvy path to racial equity, the city's Black population had to endure segregation for much longer than the rest of the country. However, with about 70% white population Charlottesville today has a black female mayor showing how the city has risen past its racist past.
Once called the "Capital of the Virginia Wine Belt," it still produces some of the finest wines in the world. So, if you're in Charlottesville, you cannot miss the Monticello Wine Trail!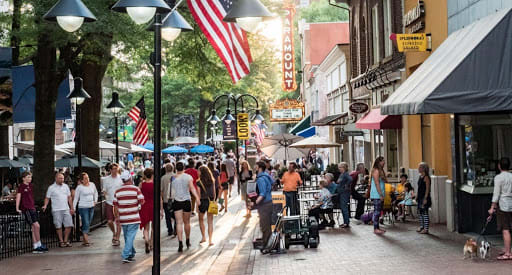 The Great Outdoors and an Active Vibrant Community
The hearty residents of Charlottesville love the great outdoors. Enjoy the authentic agricultural experience at numerous area farms where you can pick your own fruit, milk cows, and buy homemade food and condiments.
Rivers and lakes are abundant, and water sports are the most popular. Rivanna River is the hottest spot in the city for kayaking, canoeing, swimming, sailing, and fishing. It's a perfect place to make memories with friends and family as you relax on its banks.
For such an active population, there's no wonder the city has many renowned wellness centers and sleep health institutes. Charlottesville Neurology and Sleep Medicine Clinic is run by Dr. Chris Winter, M.D., author of "The Sleep Solution."
The city is also home to Sentara Martha Jefferson Sleep Medicine Center and the University of Virginia's Sleep Disorders Center.
However, Charlottesville is 12% more expensive to live as most of the population is students or old retirees. While leadership is focusing on the development of a centralized housing hub, most people look for affordable products online.
Buying online is an excellent way to save on high-quality products. And, if you've been eyeing online mattresses lately, you can now test them at the SleePare mattress store near Charlottesville.
SleePare Tysons offers you an excellent opportunity to buy budget-friendly online mattresses after testing them in store. We have beds from 30+ popular online brands under one roof.
With a host of different options in firmness, price range, and type, your dream mattress is only a trip away. Moreover, you can book our free 30-minute nap trial to check the sleep quality of your favorite mattress.
Reaching SleePare Mattress Store in Tysons from Charlottesville
Head south-west on Locust Avenue and turn right onto Watson Avenue (0.1 miles)
Take the ramp on the left to merge onto US-250 W/US-250 BYP W
Continue for 1.8 miles and turn right onto Hydraulic Road (0.4 miles)
Use the right two lanes to turn right onto US-29 N/Seminole trail (1.5 miles)
At the fork, keep left to stay on US-29 N. Continue for 23.2 miles
Keep right to stay on US-29 N and continue for 42.7 miles
Keep left to continue on US-29 N/US-15 N and continue for 11.6 miles (Follow signs for Leesburg/Washington)
Use the right two lanes to take interstate 66 E ramp to Washington (0.9 miles)
Merge onto I-66 E and continue for 21.1 miles
Use the left lane to take E-ZPass express/I-495 exit toward Richmond/Baltimore (0.2 miles)
Keep right at the fork and follow signs for Interstate 495N/Baltimore.
Merge onto 495 Express Lanes/Capital Beltway Inner Loop and continue for 2.9 miles
Take the exit onto VA-267 W toward Dulles Airport
Continue for 1.3 miles and take exit 17 for VA-684/Spring Hill Road
After 0.3 miles, turn left onto VA-684 and continue for 0.2 miles
Turn right onto Spring Hill Road
Turn right again after 0.3 miles and then right again.
SleePare Tysons will be on your left near Dogtopia of Tysons Corner.
To travel by public transport, take 20 Crescent from Charlottesville Amtrak Station, and you will reach Manassas Amtrak Station in about 1 hr 27 min. From here, you will walk about 8 minutes to reach the metro station. Walk west and turn right onto West Street. With Harris Pavilion on your left, turn left onto Center Street. When you reach Morais Plaza on your left, turn right onto the street before First Baptist Church to reach VA-28 S/Church St. Turn left onto Church Street and walk ahead to reach Metro station on your left.
Take Metro 60 to reach Tysons Corner Metro Station in about 46 minutes. From here, take bus 424 from platform B, and you will reach Spring Hill Road station in about 10 minutes. Head south on Spring Hill Road and turn right. Dogtopia of Tysons Corner will be right ahead. Turn right, and SleePare Tysons will be on your left.