Why shouldn't you sleep on the right side?
Recent researches show increased inclination toward left-side slumbering. Sleep scientists and chiropractors are warning against the silent hazards of rightie snooze posing serious threats to human health.
Following are some of the negative impacts of sleeping on your right side.
1. Righties experience increased acid reflux.
Ugh...GERD worsens if you're a right sleeper
According to a 2000 study published in the American Journal of Gastroenterology, right side slumber may trigger acid reflux/ GERD (Gastroesophageal reflux disease). On the other hand, shifting to your left can alleviate the condition.
After conducting an experiment on ten healthy individuals who had eaten a heavy meal, scientists discovered gastric activity – particularly acidity – alarmingly enhanced among right lateral sleepers, compared to those who were on the left side or in a supine position.
The reason behind it is quite straightforward. Because of the limited space on the right side, the tummy curve affects food digestion due to enhanced abdominal pressure. Thus, it triggers heartburn.
Usually, heartburn is common among males who are aged over 30 — particularly those who are also obese. If not treated, the disease can grow into BE, a form of esophageal cancer.
Therefore, chiropractors advise you to sleep on the left side to avoid frequent sleep disruptions due to GERD discomfort.
2. Blood circulation gets affected.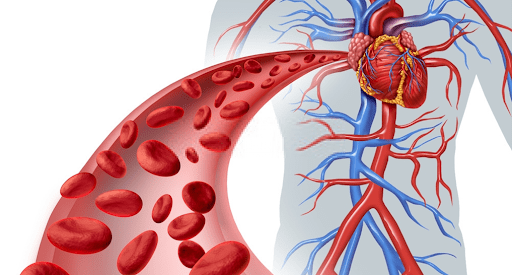 Blood circulation gets affected
Among the various cons of right side slumber, is decreased blood circulation. Even though the human heart is positioned on the left side, ironically, you get excellent circulation to all vital organs when you're sleeping as a leftie.
The heart pumps blood to organs and receives it back through a network of arteries and veins. If you lie down on your left, your right side is not squeezed/compressed, leaving ample room for the blood vessels to carry out smooth blood flow functions, explains a Virginia-based sleep specialist, W. Christopher Winter.
Thus, listen to the chiropractors and switch to your left next time, so you get efficient blood supply while snoozing.
3. Pregnant ladies might be risking their fetus.
The right side in pregnancy is left
If you've had a baby, you might already know that experts recommend not to lie down on your back during the late days of pregnancy.
This is because the fetus activity drops when you're in the supine form — thus increasing the chances of stillbirth!
An Auckland study studied the heart rate of fetuses when the soon-to-be-moms were lying on their back and sides. They found the fetal heart rate improved when the ladies were in lateral position.
However, another study linked sleeping on the right side to the same dangers. Researchers found that the risk of stillbirth among left side sleepers was 1.96 per 1000 births — whereas right side sleepers experienced fetal stillbirth in 3.39 deliveries out of 1000.
One of the reasons explained by Tomasina Stacey, a midwife in Auckland, was the reduction of blood flow to the fetus because of the sleep position impact on blood circulation. Because of the arterial compression, there is a risk of affecting the blood supply to baby's organs.
That's why chiropractors advise pregnant women who have reached the third trimester to shift to the left side while resting.
You can also purchase a suitable mattress and pillow to suit the body shape changes during pregnancy and avoid back pain issues.
4. Increased risk of back or neck pain.
Right side causes spine alignment problems
Believe it or not, chiropractors have linked right side sleeping to back or neck pain development.
According to experts, shifting to your right puts pressure on the spine, making it difficult to maintain the natural curve of the vertebra. And since the blood circulation is also affected while you're on the right side, it certainly leaves an impact on the back.
If you are already suffering from severe pain in the lumbar region, you should prop a body pillow to support your weight and protect the spine shape. Some people also use a wedge pillow between the knees, but it's not as useful as a body cushion.
5. Snorers could be better off on their left side.
Sleep apnea patients should shift to left side
Chiropractors also recommend sleep apnea patients to ditch right side slumbering for their own good. Surprisingly, the throat and tongue is likely to be better adjusted while you're on the left, compared to the opposite side.
Researchers are confident that with the perfect mattress and pillow combination, along with the left side position, sleep apnea can be completely eliminated.
It's pretty much evident from recent studies that sleeping on your right side may not be as beneficial for your health as you'd expect. So take your chiropractors' advice next time and try switching the posture a bit to enjoy a good night's sleep!