Buying a mattress is an important investment in your health and future. From comfort choices to budget constraints, knowing how to choose your next mattress online guarantees the best decision for your slumber.
The online mattress companies are a breath of fresh air, no doubt! But, this newer way of shopping has its own challenges. Narrowing down to your dream mattress online is not a walk in the park anymore. With 100s of startups venturing into the $15 billion mattress industry, the choices are numerous.
Let us help you look beyond the marketing gimmicks of online mattress stores and the numerous choices they offer. You will also find handy tips to simplify your hunt for the perfect rest. Lastly, we introduce you to some exciting perks of online mattress shopping and how you can make the most of your online purchase.
Should You Buy Mattress Online?
For some people, not being able to try the mattress before a purchase is a difficult transition from their traditional way of shopping.
There are many benefits of buying a mattress online, no doubt!
Saves money and time
Risk-free in-home trials
Money-back guarantee
Free delivery and returns by most online mattress stores
Easy to set up
Shopping without pressure
However, those who differ, refer to online mattress shopping drawbacks such as:
Unable to try before purchase
Excessive choices can be confusing at first
Storing old mattress while testing the new one is a hassle for some
Online mattress stores have made mattress shopping convenient. You no longer have to buy a mattress after lying on it once and then live with that choice. Instead, you can take an informed decision after proper research.
Many mattress websites have questionnaires to help you align your preferences with the products they offer. No pressure from the salesmen and no rush to make a decision. Once you get the mattress of your choice, test it from the comfort of your own bed, night after night, till you're sure if its a YAY or a NAY for you.
Not convinced to buy a mattress online without even touching it once? If you think online mattress shopping is not your cup of tea, visit SleePare showroom. You can test many online mattresses without any salespersons pushing you for a purchase. Lie on the mattresses and see how it feels. Once you're happy with a selection, you can order the mattress online and enjoy all the perks of online mattress shopping.
Tips to Make a Wise Online Mattress Purchase
Despite the ease of online shopping, selecting your dream mattress for the best price can still be challenging. With a plethora of choices and each mattress brand claiming excellence, you need proper research to make a wise decision. These quick tips will help you select the best mattress online and make an informed choice.
Know what you want: Before you begin exploring your choices, you need to zoom in on the features important to you. Budget and durability are usually the deal maker or breaker. Comfort and support are the most significant factors for all. Temperature regulation is crucial, especially for hot sleepers. Heavier persons need to consider mattress thickness and presence of deep compression support. Lumbar support is essential if you suffer from low back pain. These are some of the things to look for in your next mattress. Know what you absolutely must have and what you can sacrifice before you even start to compare mattresses.
Understand the Available Choices:We admit… the zillion choices in the online mattress market are baffling. But, for a wise decision, making sense of your available options is crucial. Despite some unique properties, mattresses have many common features. The primary material used in mattress construction dictates the comfort and support it provides.Companies are layering materials and developing new technologies to push the boundaries for your sweet sleep. However, most online shops facilitate comparison shopping. Their websites have tables comparing their product features to highest rated mattresses on the market. Others have comparison tools to help you with analysis and find the best value product.
Look for Customization:Some online mattress brands allow you to customize the mattress to fine tune comfort and support. If you are unsure of your required mattress firmness, check out the beds with adjustable firmness or customizable mattresses. Companies like Morphiis make beds with foam layers that can be rearranged to get the desired comfort level. If your mattress is customizable, you can achieve the precise feel you want for your dream bed.
Compare Shipping, Return, and Warranties:The warranty duration differs based on the material and mattress construction. The standard warranty duration for mattresses is 10 years and a 100-night in-home trial. Some brands offer a 120-night trial. Others like Nectar are so sure that you'll love their mattress, they offer you an astonishing 365-night risk-free trial.Similarly, while most online mattress companies deliver your bed for free, some may charge you some nominal fee. Figure out all these side expenses before clicking that order button.
Customer Support:Customer support is an important facet of any kind of online shopping. The more responsive the customer care personnel, the better help you may get should you need it. Call them and ask questions and see how eagerly they respond. It indicates the level of service you may get if you claim warranty, replacements, returns or refund.
Prominent Mattress Materials in the Market
The mattress industry is booming with numerous online brands. To claim excellence, these companies use innovative materials and new technologies to bring you the best night's sleep. We have explained the predominant mattress types and materials in this guide to help you understand your options better.
Memory Foam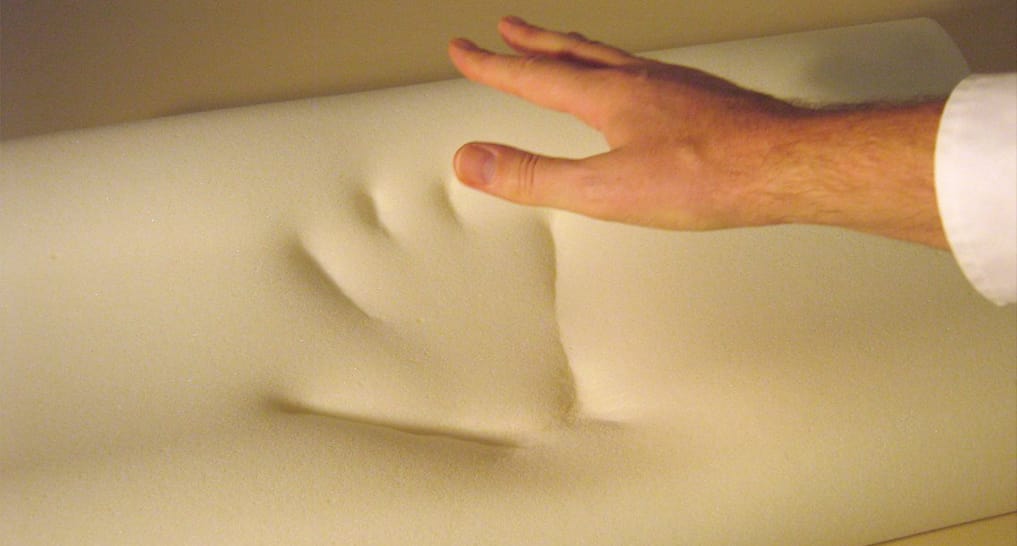 Memory Foam
Unique Quality: Pressure-relief, contouring comfort, and motion isolation
Best for: Couples, light and average weight persons, and lumbar support
Memory foam is the highest rated, luxury mattress material. It provides you dreamy comfort, molding your curves and filling the gaps between the bed and your body. The spinal alignment on Memory foam remains perfect in all sleeping positions. With exquisite pressure-relief comes pain-free, rejuvenating sleep. Your blood circulation improves, and you reap all the health benefits of deep, sound sleep. Memory foam mattresses are more durable than traditional innerspring beds.
| Common Problems | Solutions |
| --- | --- |
| Heat retention | Gel Memory foam and ventilated foams |
| Excessive Sinkage | Use of resilient foams or innerspring with Memory foam layers |
Top Memory Foam Mattresses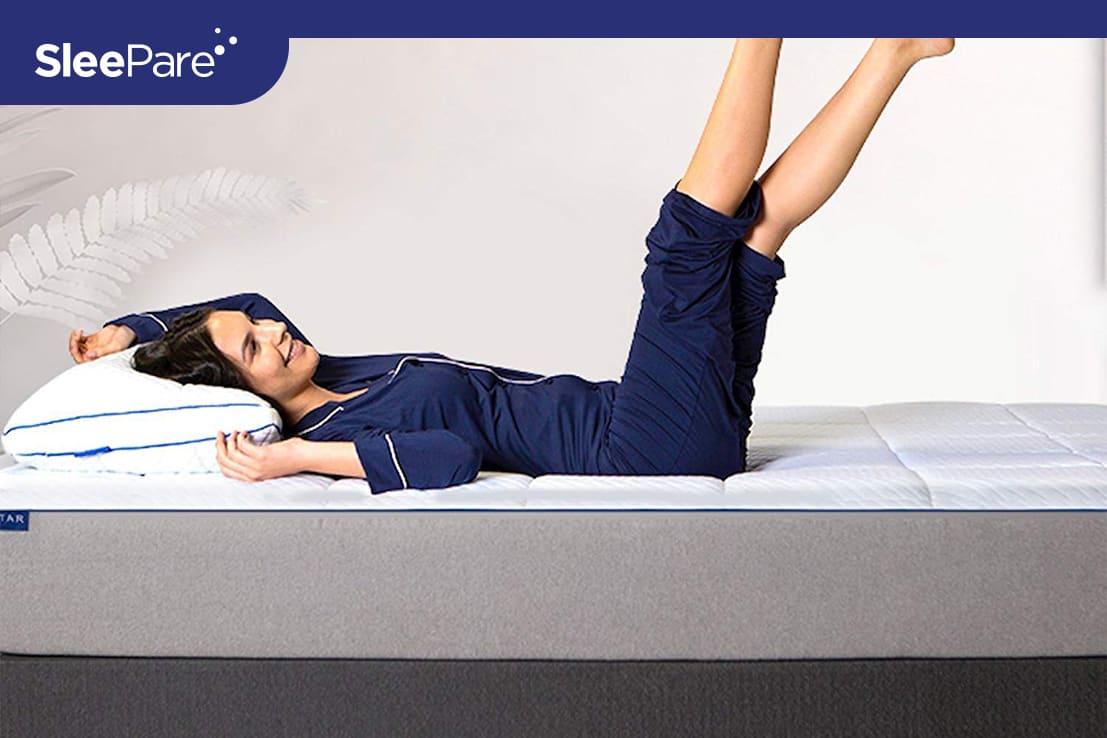 Customer Satisfaction Ratings for Nectar Features
 

Comfort

Support

Temperature Regulation

Durability

Overall Value

Buy Now
Price range: $425 – $825
Firmness: Medium Firm
Height: 11-inch
Warranty: 25 years
Trial: 365 days
Free Delivery: Yes
Nectar by Nectar Sleep is a four-layered mattress with a Memory foam comfort and a subtle bounce. It is the highest-rated mattress for pressure relief and support. The presence of gel Memory foam keeps the sleep surface cool so you may enjoy a refreshing slumber. If you seek a durable yet cheap mattress online, Nectar is the perfect choice for you. Nectar Sleep is one of the best places to buy a mattress online.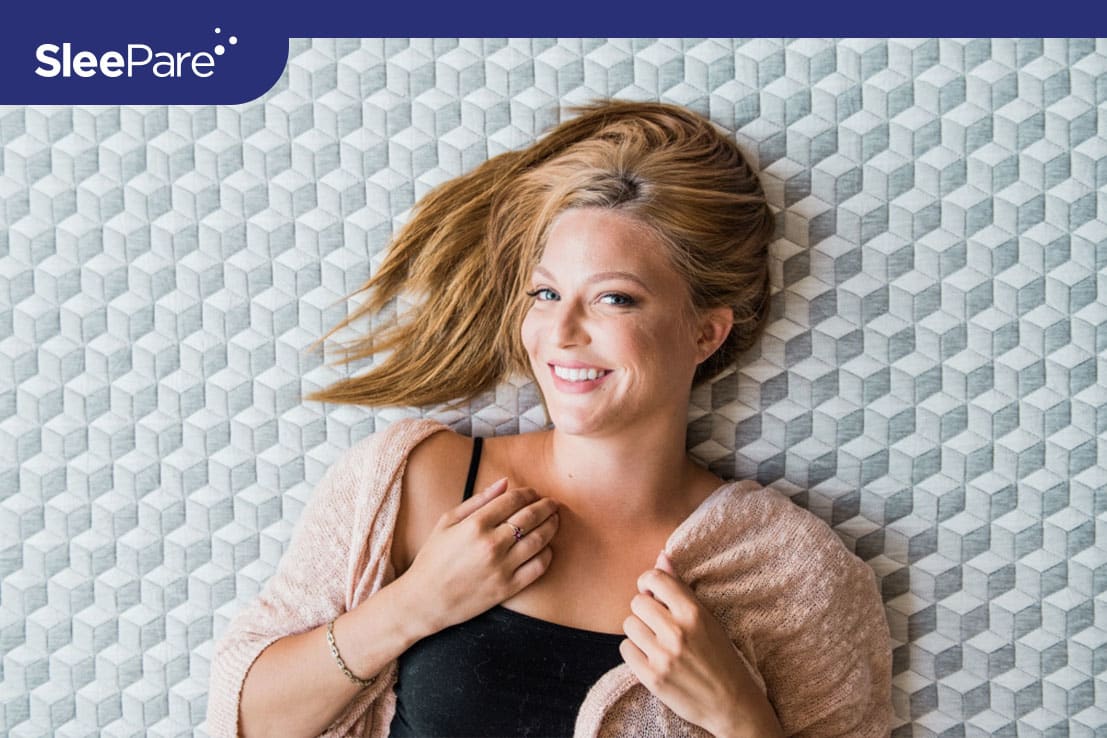 Customer Satisfaction Ratings for Layla Features
 

Comfort

Support

Temperature Regulation

Durability

Overall Value

Buy Now
Pros:
Best value memory foam mattress with durable construction
Lifetime non-prorated warranty
Excellent motion isolation and noise suppression
Flippable firmness levels
Cons:
Not responsive enough for most couples
Edge support is fairly weak on the soft side
Not suitable for heavyweight stomach sleepers
Price range: $500 – $1000
Firmness: Soft/Firm
Height: 10.5-inch
Warranty: 25 years
Trial: 120 days
Free Delivery: Yes
Layla by Layla Sleep is a four-layered reversible mattress with a soft side and a firm side. Both flippable sides are infused with copper for a cool and clean sleep surface. The transition layers offer exceptional comfort. The Layla mattress provides outstanding support, relieving joint pains and muscle stiffness. If you seek a budget-friendly Memory foam mattress with the freedom to choose the firmness whenever you want, Layla is the right choice.
Latex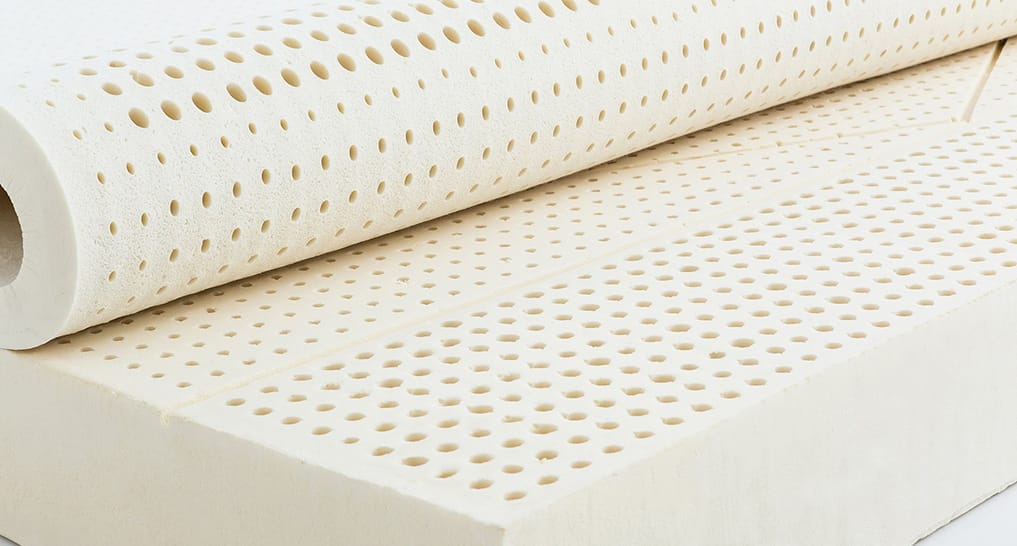 Unique Quality: Durable, eco-friendly, breathable/cool, and resilient
Best for: Persons who prefer firmer beds, overweight persons, combination sleepers
Latex is a high-end luxury material, made from rubber tree sap. Since Latex is a natural mattress material with a chemical-free composition, it is preferred by those who sought the green living. The breathable material is antimicrobial, an excellent choice if you suffer from allergies or asthma.
Hot sleepers prefer latex due to its cooling sensation. Latex bed is on the firmer side and ideal for those who like to sleep on a foam surface without sinkage and contouring. It provides you a weightless sensation as if you're sleeping on a cloud.
| Common Problems | Solutions |
| --- | --- |
| Bounce | Use of transition foam |
| Firm support | Use of softer foam under the latex layer |
Top Latex Mattresses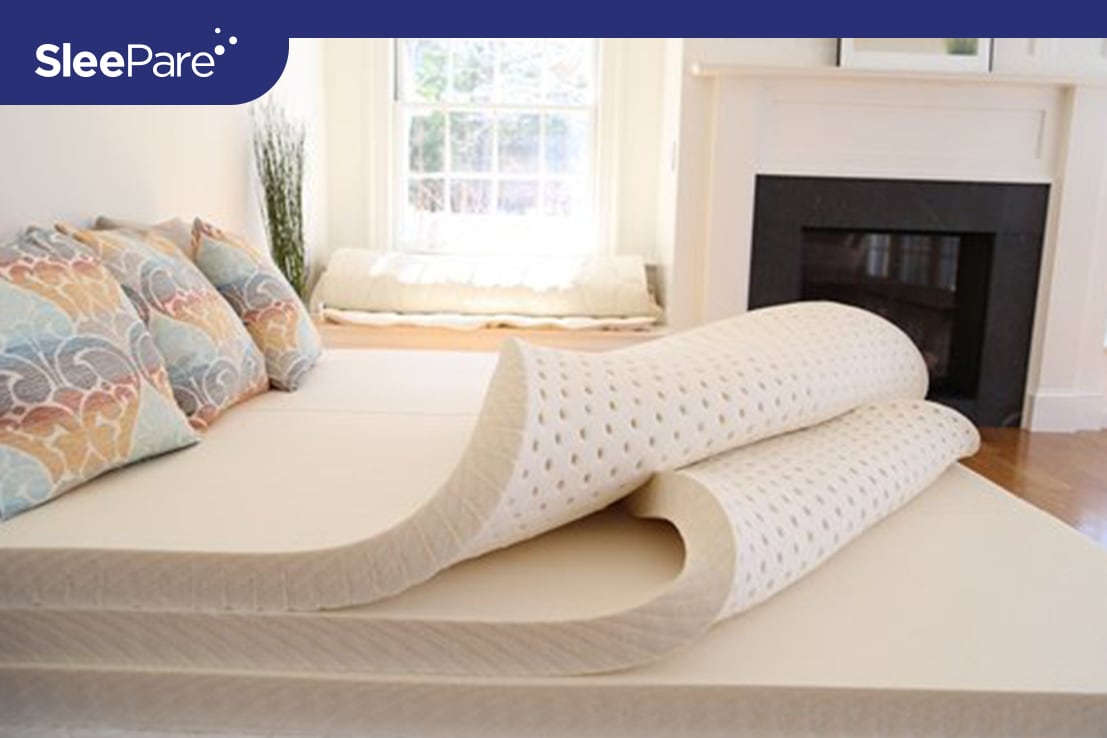 Customer Satisfaction Ratings for Spindle Features
 

Comfort

Support

Temperature Regulation

Durability

Overall Value

Read Review
Pros:
Four firmness levels possible
Suitable for all sleepers
Good balance of motion isolation and responsiveness
Sleeps cool
One year comfort adjustment
Cons:
Initial setup can be frustrating for some users
Price range: $900 – $1700
Firmness: Soft, Medium, Firm, Extra Firm
Height: 10-inch
Warranty: 10 years
Trial: 365 days
Free Delivery: Yes
This natural latex mattress allows you to choose from four comfort levels. Moreover, you can rearrange the layers to finetune the firmness and discover your sweet spot. The company offers you a 365-night comfort guarantee so you can build the bed of your dreams. The all-natural construction makes it an ideal choice for people with allergies. The Spindle sleeps cool even for hot sleepers. Get the comfort you deserve with this cheap mattress online.
Customer Satisfaction Ratings for Sleep EZ Features
 

Comfort

Support

Temperature Regulation

Durability

Overall Value

Read Review
Pros:
2-in-1 flippable mattress
Suitable for most sleepers
Sleeps cool
Good responsiveness
Cons:
Mediocre motion isolation and conforming
Price range: $800 – $2500
Firmness: Customizable
Height: 7-inch, 9-inch, 10-inch, 13-inch
Warranty: 20 years
Trial: 90 days
Free Delivery: Yes
Sleep EZ gives you the complete freedom to build a mattress for you and your partner. You can choose from organic or natural, Talalay or Dunlop latex for each layer. Moreover, you can select the number of layers and firmness of each foam. The split option allows you and your partner to choose separate foams and comfort levels.
Once you get your layers, you can arrange and rearrange them to fine-tune your natural or organic bed to suit your sleep preferences. The 100% organic latex is a comfortable and cool foam with immense health benefits for people with sensitive skin.
Innerspring/Coils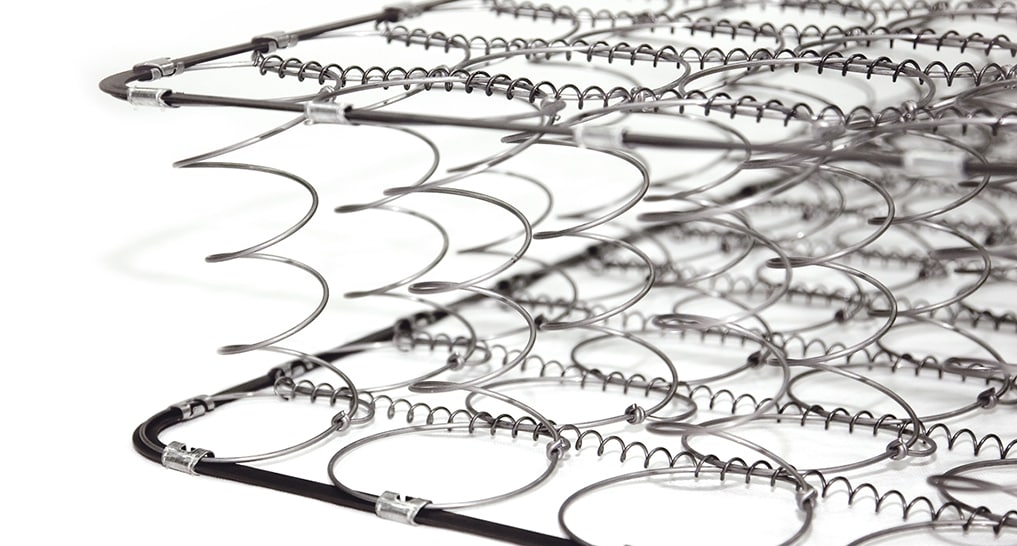 Innerspring Core
Unique Quality: Affordability, flexibility, strong edge support
Best for: Combination sleepers, hot sleepers, and persons on a budget
The innerspring is the most common mattress material used to date. It is one of the oldest mattress type, widely used even today. The online mattress companies use felt or foam above and between innerspring layers to bring you comfort and support. Innerspring mattresses remain cool owing to the large empty spaces around the coils. Due to their resilience, they support persons of all structures and weight.
| Common Problems | Solutions |
| --- | --- |
| Durability | Use of low coil gauge and layering of coils |
| Motion transfer | Use of foam layers to dumb down partner disturbances |
Top Innerspring Mattress
Customer Satisfaction Ratings for Saatva Features
 

Comfort

Support

Temperature Regulation

Durability

Overall Value

Buy Now
Pros:
Firmer support similar to a traditional innerspring mattress
Strong edges to get in and out of bed easily
Specialized lumbar support for backache relief
Free mattress set up for seniors
Cons:
Overweight side sleepers may develop pressure points
Unsuitable for bed sharing
Price range: $600 – $1400
Firmness: Luxury-Firm, Firm, Plush Soft
Height: 11.5-inch, 14.5-inch
Warranty: 15 years
Trial: 120 days
Free Delivery: Yes
Three firmness levels and two thickness options allow you to build a mattress for maximum comfort. Saatva is a luxury innerspring mattress with two coil layers supported by a polyfoam foundation. The lumbar support keeps your spine aligned properly, making this an ideal mattress for lower back pain. The brand uses sustainable resources and strives to provide luxury at an affordable mattress price to their worthy customers.
Pocketed Spring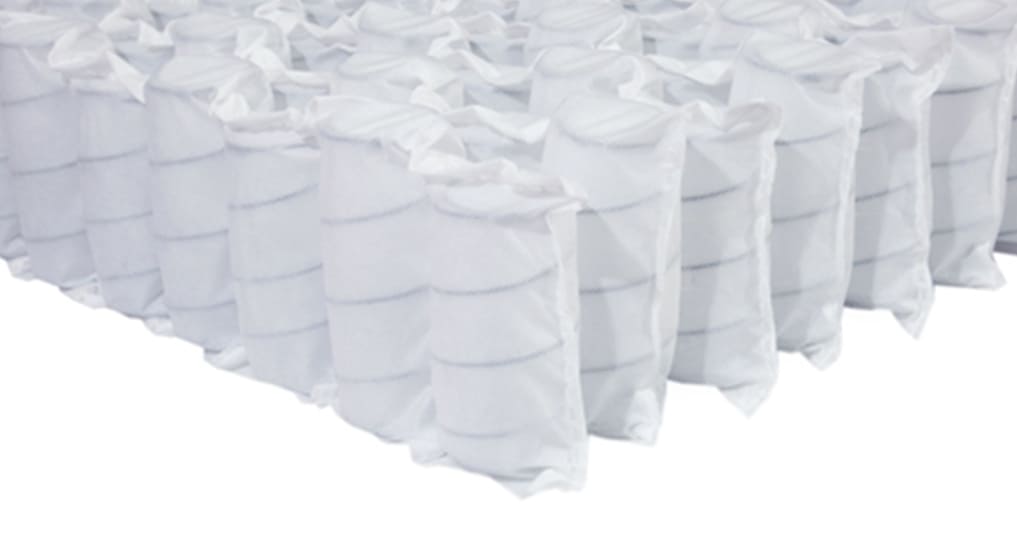 Unique Quality: Flexibility, contouring comfort, and motion isolation
Best for: Couples, combination sleepers, and lumbar support
Pocketed springs are individually wrapped coils, independent of each other's movement. Each coil compresses according to the weight on it and thus, molds your body for outstanding pressure-relief. The cushioning sensation is similar to Memory foam but without the heat retention. Pocketed springs ventilate heat well, keeping the mattress cool and fresh.
Changing sides on the bed is as easy as the flexible coils adjust to your new position quickly. The more you press these resilient springs, the more they push upward keeping you on the mattress. Pocketed coils improve your posture, and release stress from joints. They make the best bed for back pain. As a result, you enjoy a refreshing and restoring snooze on pocketed coils, mostly featured in hybrid arrangements.
| Common Problems | Solutions |
| --- | --- |
| Bounce | Use of plush foams or transition materials |
| Poor edge support | Use of special edge foam or coil layer on the mattress perimeter |
Top Pocketed Spring Mattresses
Price range: $995 – $1795
Firmness: Medium-Firm
Height: 11-inch
Warranty: 10 years
Trial: 100 days
Free Delivery: Yes
Business Insider's top pick, Sapira features pocketed springs topped by the patented Avena foam by Leesa Sleep. The combination brings you superior comfort and support for a refreshing, cool sleep. Avena foam is adaptive and responds according to the weight and structure of the sleeper. The coils actively respond to your body, providing you unmatched pressure-relief. The Sapira is a mid-price mattress, offering a luxurious rest and a cozy slumber in all sleep positions.
Price range: $600 – $1500
Firmness: Medium-Firm
Height: 15-inch
Warranty: 25 years
Trial: 365 days
Free Delivery: Yes
DreamCloud mattress gives you the exquisite comfort you experienced at your last luxury resort. This mattress blends the bounce and contouring of pocketed coils with the dreamy feel of Cashmere blend cover. With its seven-zone pressure-relief, DreamCloud is the most suitable for stomach and back sleepers. The plush foam layers resist the transfer of motion, making it ideal for couples. This responsive seven-layer 15-inch mattress provides a comfy rest to heavier persons.
Hybrid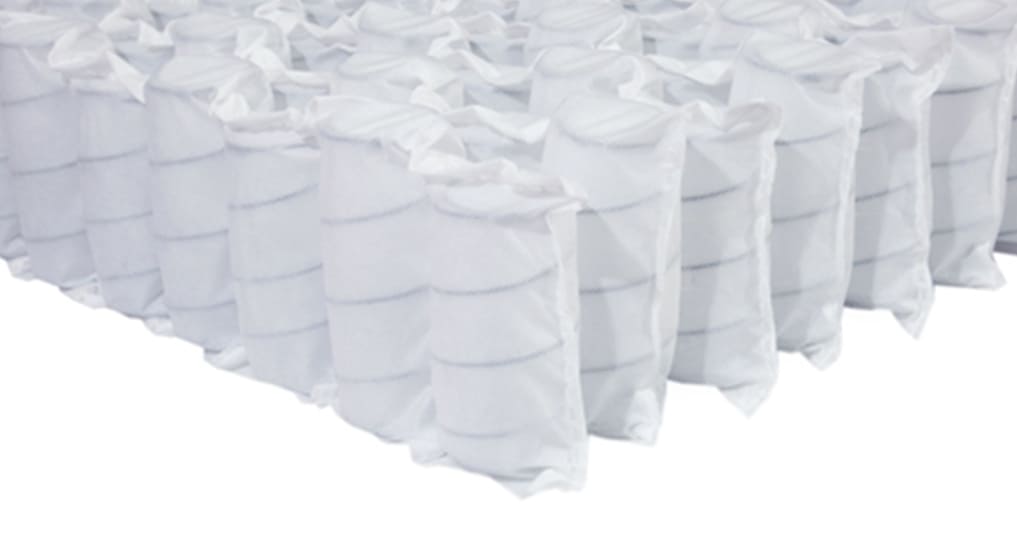 Unique Quality: Balance of comfort, support, and pressure-relief
Best for: Persons looking for variety in feel
A hybrid mattress truly brings you the best of both worlds, the foam and the innerspring. This layering improves comfort, support, and pressure relief. For instance, you enjoy Memory foam feel and comfort, but the pocketed coils offer a subtle bounce, preventing the stuck feeling. The properties of a hybrid mattress depend on the materials used in its construction. Hybrid beds offer you the most value for money for their comfort and durability.
| Common Problems | Solutions |
| --- | --- |
| Pricey | Hybrids are usually durable and one-time investment lasts a lifetime |
Top Hybrid Mattresses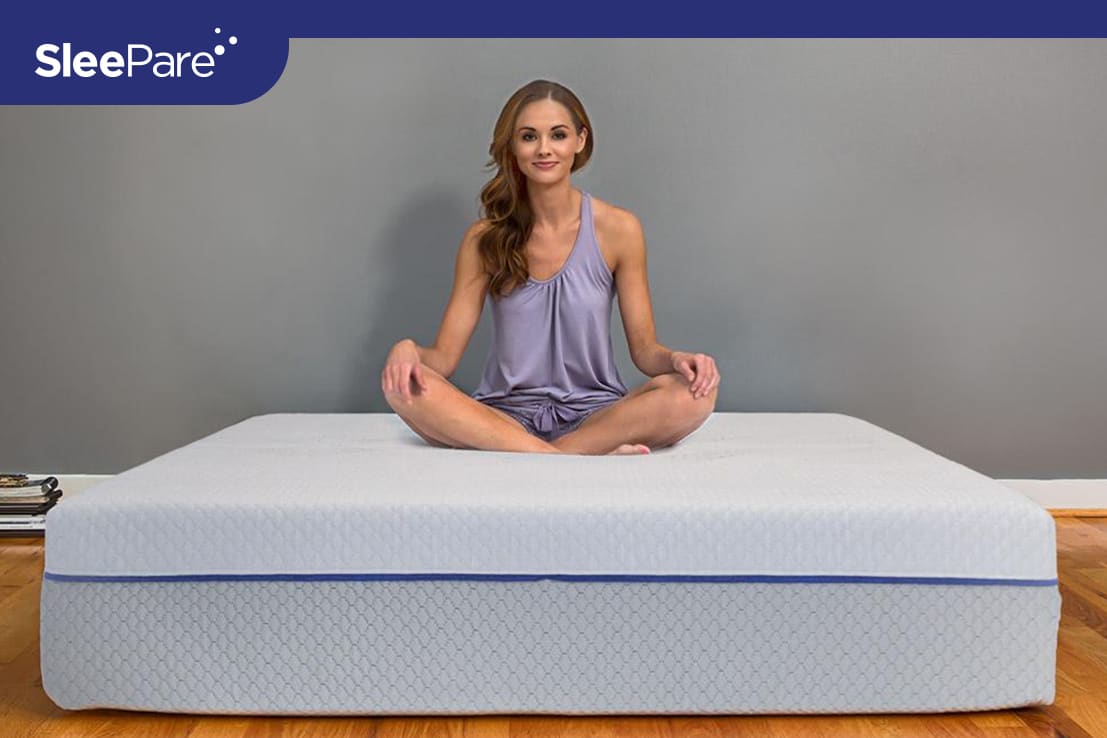 Customer Satisfaction Ratings for eLuxury Hybrid Features
 

Comfort

Support

Temperature Regulation

Durability

Overall Value

Buy Now
Price range: $1575 – $1750
Firmness: Medium
Height: 12-inch
Warranty: 10 years
Trial: 120 days
Free Delivery: Yes
A true hybrid mattress combining the goodness of Latex, Gel Memory foam, and microcoils to bring you the best night's rest. The elegantly designed eLuxury Hybrid provides you gradual sinkage as it molds your curves for better pressure-relief. The gel and breathable cover keep the sleep surface cool whereas latex allows you to move in the bed quickly.
The best thing about eLuxury Hybrid is its uniform feel across the mattress surface and ultra-secure edges. Thus, if you have a partner, pet or kids, the eLuxury Hybrid mattress is ideal for bed-sharing. Heavier persons who prefer a softer mattress find eLuxury Hybrid a viable bed for extreme comfort.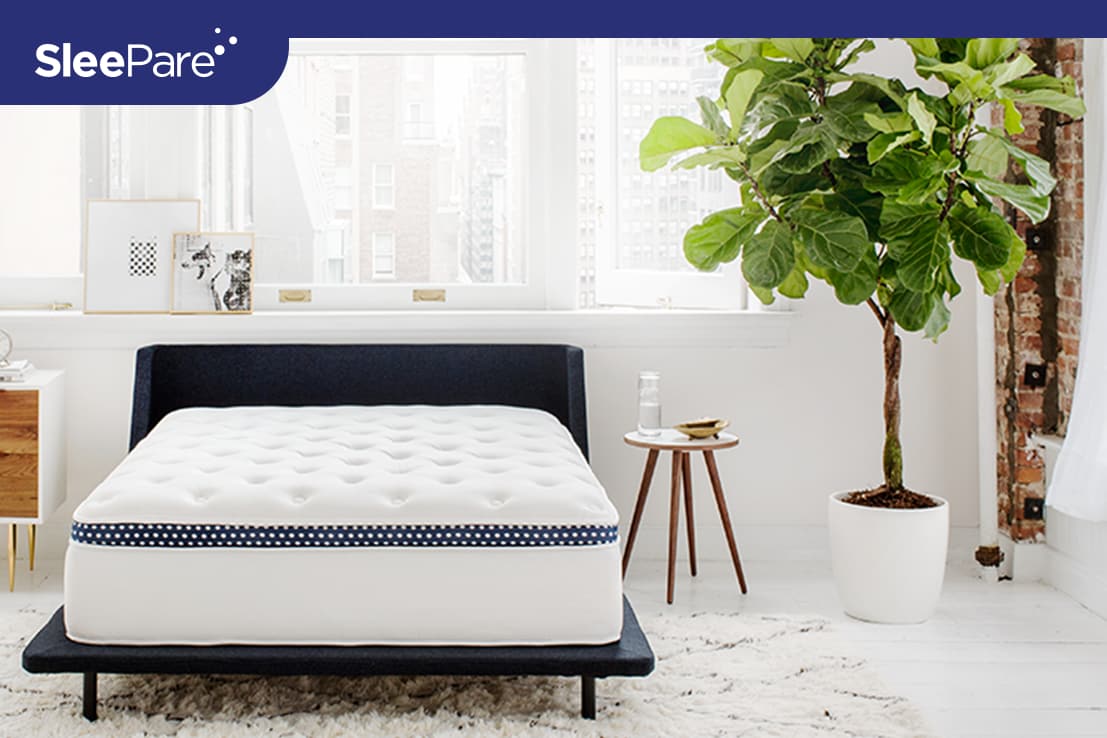 Customer Satisfaction Ratings for WinkBed Features
 

Comfort

Support

Temperature Regulation

Durability

Overall Value

Buy Now
Pros:
Seven-zoned support for spinal alignment
Relief from aches and pains
Tencel cooling cover
Bounce for easy movement in bed
Price range: $750 – $1550
Firmness: Soft, Luxury-Firm, Luxury-Firm (Plus), Firm
Height: 14.5-inch
Warranty: 10 years
Trial: 101 days
Free Delivery: Yes
A luxury hybrid mattress, truly designed for heavier sleepers. It offers four comfort levels including a 'Plus' firmness level especially aimed for sleepers above 300 lbs. The 3-zone support coil system provides outstanding spinal alignment and pressure relief. The Winkbed is strong and durable hybrid mattress for a reasonable price.
The optional cool control system gives you the freedom to regulate your mattress temperature according to your sleep preferences. This innovative technology along with the excellent motion isolation and edge support makes Winkbed an ideal choice for couples.
Unique Mattress Types
Some online mattress companies have introduced genuinely innovative materials and technologies. They have blended and baked materials with unique properties having both, health and sleep benefits. These mattress materials are a result of years of research and experimentation.
Some offer enhanced cooling and breathability; others work on increasing pressure-relief. Some focus on reducing off-gassing while motion isolation is essential for others. Sleepers have appreciated these efforts, and some of these creative sleep solutions have gained immense popularity.
Top Unique Mattresses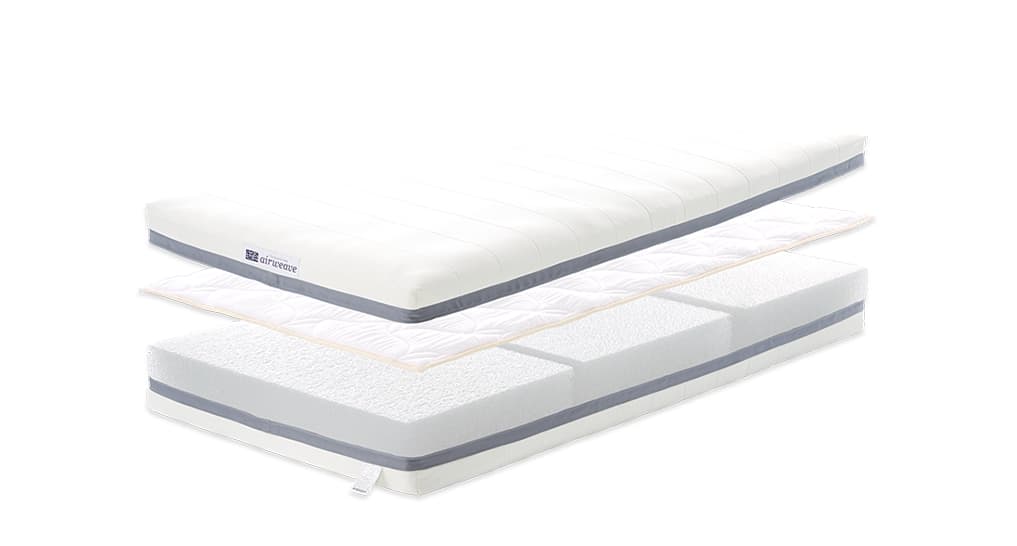 Customer Satisfaction Ratings for Airweave Features
 

Comfort

Support

Temperature Regulation

Durability

Overall Value

Buy Now
Pros:
Very firm sleep surface to prevent sinking and stress on joints
Enhanced airflow with airFiber mesh foam.
Resin fibers are highly durable and long lasting
Incredible spine alignment
Cons:
Almost zero conformity may cause discomfort in the long run
May not suit lightweight sleepers
Price range: $1000 – $1600
Firmness: Medium-Firm
Height: 9-inch
Warranty: 10 years
Trial: 100 days
Free Delivery: Yes
This exciting mattress has neither foam nor innerspring. The Airweave mattress features Japanese Airfiber, the proprietary material with a unique interwoven design. The mattress core is breathable and light with free air passages for heat dissipation. Thus, you get to enjoy a refreshing sleep on a clean, antimicrobial sleep surface.
This innovative material has a firmer feel, ideal for stomach sleepers. Dual mode technology of the Airweave provides you with two comfort levels in this flippable mattress. You may make your bed softer by adding an optional layer to your mattress.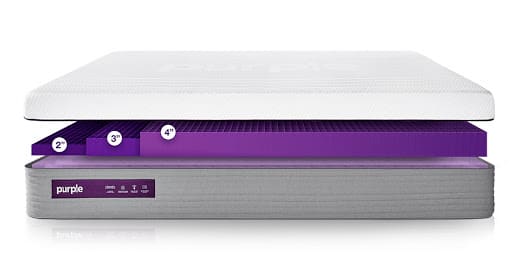 Customer Satisfaction Ratings for Purple.2 Features
 

Comfort

Support

Temperature Regulation

Durability

Overall Value

Buy Now
Pros:
Quality construction and materials
Good pressure relief and support
Best mattress for hot sleepers
Ideal for back and stomach sleepers
Cons:
Not suitable for individuals who prefer a traditional innerspring or memory foam feel
Only one firmness level
Not ideal for side sleepers
Price range: $1300 – $1900
Firmness: Firm
Height: 11-inch
Warranty: 10 years
Trial: 100 days
Free Delivery: Yes
The innovative material used in this mattress is immensely popular among the sleepers. Purple.2 is a new twist to the relatively old Goldilocks mattress. It features the brand's patented Hyper-Elastic Polymer Smart-Comfort Grid on top. The hybrid construction of Purple.2 is excellent for cooling and pressure-relief.
This 'No Pressure' mattress has firm support for outstanding back pain relief. The presence of the transition layer and pocketed coils improve motion isolation. Purple.2 is a remarkable mattress for couples, pet owners, and families with kids.
Perks of Online Mattress Delivery
The hassle of purchasing a mattress from your local mattress shop doesn't end with the selection of the right product. Once you've finalized your selection, you have to take care of its delivery as well. Then, as your mattress arrives, you've to tow it to your room, maybe a flight or two upstairs. Not to mention, the additional costs if you hire help for setting up the bed and removing the old mattress.
All this quickly adds up, and the cost of getting a new mattress increases dramatically. But, not anymore! The advantages of online mattress shopping extend beyond selection and order placement. Let's discuss some benefits of online mattress delivery and essential shipping considerations before you buy a mattress online.
Free Delivery, Returns, and Exchange
Almost every online mattress store provides free delivery within the continental USA. However, residents of Alaska and Hawaii may have to pay some nominal surcharge. Be sure to check if your selected brand ships to your address. Returns and exchanges are also often free. But, some brands do incur delivery charges or a fee on returns.Thus, while calculating the total mattress price, you need to figure out these additional charges too. The best thing about online mattress shopping is that these return and refund policies are mentioned explicitly on brand websites. Hence, you can make your selection and purchase without fearing any hidden costs.
Bed-in-a-box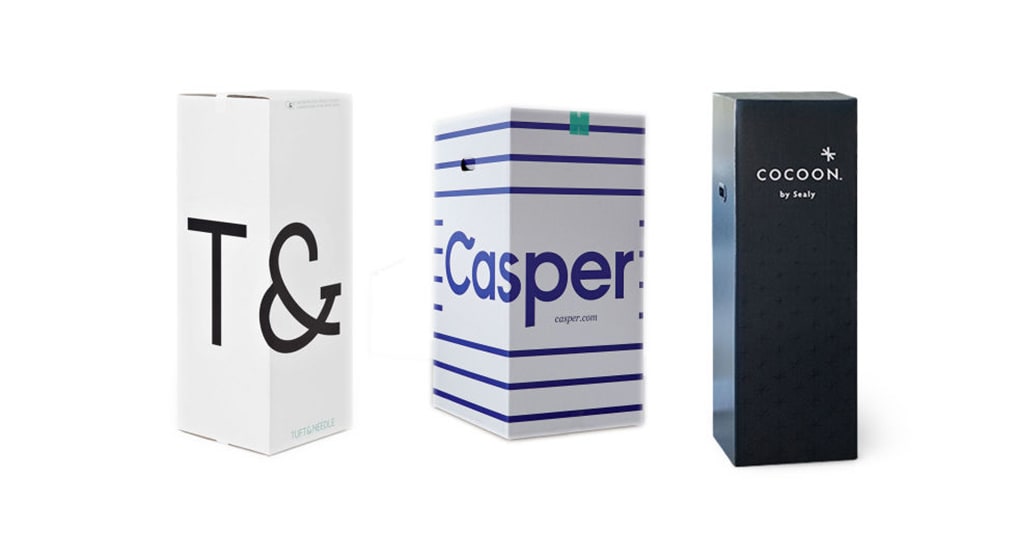 The bed-in-a-box delivery of online mattresses certainly saves a lot of headache… and backache. The compressed beds are easy to handle and maneuver across the nooks and crannies of your apartment building, staircase, and home. A mattress-in-a-box is easy to lift and move. Once you unbox the mattress, throw the compressed bundle on your bed, cut open the packing, and see your mattress rise to its full glory (height, that is).
White-Glove Delivery

To win the brownie points for customer care, some mattress brands offer you free white glove delivery. So, while you lounge in your sofa, the delivery experts set up your mattress in your bedroom for free. They bring the mattress in, move any furniture required, set up the bed, and remove the packing as they leave. Some companies, on the contrary, offer you optional white glove delivery for a small fee with complimentary old mattress removal service. Does your local mattress shop provide such convenience?

Old Mattress Removal

Removing your old mattress can be a great hassle. You either have to haul it off for disposal yourself or pay someone else to take it off your hands. For this reason, some online brands offer old mattress removal service as a complementary part of paid white glove delivery or vice versa. Yet, a few mattress brands offer a full delivery deal, complete with free white-glove service and old mattress removal.
Now you know how to choose your next online mattress with the best value for money. Visit SleePare to make comparison shopping easier for you. Filter products for popularity or affordability and discover exciting deals and discount coupons. Read mattress reviews to get a better insight into the customer reports and mattress ratings.
Can't finalize a purchase without lying on the mattress first? Visit SleePare showroom to test hundreds of products from various online mattress companies. Test them in the showroom and make the purchase online with complete peace of mind.