Sound sleep is essential for a child's health, wellness, and growth. Therefore, choosing the best mattress for kids requires serious thought. Various researches have established the fact that the deeper the sleep, the better the neurological development of kids. Every child has unique slumber needs, and parents want only the best for their young ones.
Sleep deprivation is detrimental to anyone's health. However, lack of sleep affects children's growth more adversely. For this reason, we have assembled this guide to help you choose the best mattress for your infant, toddler, tween, and teen. We will highlight the available beds and essential factors you should consider while choosing a new mattress for kids.
Some of the common concerns that arise during kids' mattress shopping are:
What size to choose?
Is it firm and supportive enough?
Does the mattress pose suffocation risk?
Are the materials healthy for the child?
Is it safe - any buttons or zippers that could come loose?
Is the maintenance and cleaning easy?
How durable is the mattress?
Let us address all of these concerns and guide you to the best options to improve your kid's sleep.
Considerations for a Kid-Friendly Mattress
When it comes to choosing the best kids mattress, there is no one-size-fits-all. We have listed all the possible factor you must consider to align your preferences for your child's sleep needs.
1. Age (Infant/Toddler, Tween/Teen)
Children quickly outgrow their mattress, and admittedly, no one wants to purchase a new mattress every year. A carefully chosen product can ensure a comfortable and health-promoting snooze for 7 to 8 years on the same bed.
For infants, crib mattresses last well into the toddlerhood. On the other hand, tweens can enjoy a perfect rest on their mattress till late teens. However, quality materials and mattress dimensions are crucial to ensure comfort, support, and firmness throughout your kid's childhood.
2. Mattress Size
Choose mattress size keeping the growth factor in mind. The dimensions of the foundation largely dictate kids mattress size. Crib mattresses fit toddler beds perfectly. Similarly, Twin, Twin XL, and Full are suitable for kids that outgrow a toddler bed.
You require a Twin mattress for Toddler's extendable bed and Bunk beds. Twin XL is 5 inches longer than a twin and allows more room for growth. Full mattress accommodates your child's growth spurts the most. It also gives the most space to move around in bed. If you expect your kids to share the bed, a Full mattress is worth the extra money it costs.
3. Firmness
The right mattress firmness is highly subjective. On the other hand, most kids are still learning to verbalize their needs. Thus, it becomes a difficult task for the parents to decide the best comfort level for their child. One objective way to judge mattress firmness is the child's weight. Compare mattress ILD (Indentation Load Deflection) to the weight of your child. ILD gives you a pretty accurate idea about the firmness suitable for your child.
Plush – ILD less than 25 lbs
Medium – ILD between 25 to 31 lbs
Firm – ILD more than 31 lbs
For your infant or toddler, firmer mattresses are desirable. They prevent your baby from sinking into the mattress and allow them to move freely on bed without any added effort. Medium firmness suits younger kids who do not have fixed snooze patterns yet. Another good option is buying beds with adjustable firmness so that your child can find the best fit.
4. Support
A mattress is supportive if it maintains proper posture and prevents undue stress on joints. SIDS is one of the major causes of 3500 sleep-related deaths among US babies. Support is; therefore, crucial to prevent undue sinkage and keep the baby up on the mattress. Keeping your child's body in perfect alignment, a supportive mattress ensures proper growth.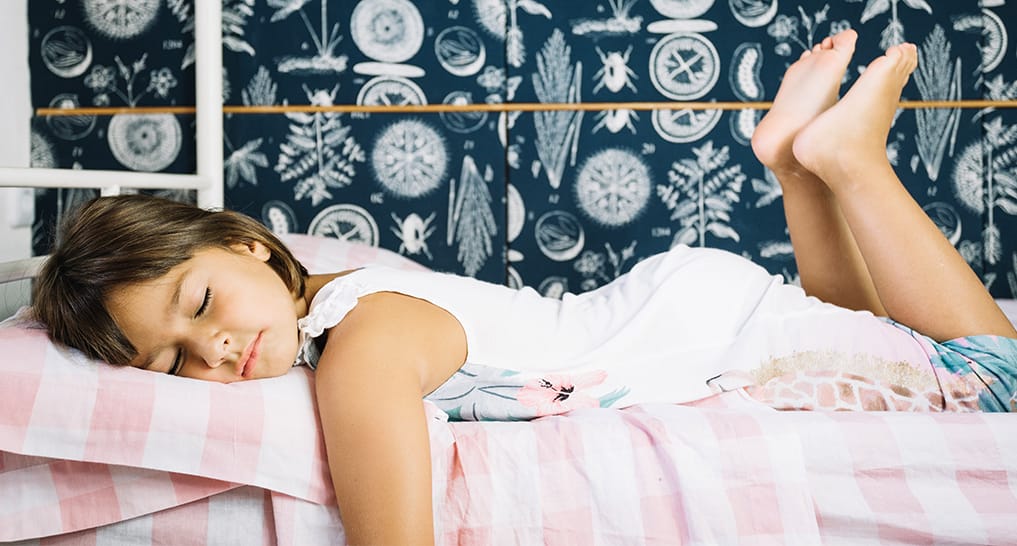 When your baby enjoys a sound sleep, it boosts general well being of a child. Moreover, on a supportive mattress, they can move their limbs freely when awake without much effort. It's crucial for developing children as they learn to rollover, lift their heads, and body gradually.
5. Quality/Durability
Nothing can compensate high-quality materials for the most health benefits of sleep. Quality mattresses deliver regenerating effects of sleep night after night for a long time. Thus, they directly impact the quality of rest and durability of the mattress. A product with high-grade, premium materials sustains the comfort, support, and pressure-relief for your child's entire junior years. Kids are expected to slumber on a crib mattress for 3-4 early years of their life. But, a Twin, Twin XL, or Full mattress can easily be used from preschooling years to late teens. Thus, the mattress should be durable enough to last for at least 8-10 years.
6. Off-gassing
No parent wants to subject their kids to toxic gases! Off-gassing is the release of chemicals from the mattress packing when you unbox it. These chemicals are hazardous, known to cause allergies, respiratory problems, and some are carcinogenic as well. Their smell can be strong and lingering or unnoticeable and minimal depending on the mattress materials used.
These chemicals air out and drift away on their own after some time. However, to make sure these chemical emissions are within the safe range, always look for Greenguard Certified mattress for your child. Else, choose organic mattresses using natural materials only to ensure the safest sleep environment.
7. Child Proof Design
Kids are notorious for popping everything in their mouth. The risk of choking is especially true for toddlers and preschoolers. The childproof design ensures the absence of any small parts that can come loose. Make sure there are no buttons or embellishments. Avoid mattress with zippered covers or choose the ones that have an invisible zipper.
To reduce the risk of suffocation, make sure there are no toys, cushions or heavy blankets that may obstruct air. Moreover, make sure that the child is lying on the bed in supine position at all times.
8. Maintenance
Look for a mattress that is easy to clean and maintain. Darker colored covers hide stains and spillage marks. Removable covers are your best bet so that you can clean any spots easily. Many mattresses have machine washable covers, making them super convenient to clean. On the other hand, you may choose a mattress with a waterproof cover to wipe away any spills.
9. Value
Consider the overall value of the mattress. Weigh its price to its durability and quality of materials. Consider your child's age and whether the cost justifies the duration for which your kid's going to sleep on it. Since this is a significant investment in your child's health, you need to find the best value product.
10. Unique Medical Conditions
Although every child is unique, some kids may have particular medical needs. You must keep them in mind while choosing the best mattress for your kid. Sleep apnea is one such condition, quite common among young ones nowadays. A good bed is known to offer enough support to alleviate the symptoms significantly. If your kid is considerably sensitive to allergens, you would need to consider some of the best mattresses for kids with allergies. They are usually made of natural/organic materials.
Best Mattress Categories for Kids
The two most famous categories for kids mattresses are foam and innerspring. Most parents find themselves caught in the dilemma regarding foam vs. innerspring mattress for kids. However, memory foam, latex, and waterbeds are proving their merit as kids mattress as well. The options are abundant and diverse. So, let us dig deeper and study the distinguishing features of each mattress material separately.
1. Memory foam
The hugging feel makes your child feel secure and comfortable while snoozing. Due to excellent motion isolation, sleep disturbances are minimum. Reduced motion transfer is particularly important if your kids are going to share their beds. Memory foam ensures a peaceful, uninterrupted rest. The mattress conforms to your child's body, cradling it for a deep, sound slumber. There is immediate pressure-relief for active kids with targeted support for the whole body.
Pros:
Cradling comfort
Motion isolation
Localized pressure-relief
Cons:
Sinkage
Heat retention
Off-gassing
2. Innerspring
Innerspring mattresses are of two kinds: Open coils and pocketed coils. While open coils are cheap, they are less durable and too springy to allow uninterrupted snooze. Sibling movement may disturb the children's rest. If you're looking for a durable innerspring mattress, pocketed coils are the best choice. They offer conforming support and adequate motion isolation with a touch of bounce as well. However, they are a little expensive than traditional innerspring.
Pros
Open coils:
Cheap

Pocketed coils:
Durable
Conforming ability
Motion isolation
Cons
Open coils:
Early sagging
Springy

Pocketed coils:
Comparatively expensive
3. Latex
Durability and hypoallergenicity are two most prominent features of a Latex mattress. Natural latex is naturally resistant to allergens and dust-mites. Due to natural components, there is no chemical off-gassing, so your child enjoys a health-promoting sleep environment. Consider natural latex mattress if you have significant concern for allergies. Moreover, Latex is a quick response foam. It offers targeted support for a wholesome rest and springs back as soon as pressure is removed.
Pros
Hypoallergenic
Responsive
Very durable
Cons
Very expensive
4. Waterbed
Waterbeds offer the health benefits of flotation and buoyant support. Major studies have shown the success of waterbeds regarding kids with sleep apnea. Moreover, waterbeds are durable and resist allergies. While traditional waterbeds may have problems with motion isolation, the use of fibers prevents sibling disturbances adequately well.
Pros
Pressure-relief
Motion isolation
Hypoallergenic
Durability
Cons
May develop leaks and harbor bacteria
Best Mattress for Kids
Keeping in view all the factors, we have assembled this list for the best mattress for kids. This guide recommends products by sleep experts' reviews and customer feedback. Our smart algorithm sorts the items on the basis of customer satisfaction ratings. Consumer scores for each desired feature are calculated through authentic and verified children's mattress reviews. We hope that this list will help you find the best first mattress for your child.
Top-rated Crib and Toddler Bed Mattress
Crib mattresses and toddler bed mattresses have the same size. So, buying a crib mattress is an investment into junior's slumber for at least 3-4 years. There are many crib mattresses on the market, featuring different mattress materials as discussed above. This mattress overview will discuss each product's characteristic features to enable you to make a confident choice.
Comparison of Crib/Toddler Mattress
Mattress
Category
Dual Firmness
Natural Materials
Childproof
Off-Gassig
Waterproof
Warranty
Price
Sealy Soybean Foam-Core
Full review
Foam
X
X
Lifetime
$180
Moonlight Slumber Little Dreamer
Full review
Foam
X
Lifetime
$197
Colgate Eco Classica III
Full review
Foam
X
Lifetime
$220
Naturepedic Organic Cotton Classic
Full review
Innerspring
X
Lifetime
$300
Sleep EZ Crib Natural Latex
Full review
Latex
X
X
X
20-year
$355
Price: $180
Mattress Category: Foam
Certifications: CertiPUR-US, Greenguard Gold
Warranty: Lifetime
Manufacturing Country: USA
Height: 5-inch
Firmness: Firm
Natural and renewable soybean makes the support core. The mattress has firm support with little to no sinkage. The firm comfort level eliminates the risk of SIDS (sudden infant death syndrome) or baby getting stuck and suffocated in his/her own crater. Despite being irreversible, the foam ensures personalized comfort to both an infant or toddler.
The squared corners help the mattress fit tightly in the crib, further minimizing suffocation risks. It is suitable for use in all standard-sized cribs, convertibles cribs, and toddler beds. If you require extra edge support for your toddler, you might need to invest in a safety rail. The Vinyl mattress surface is waterproof and phthalates free. However, sensitive kids may find the embossed design irritating in the absence of mattress cover. The company uses a cotton-based protection wrap instead of flame-retardant chemicals.
Parents report little to no chemical odor. Most customers report that their babies slept soundly on Sealy Soybean Foam-Core Crib mattress. The kids seemed comfortable and had fewer episodes of tossing and turning, or waking in the middle of the night. Motion transfer is minimal, preventing kids from waking up due to subtle movements.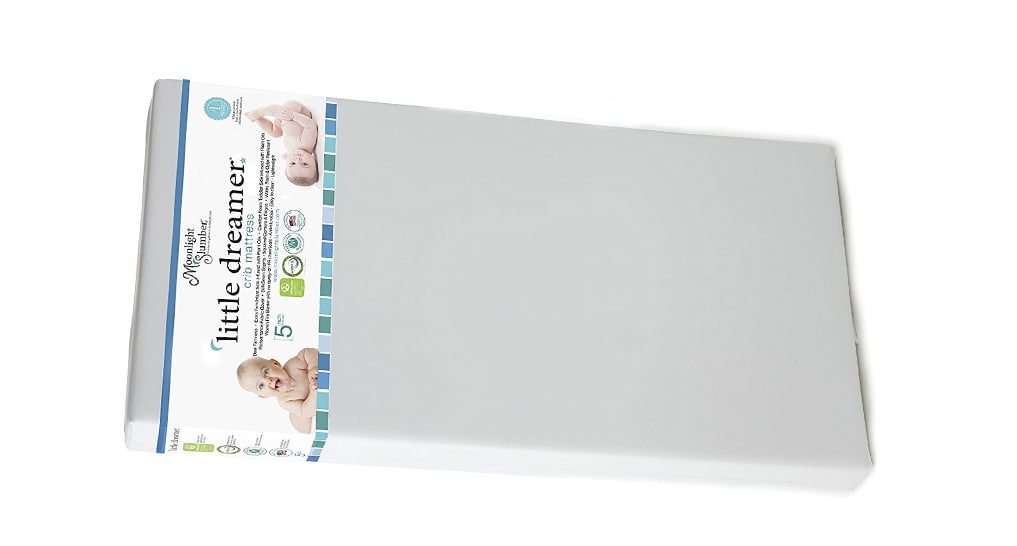 Price: $197
Mattress Category: Foam
Certifications: CertiPUR-US, Greenguard Gold, Green Safety Shield
Warranty: Lifetime
Manufacturing Country: USA
Height: 5-inch
Firmness: Dual Firmness
The plant-based foam on the toddler side is infused with natural oils for a healthy sleep environment. The toddler foam is comfortable with firm support. This side is responsive and has enough give to allow child's proper growth and development. The infant side of the bed is even firmer to eliminate the risk of SIDS.
Soft corners fit tightly in any standard-sized cribs, convertible cribs, and toddler beds. The snug fit makes and secure edges eliminate the risk of baby wedging between mattress and railing. If your toddler tends to sleep on mattress edge, there is little risk of rolling off. If you are concerned, you may invest in a safety rail as you train your child to sleep in a bed without rails and get in and out of bed.
The non-toxic Nylon fabric mattress cover is waterproof and easy to wipe clean. The mattress is free from harmful chemicals including Phthalates, Vinyl, HDPS, LDPE, PP, PS, and many more! The product features dense, eco-friendly foams with no off-gassing.
Most parents report that the support is optimal and their kids sleep comfortably. The customer satisfaction ratings shows happy parents and caregivers. Motion transfer is minimum with just the right amount of bounce. The Little Dreamer is a bit on the firmer side, especially for toddlers. However, most customer reviews mention babies snoozing soundly throughout the night with little disturbance.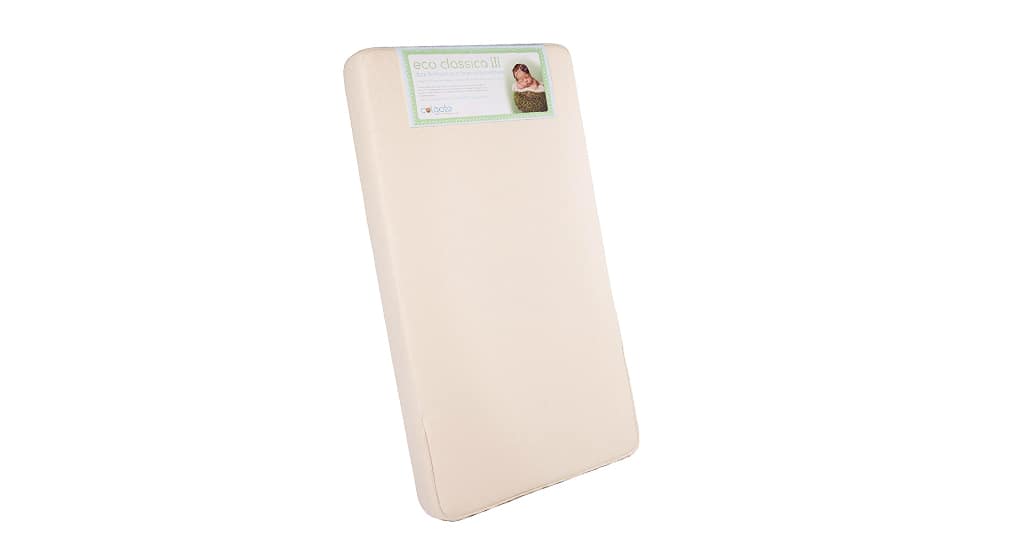 Price: $220
Mattress Category: Foam
Certifications: CertiPUR-US, Greenguard Gold
Warranty: Lifetime
Manufacturing Country: USA
Height: 6-inch
Firmness: Dual Firmness
The eco-friendly crib mattress features plant-based foam, with a firm toddler side and even firmer infant side. The extra dense foam on the infant bed gives babies enough support to lift head, shoulders, and roll over. The firm comfort level minimizes the risk of SIDS. As your baby grows up to be a toddler, flip the mattress to get a comfortable and supportive sleep surface. The toddler surface is pretty soft, yet it barely allows any sinkage. The bounce is adequate for a comfortable rest.
The round corners are soft, and the mattress fits perfectly in a standard-sized crib, convertible crib, and toddler bed. Tight seams, snug fit, and firm mattress surface eliminate suffocation and choking risks. Edges are secure enough to prevent roll-off if your toddler bed is without safety rail. The certified organic cotton mattress cover is smooth and water resistant. Easy to wipe off any spills. The food-grade water-resistant material used in the cover also acts as a barrier to dust mites and bed bugs.
Colgate Eco Classica III is HDPS, LPDE, PP, PS, vinyl, nanoparticles, and phthalates free. A fire sock encloses the foam layers instead of using any flame-retardant chemicals. The smell you may notice right after opening the box, is due to the plastic packing. The odor dissipates within hours.
Parents love Colgate Eco Classica III for its comfort and support. The toddler side has a mix of softness and support, most suitable for a toddler's unique sleep needs. Customer reviews rate this mattress high for its eco-friendliness, support, and responsiveness. Kids are reported to enjoy quality snooze throughout the night.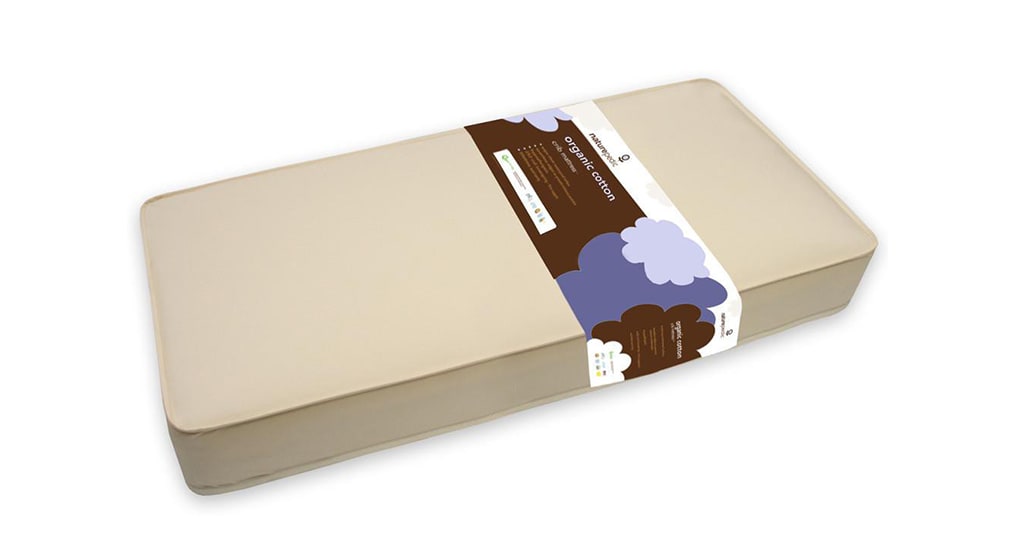 Price: $300
Mattress Category: Innerspring
Certifications: CertiPUR-US, Greenguard Gold
Warranty: Lifetime
Manufacturing Country: USA
Height: 6-inch
Firmness: Dual Firmness
This organic crib mattress is available in an optional 2-stage design having dual firmness. The mattress uses a high-gauge innerspring structure for its support core. The infant side is firm whereas the toddler side has a medium-firm comfort but on the firmer side of the scale. The firmness prevents kids from getting stuck in their own crater and the risk of SIDS. Innerspring have a natural bounce and flexibility that minimize suffocation risk. It also aids in kids movements, promoting their natural growth and development. The bounce in Naturepedic is subtle enough to prevent any sleep disturbances.
The mattress tightly fits any standard-sized crib, convertible crib, and toddler bed. Mattress edges are secure with little to no compression. You can safely use Naturepedic crib mattress in toddler beds without safety rails. The seamless design ensures not a single loose thread. The mattress is enclosed in a certified organic cotton cover, designed for breathability, hypoallergenicity, and comfort. The cover is water resistant and is easy to wipe clean. The specially engineered plant-based polyethylene cover leaches no toxins, phthalates, VOC's, etc. The organic cotton filling makes a natural fire barrier. The absence of harmful chemicals means no toxic off-gassing.
Naturepedic Organic Cotton Classic is an expensive mattress. However, the parents report it to be worth the money. The cost-based value is high due to its excellent support, comfort, temperature regulation, childproof design, and exquisite finish. Some customers do note a higher sleep temperature requiring air conditioning and cooling mattress pads for kids. Other than that, there are no complaints about this organic product.
Price: $355
Mattress Category: Latex
Certifications: Oeko-Tex, GOLS
Warranty: 20-year
Manufacturing Country: USA
Height: 6-inch
Firmness: Medium-Firm
This latex crib mattress features Dunlop foam for medium-firm support. The Dunlop has a bounce similar to innerspring, but the mattress surface is comfortable. Latex does an excellent job at reducing pressure points formation. Support is crucial for a child as it learns to lift head, shoulders, and to roll their bodies. Latex offers a sleep surface comfortable and supportive for your child's healthy growth. The medium-firm mattress surface minimizes the risks of suffocation and SIDS.
The mattress fits tightly in the crib and toddler bed to prevent wedging. The seams are secure, enhancing durability and minimizing any choking threat. The natural eco-wool acts as a flame-retardant while the organic cotton cover offers maximum breathability. The use of premium materials makes your child's sleep environment hypoallergenic. Sleep Ez crib mattress is resistant to mold, mildew, dust mites, and other allergens. The all-natural composition is free from all toxic chemicals, VOC's, phthalates, etc.
Sleep Ez Crib mattress has a high cost-based value. The durable materials make it a one-time investment if you plan to extend your family. The natural and organic materials maintain a healthy rest environment for your baby. Parents report a comfortable snooze and a well-rested child on this latex bed. As babies tend to sleep hot, latex crib mattress keeps them comfortably cool during their slumber.
Top-rated Tween and Teen Mattress
As your baby grows out the toddler bed, it is time for the big transition; from a small bed to an adult-size one. A bed for tweens or teens isn't just for sleeping. From homework to fun with friends, it's your growing kid's favorite place at home. The most common sizes are Twin, Twin XL, and Full. As discussed above, the choice of size depends on how long you expect your child to use it. A preschooler may find a kid's Twin mattress too roomy at first, but if durable, it can last the child well into tweens. A Full mattress lasts even longer, provided the quality of materials and change in sleep patterns.
Comparison of Teen/Tween Mattress
Mattress
Category
Thickness
Firmness
Natural Materials
Off-Gassing
Warranty
Price (Twin - Full)
Dreamfoam Mattress Ultimate Dreams Euro Top
Full review
Latex
12 - inch
Customizable
X
10-year
$600 - $900
Nest Bedding Big Kid's Bed
Full review
Foam
7 - inch
Medium-firm
X
Lifetime
$300 - $500
Zinus Pressure-Relief Green Tea
Full review
Memory Foam
8 - inch
Medium-firm
X
10-year
$138 - $178
Signature Sleep Contour
Full review
Innerspring
8-inch
Medium-firm
X
10-year
$124 - $190
Dreamweaver Egret Hybrid
Full review
Waterbed
12-inch
Firm
X
15-year
$1830 - $2095
Let us give you mattress overview for some of the top-rated products for tweens and teens.
Price: $600 - $900
Mattress Category: Latex
Certifications: CertiPUR-US, OEKO-TEX
Warranty: 10-year
Sleep Trial: 120-night
Manufacturing Country: USA
Height: 12-inch
Firmness: Customizable
Natural, hypoallergenic, breathable, and cool - Latex undoubtedly is one of the luxury mattress materials. Natural and organic latex is usually expensive; however, Ultimate Dreams has a pretty affordable price. For instance, you can get this organic twin mattress for around $600.
This mattress uses Talalay latex, known for its flexibility, bounce, and breathability. Thus, your child gets conforming support without any sinkage. When you child changes sides in sleep, the responsive sleep surface ensures uninterrupted, comfortable rest. Talalay has an even consistency, so if your child tends to move around in sleep, he/she gets equal comfort and support on the entire mattress surface. The mattress has a durable foundation of dense Polyfoam.
Latex is naturally cool, and bamboo knit cover wicks moisture away from your child's body. The result is a peaceful, cool sleep in a healthy sleep environment. Latex is excellent for sensitive children as it is naturally resistant to allergens, dust mites, and molds and mildew. Since kids are still developing a consistent sleep pattern, Ultimate Dreams Euro top gives them an opportunity to change the mattress firmness according to their requirements.
2. Nest Bedding Big Kid's Bed
Price: $300 - $500
Mattress Category: Foam
Certifications: CertiPUR-US, OEKO-TEX
Warranty: Lifetime
Sleep Trial: 100-night
Manufacturing Country: USA
Height: 7-inch
Firmness: Medium-firm
BKB is one of the best foam mattresses for kids. The mattress is specifically meant for children, sizes available from kids twin mattress to full size only. A non-toxic cover wraps the Energex foam comfort layer and high-density Polyfoam base to form this mattress. The mattress has a chemical-free fire barrier and has minimal off-gassing.
Big Kid's Bed is breathable and responsive, with conforming ability similar to Memory foam. Although the child gets a hugging feel, the resilient foam and the high-density base prevent sinking. Energex foam molds the body for targeted support and the subtle bounce makes moving around in the bed more comfortable. The base foam makes BKB gives durability to the whole structure. The mattress edges are secure enough to prevent roll-off and sagging.
The Energex has an open cell structure that promotes airflow through the mattress. Thus, your child sleeps cool. The mattress has medium-firm comfort, suitable for majority children. However, Energex is a quick response foam and the support increases as you apply more pressure. Thus, the mattress can adjust comfort and support depending upon the child's weight and build. This property is a huge plus point especially if you have preschoolers who are still developing their preferred sleep style.
Price: $138 - $178
Mattress Category: Memory Foam
Certifications: CertiPUR-US
Warranty: 10-year
Sleep Trial: 100-night
Manufacturing Country: USA
Height: 8-inch
Firmness: Medium-Firm
Zinus is a budget-friendly choice in Memory foam mattresses suitable for youth. The comfort layer has an infusion of Green tea extract and active charcoal. Both materials make Zinus mattress resistant to bacteria and allergens. Zinus Memory foam mattress is available in various height profiles; however, most parents favor the 8-inch mattress. The mattress has a faint, refreshing Green tea smell with minimal toxic off gassing.
The memory foam offers exquisite comfort and immediate pressure-relief for active preschoolers to teens alike. Zinus provides localized support for the whole body. The mattress does a good job at preventing excessive sinkage. Use of high-density foams in the middle and foundational layers account for overall support and ease of movement. The mattress is responsive with a bit of bounce. Edges are secure making transition from toddler bed to an adult bed easier and safer for your child. Zinus Memory foam mattress is a durable product with high-cost based value.
The presence of Charcoal wicks moisture away from your child's body, initiating cool and comfortable slumber. The mattress is on the softer side of medium-firm. Most parents and caregivers appreciate this comfort level. Kids usually sleep hot, and some parents report of higher heat retention. If it is a concern for you, consider using a gel mattress topper. You can also try the new and exclusive Gel Memory foam mattress from Zinus.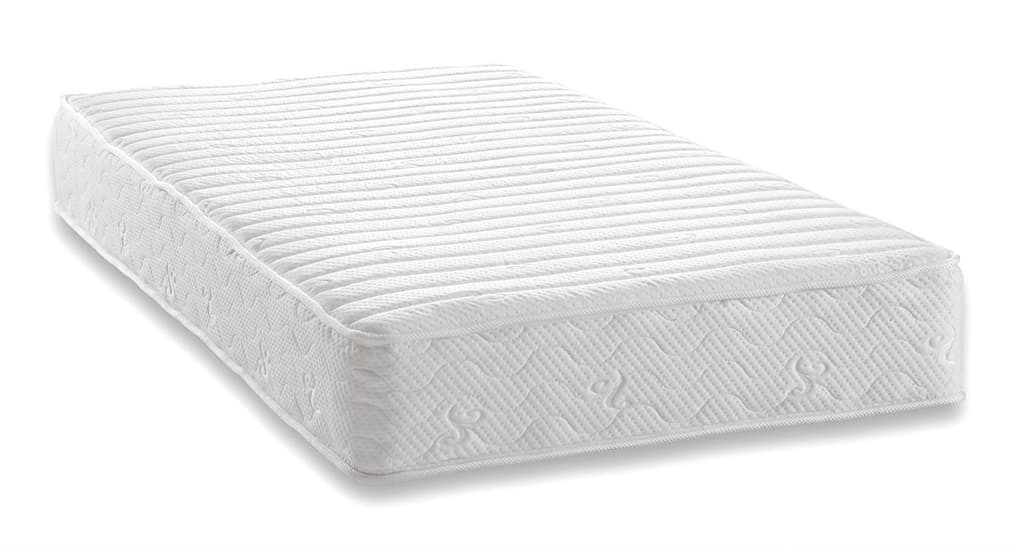 Price: $124 - $190
Mattress Category: Innerspring
Certifications: CertiPUR-US
Warranty: 10-year
Sleep Trial: 100-night
Manufacturing Country: USA
Height: 8"
Firmness: Medium-Firm
Signature Sleep Contour is an excellent mattress for overall comfort and support. It is an affordable mattress with innerspring support core. The pocketed coils have a top layer of high-density foams for a softer comfort. Contour 8 is quite a popular product among parents and caregivers. There is slight off-gassing for the first couple of days, but the mattress is certified to have no phthalates and toxic metals.
The pocketed coils offer a peaceful, uninterrupted rest through excellent motion isolation. Since the coils move independently, they conform to the body curves to provide localized pressure-relief. The mattress does a good job at distributing the weight of your child's body. Individually wrapped coils offer support corresponding the weight and build of the child. The support increases with the growth of your child. This is a durable mattress, expected to provide a comfy rest well into your child's teenage years.
The pocketed coils provide free air passages for proper ventilation. Thus, heat regulation in Signature Sleep Contour 8 ensures optimal sleep temperature for your child. The dense foams offer adequate edge support to prevent roll-off. Secure edges are important for a toddler transitioning to an adult bed.
5. Feather Edge Flotation Egret Hybrid Waterbed
Price: $1830 - $2095
Mattress Category: Waterbed
Certifications: -
Warranty: 15-year
Sleep Trial: Varies with retailer
Manufacturing Country: USA
Height: 12"
Firmness: Firm
A classic 12" waterbed, available in two firmness levels. Fiber Firm III 80% waveless variety offers adequate firmness. The hybrid waterbed features a pillow top of wool and polyester. The pillow top is removable for cleaning and periodic airing. The mattress is on the firmer side, ideal for back and stomach sleepers.
The softside Egret has a secure edge, significant for toddlers just learning to sleep on an adult bed. Edge support is also vital if you expect your kids to share the bed. The 100% feather edge offers even sleep surface right till the mattress periphery. Since the bed is 80% waveless, motion transfer is significantly reduced. The rigid plastic ensures even support.
The Egret waterbed offers your child therapeutic benefits of flotation. Waterbeds are known to soothe both the body and the mind. The vinyl surface is resistant to microbes and allergens. Due to semi waveless composition, this mattress promotes proper spinal alignment and healthy body posture for your child.
A kid's mattress is a significant investment in garnering better sleep habits for your child. Sound sleep is crucial for a child's healthy growth and learning. Each sleep surface is unique owing to the various material used in its composition. However, with the knowledge of these mattress material, you can better align your expectations.
SleePare makes comparison shopping easier for you. We recommend products by customer scores and ratings for factors such as comfort, support, pressure-relief, durability, cooling ability, to name a few.
With so many available options, we hope that this guide will help you make an informed choice. If you have any questions or concerns, be sure to contact us. We make sure to help you find the best mattress for your infant, toddler, preschooler, tween or teen.