Spring mattresses are incredibly popular. According to a study, 49% of Americans sleep on an innerspring mattress, making this the most popular type of mattress.
A lot of people prefer innerspring mattresses for their strong support and affordability, along with excellent quality and performance.
Spring mattresses feature a steel coil core with a padded layer or a thin foam on top. As a result, you get a flexible and supportive surface that keeps you cooler than most other mattress types. 
However, most people find the innerspring mattresses firm and bouncy. Durability and premature sagging is another major concern. So, you need to choose spring mattresses thoughtfully.
In the wake of recent innovations in the mattress market, some innerspring mattresses provide great support, comfort, and lasting durability. Based on the pros and cons, we have selected three best spring mattresses with the best value for money. But before we dive into their details, here's what you need to keep in mind when shopping for a spring mattress.
Buying Considerations for an Innerspring Mattress
Before you spend a hefty amount on a spring mattress, here are a few essential factors you might want to consider. Be mindful of how these factors affect your rest quality and which features suit your particular sleep needs.
Coil Type Affects Mattress Feel
The types of coils used in a mattress will change the way it feels. Different coil structures offer a unique level of pressure-relief and support to your body.
Hourglass Coils: Found in inexpensive innerspring beds and provide a firm sleep surface.
Continuous Coils: Affordable and somewhat durable with adequate motion isolation but do not conform well.
Pocketed Coils: Excellent pressure-relief with minimal noise and motion transfer, but a bit pricier.
Coil Count Improves Support
The coil count is the total number of coils in a spring mattress. The support provided to your body by a spring mattress depends on the number of coils used in the spring mattress's construction.
This factor may also affect the life expectancy of a mattress. With the change in the size of a mattress, the number of coils may vary. The standard minimum coil count for the common spring mattress sizes is:
Full – 300
Queen – 400
King – 380
Know Coil Gauge for Durability
Coil gauge, also referred to as the thickness of the wire that makes up the spring mattress, determines how durable the mattress is. Mattresses with a lower coil gauge have longer durability than mattresses with a higher coil gauge because the thicker wire won't wear out quickly. A high coil gauge means the mattress will feel soft. A low coil gauge will give the mattress quite a firm feel.
While scanning the top-rated coil spring mattress, use this key to know the coil gauge count considering your comfort level preferences:
For soft mattress: 14 or high
For firm mattress: 13 or low
Quality of the Coil Material
Although all coils are mostly steel and are highly durable, they vary significantly in terms of quality. When the weight is applied, high-quality coils will always spring back to their original form without deforming or getting stuck in one position. Low-quality coils sag early, form body impressions, and reduce the lifespan of your mattress.
Look for the presence of tempered coils in your mattress. Such coils are more durable because they have been heated and cooled repeatedly to strengthen and ensure the shape of the coil. For overweight sleepers who require firm support, tempered coils are an ideal choice.
Pay Attention to Pressure-Relief
Customers often report pressure points formation at the neck, shoulders, back, and hips on innerspring mattresses. Since the comfort layers are thin and coils are on the firmer side, pressure-relief is an issue. Moreover, since most spring mattresses use continuous coils attached to one another, they are unable to contour your curves.  
So, if pressure-relief is important for you or if you sleep on your sides, go for spring mattresses with pillow tops. You can also consider luxury innerspring beds, preferably with pocketed coils or micro coils.
Innerspring Mattress Cost
The price depends greatly on mattress materials and its construction quality. You can find quite a variety of spring beds on the market, from very cheap to high-value luxury. 
Pocketed coils tend to be the most expensive. Spring mattresses with euro or pillow top offer a luxury innerspring experience and are generally pricier. Offset coils are average-priced, and bonnell and continuous are the cheapest.
Beware of The Motion transfer 
The springs that make the mattress pleasantly bouncy and responsive, also transfer a lot of motion. If you share your bed with a partner or pet, choose a spring mattress with individually wrapped pocketed coils. Otherwise, you risk disturbed sleep every time your partner moves in bed. 
Pillow-top spring mattresses may also help isolate motion. If you wish to share your bed, it's important for you to test spring mattresses in a showroom before making a final decision. 
Check Out Temperature regulation
If you tend to sleep hot and sweat a lot, then temperature regulation is important for you. Innerspring mattress construction promotes airflow and keeps sleep temperature down. 
However, some people find spring mattresses too cool. So, it's better to check them out in a store to make sure they're the right fit for you. 
Choosing the right bed from the plethora of mattresses available on the market can be pretty challenging. Based on the factors discussed above, we've narrowed down to three of the best spring mattresses for comfort, durability, and value for money based on customer experience and our in-depth research.
Overview of Best Spring Mattresses
1. Winkbeds — Durable Innerspring Mattress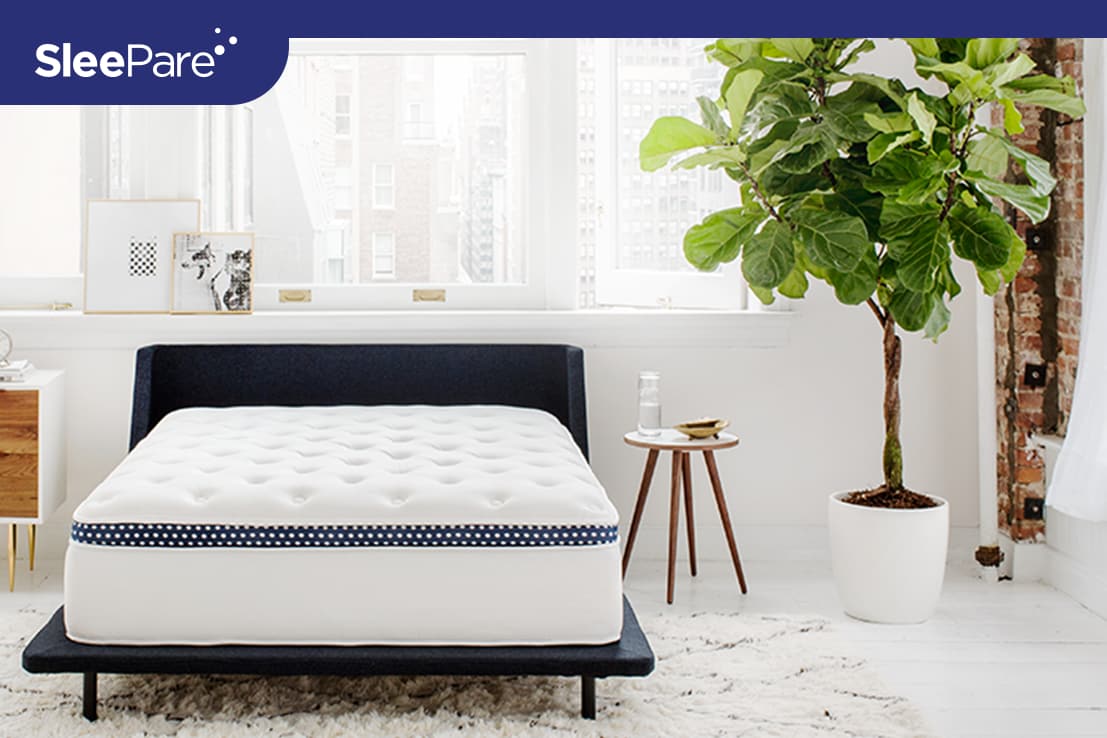 Customer Satisfaction Ratings for Winkbeds Features
 

Comfort

Support

Temperature Regulation

Durability

Overall Value

Buy Now
Pros:
Suitable for all sleep positions
Luxury innerspring mattress
Exceptional durability
Cooling mattress
Best for back pain
Cons:
Heavy mattress, difficult to move
High price tag
Winkbed is a 14.5-inch luxury innerspring mattress available in three firmness options, soft, medium, and firm. So, you can choose the model suitable for your body type and sleep position. The mattress features a Euro-pillow top and a dual coil support system for a comfy and supportive snooze.
The pillow top model makes Winkbed one of the best innerspring mattresses for people who sleep on the side. The mattress offers a generous amount of cradling comfort to the shoulders and hips. The pressure-relief at your sensitive points is superb. At the same time, the LumberLayer microcoils in the mid-region maintain spinal alignment to prevent lower back pain.
Winkbed has remarkable cooling properties. The breathable foams and the pocketed springs have enough empty spaces to allow free airflow and excellent heat distribution. Each Winkbed model ensures a refreshing, pain-free rest for all sleeper profiles.
The mattress holds up extremely well due to the durable materials in its sturdy construction. Strong edges ensure longevity and resist premature sagging over time. All in all, it's an excellent high-value product to last you a long time.
2. Ikea HASVAG – Affordable Spring Mattress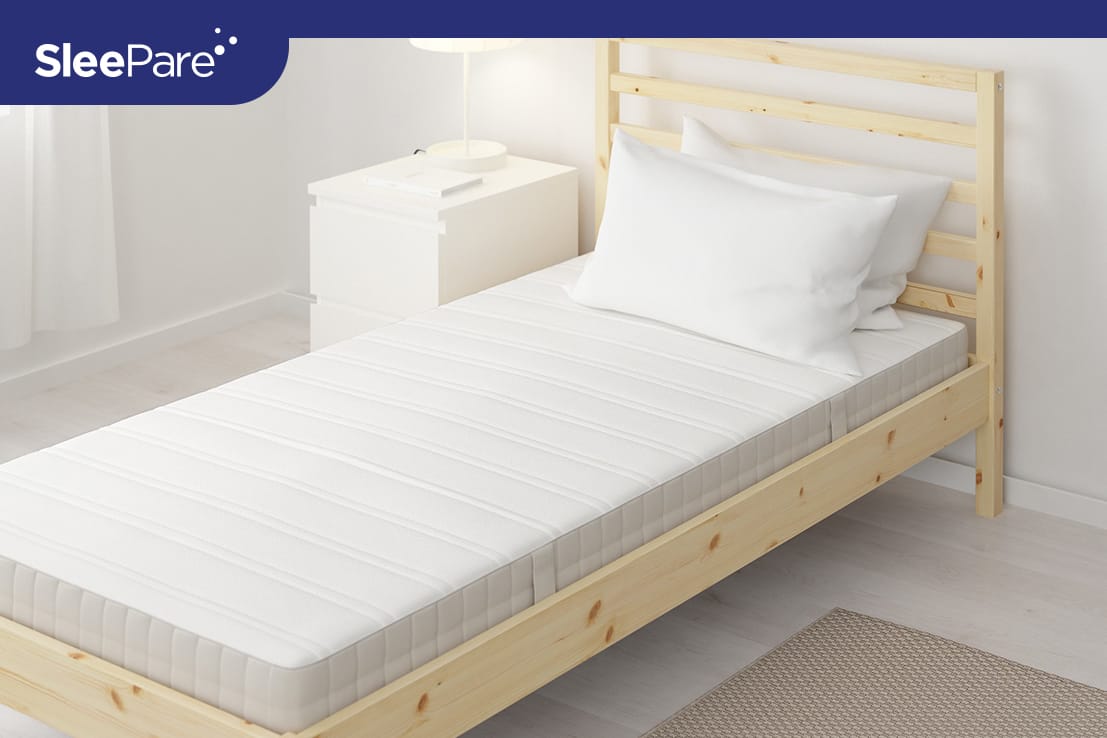 Customer Satisfaction Ratings for Ikea HASVAG Features
 

Comfort

Support

Temperature Regulation

Durability

Overall Value

Read Review
Pros:
Excellent edge support
Enhanced bounce
Inexpensive spring mattress
Cons:
Poor motion isolation
Unsuitable for lightweight side sleepers
Unsuitable for overweight sleepers
HASVAG spring mattress by Ikea comes with Bonnell springs and a layer of soft filling to give you a firm comfort and support. This 8-inch spring mattress is a popular IKEA model. Customers choose it for its affordability and high quality. 
If you prefer a firmer sleep surface or sleep mostly on your back or stomach, HASVAG is a suitable choice for you. Combination sleepers admire the bounce and the responsiveness of HASVAG as it allows them to change positions on the bed easily. However, increased motion transfer may be of concern for the couples and pet owners.
The stretch fabric cover ensures pressure point relief. HASVAG offers exceptional support thanks to the sturdy steel coils. As a result, the mattress mitigates the sinkage issue, as well. Overweight people may risk bottoming out due to its thin profile. On the whole, if you're looking for a cheap spring mattress, HASVAG by IKEA is an affordable choice.
3. Restonic Biltmore MicroCoil – Contouring Spring Mattress
Customer Satisfaction Ratings for Restonic Biltmore MicroCoil Features
 

Comfort

Support

Temperature Regulation

Durability

Overall Value

Buy Now
Pros:
Remarkable pressure-relief
Strong edge support
Good temperature neutrality
Durable mattress
Restonic Biltmore MicroCoil is a luxury innerspring mattress with superior pressure-point relief due to the presence of two self-encased coil systems. The key feature in the bed is a layer of microcoils over the support core of individually-wrapped springs.
This additional layer of microcoils ensures exceptional contouring to your spine, hips, and shoulders. You can sleep in any position you desire, and the dual coil system will ensure optimum comfort and support with even weight distribution for total relaxation. 
Biltmore MicroCoil mattress also has a foam layer called AlumiLast, infused with aluminum. It helps distribute heat for a cool and refreshing sleep. The entire structure provides a resilient, supportive sleep surface. 
Due to the use of pocketed coils, the mattress has a quick response time with an excellent bounce. At the same time, since the coils move independently, motion transfer is minimal, making it a suitable choice for bed-sharing. It's a durable high-end product with excellent value for money.