Did you know people who are hot sleepers don't require blankets or comforters to fall asleep? These people often find themselves unable to sleep at night because of sweaty temperatures their body rises up to.
Health professionals recommend you to sleep on a surface which alleviates this problem. Sleeping on a mattress specially designed for hot sleepers can improve sleep and raise the quality of life to optimum levels.?
In this blog, we will discuss the best mattresses for hot sleepers and things to look for before you decide to buy them.
Significance Of Sleep: The Reality
Sleep is essential to maintain personal health and wellbeing. Without adequate sleep, we find our bodies to be fatigued and tired. On a long term basis, if we are not getting sufficient sleep, our body would not be able to stay fit.
Many of the crucial processes occur while we sleep so if we have a night of disrupted sleep, processes like restoration of emotional stability, repair of physical injuries and day time performance are not able to occur. A lot of us find it very hard to sleep at night because we can't reach our optimum position or comfort.
This issue is most often attempted to resolve by changing the mattress type. Some people choose latex, and others choose innerspring.
When we sleep, our body goes through different stages of the sleep cycle, which include the REM stage and Non REM stages. All these stages are important, as they regulate and restore parameters like blood pressure, pulse rate, and how much the body gives out heat.
Many people find themselves very hot at night, leading to difficulty in sleeping. To overcome this, many of us suffering from this problem, turn on fans and air conditioners.
Some try to use swamp coolers to lower down the temperature of the room to regulate body temperature. The effectiveness of such techniques is debatable as often their results are inconsistent and lack evidence for improvement in sleep.
One proven method to improve sleep for hot sleepers is using a mattress that addresses the underlying cause. Sleeping on a mattress specially created for hot sleepers may end the problem and improve temperature regulation.
There are many types of mattresses available in the market which successfully address this problem; absorbing body heat. Hence, cooling down the body for a good sleep.
These are highly beneficial mattresses as they reduce sleep debt and improve quality of life.
How to get enough sleep?
If you are a hot sleeper, the wise thing to do would be to buy a mattress that regulates your body temperature so you can sleep enough. A body that is not at a well-regulated temperature may not be able to produce an important hormone, melatonin, highly essential for sleep.
Keep factors such as material, temperature regulation and firmness in mind before making a decision.
Read on to learn more about buying the perfect mattress for hot sleepers.
What to know before purchasing a mattress for hot sleepers
Before we get to the list of best mattresses for hot sleepers, let us keep a few things in mind before making our final purchase. Ask yourself the question:
"What things do I need to know to purchase a mattress for hot sleepers?"
You can make online purchases

Life in the 21st century has become hectic, and we hardly find the time to go out to buy our stuff now. Even if we somehow manage spare time, we prefer staying at home and ordering it online.

There are many advantages in shopping online such as ease of purchase, comparing prices and saving of time.

Finding mattresses online is easy, and it augments you in comparing prices and material, etc. but the biggest disadvantage could be that it may not suit you. However, most mattresses have a free exchange or return policy so this should not stop you from doing so.

For hot sleepers, it would be really wise to check on mattress websites to find the most suitable mattress without lying on one. you will be able to determine if it will help or not. Many mattress companies have a return and exchange policy and you could return a mattress that would save your time and effort.

Know your mattress type

Different mattress types cost different. Some materials are more expensive than others and also provide a different level of comfort. A cost effective mattress may not be as durable as a costly mattress.

Here is a list of mattress types along with their pros and cons.

Memory foam/pure foam

Pros:

Cheaper than other types

Decent cooling if covered with an active cooling material

Firm, so may be excellent for back pain

Cons:

Not very effective at cooling

May cause breathing problems

Hybrids

Pros:

Excellent cooling

Proper response to pressure

Enhances effective temperature regulation

Cons:

Slightly expensive

Memory foam hybrid may not be an active cooling mattress

Latex

Pros:

Superb response to pressure

Permits efficient airflow

Healthy/eco-friendly choice

Cons:

Offline brands are expensive

Innerspring

Pros:

Excellent response to pressure

Excellent cooling ability

Permits inner air flow

Cons:

Expensive

Not very durable

Know your body type

All individuals have a body type, and it may differ from one another. A buffed up person's needs differ from a thin person's needs. This is true for hot sleepers as well. If you are a bulky person, then you may not have the same sleep experience on a mattress typically designed for a light-weight person.

This parameter can be typically taken care of after discussing it with the salesperson of the mattress store you choose to buy your mattress.

Effective temperature regulation

It is highly critical to know that some types of materials offer more temperature regulation in comparison with others. Also, some materials can cause issues with breathing if you sleep on your stomach. Some materials may not offer a linear heat distribution and thus interfere with your sleep.

You should ask the salesperson, does this mattress have a linear heat distribution? Would my whole body be equally cool? Sometimes we experience that our feet are cooler than our arms, this is typically related to our blood flow but can sometimes be related to the heat distribution of the mattress as well.

At least a 100 day return policy

It is important to know that finding the right mattress for hot sleepers may be tricky and possibly more like a hit and trial process. You should carefully look at the return policy for each bed you try because you are not going to know for sure about a particular mattress until you have slept on it for a couple of weeks.

Also, some mattresses take up to 40 days to reach their optimum firmness level. This may sound like a slow process, but it is definitely worth a shot. Once you are having a good sleep on a consistent basis, then you have found the right mattress.

Choose durability over price

Many mattress companies offer mattresses for hot sleepers at a low price, but this comes at a cost. This low cost, however quite appealing apparently, is not beneficial for the customer. Mattresses which are comparatively cheap often have a short span of life.

Also, sleeping on a mattress for years makes the body adapt to it. Imagine the hard work going down the drain if you have to change your mattress in just a couple of years.

Also, the wastage of time, money, and energy, it is not recommended to opt for a low priced mattress and compromise over durability.

Choose appropriate accessories

When purchasing a mattress for hot sleepers, it is highly important to choose accessories which go with the mattress.

Now, by going with the mattress, it does not mean to go within color. If you choose pillows or sheets which trap a lot of heat, then the whole exercise and effort of buying a special mattress would go down the drain.

So whenever you go shopping your favorite mattress, carefully select accessories which go with the mattress to optimize temperature regulation.

A purple pillow could be an excellent choice for hot sleepers as this pillow is made up of a special material that regulates body temperature.

Choose one from many

When purchasing a mattress for hot sleepers, it is vital to look at many before you decide to take one home. If you are out in the market, it is always wise to check other mattress stores to have a fair idea of these mattresses. This will help you save money and also get you the most suitable mattress.

Go around and try out mattresses to get a feel. Make a list and use a narrow down strategy to choose which one would suit you. Once you have narrowed down and cut the mattresses which you do not need, you can take your mattress home.

Now that we have discussed important things to remember before purchasing a mattress, here are the top 10 mattresses available in the market which can be beneficial for hot sleepers.
Top 10 effective body cooling mattresses for hot sleepers
| Brand | Mattress | Mattress Type | Best Feature | Trial Period | Warranty | Review Link |
| --- | --- | --- | --- | --- | --- | --- |
| | | Hybrid | Value for Money | 100 nights | 10 years | Read Full Review |
| | | Hybrid | Cool Mattress for Plus-size Sleepers | 120 nights | 25 years | Read Full Review |
| | | Hybrid | Cooling Memory foam mattress | 101 nights | 25 years | Read Full Review |
| | | Hybrid | Great Choice for Active Sleepers | 100 nights | 10 years | Read Full Review |
| | | Foam | Faster Recovery and Sleep | 100 nights | 10 years | Read Full Review |
| | | Foam | Faster Recovery and Sleep | 100 nights | 10 years | Read Full Review |
| | | Innerspring |  Luxury Innerspring Cooling Mattress | 120 nights | 25 years | Read Full Review |
| | | Hybrid | Best for Allergy-Prone Individuals | 100 nights | 25 years | Read Full Review |
| | | Foam | Eco-friendly Foam Mattress | 120 nights | 25 years | Read Full Review |
| | | Hybrid | Luxury Mattress for Hot sleepers | 100 nights | 10 years | Read Full Review |
After thorough scrutinies and countless surveys, we have narrowed down the above-mentioned mattresses for hot sleepers. Our research includes online and offline sources. The following is a detailed overview of the mattresses we have chosen.
An Overview of Best Mattresses for Hot Sleepers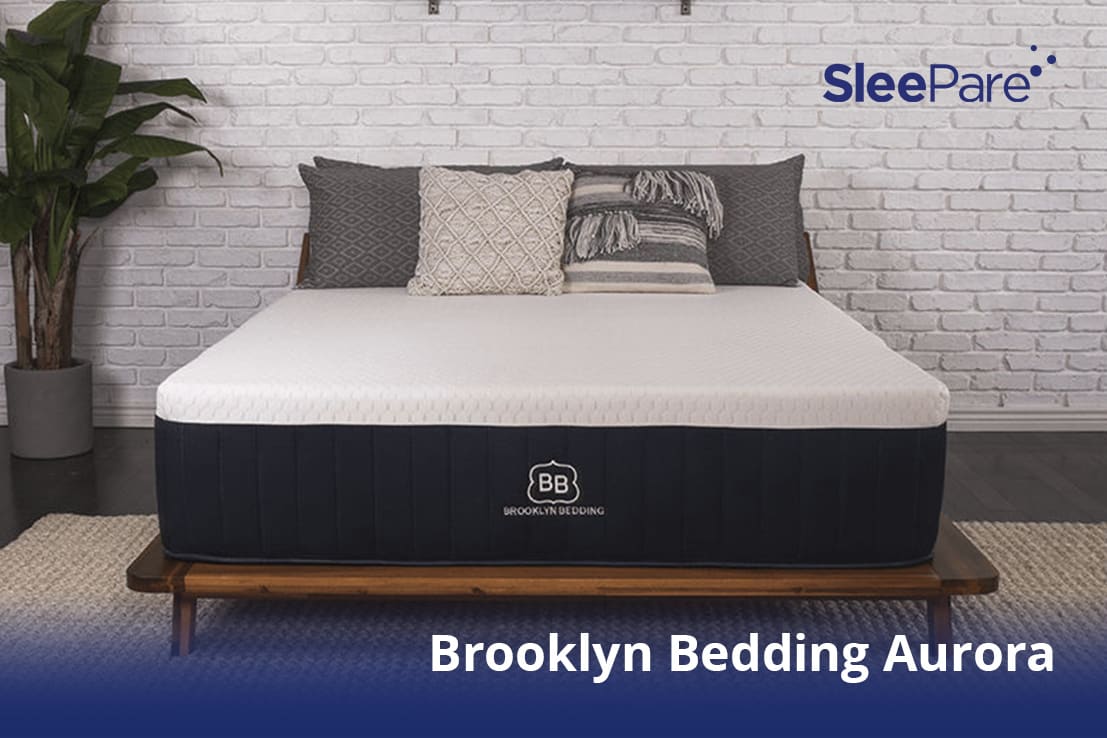 Customer Satisfaction Ratings for Aurora hybrid Features
 

Comfort

Support

Temperature Regulation

Durability

Overall Value

Buy Now
Pros:
Great heat distribution technology
Excellent back support
Suits all types of sleep positions
Suitable for heavier individuals
Cons:
Slightly expensive
Can be hard to move
If you are looking for a bouncy mattress that also happens to sleep cool, then Brooklyn Aurora appears to be the most popular cooling mattress for hot sleepers.
This mattress combines multiple cooling technologies. Made with a combination of memory foam, pocketed coils, and active Phase Change Material, it's one of the coolest and comfiest hybrids you'll find.
Brooklyn Bedding Aurora comes in three different firmness levels: Soft, Medium, and Firm. You can choose the firmness to suit your sleep position and other comfort preferences. Good at motion isolation, Aurora is ideal for couples, especially if one of the partners sleeps hot. 
Because this mattress is pretty thick and uses sturdy pocketed coils as the support core, Aurora works well for all body structures. Light sleepers worried about pressure points formation can choose the Softer Aurora, while firmer models are best for heavier individuals.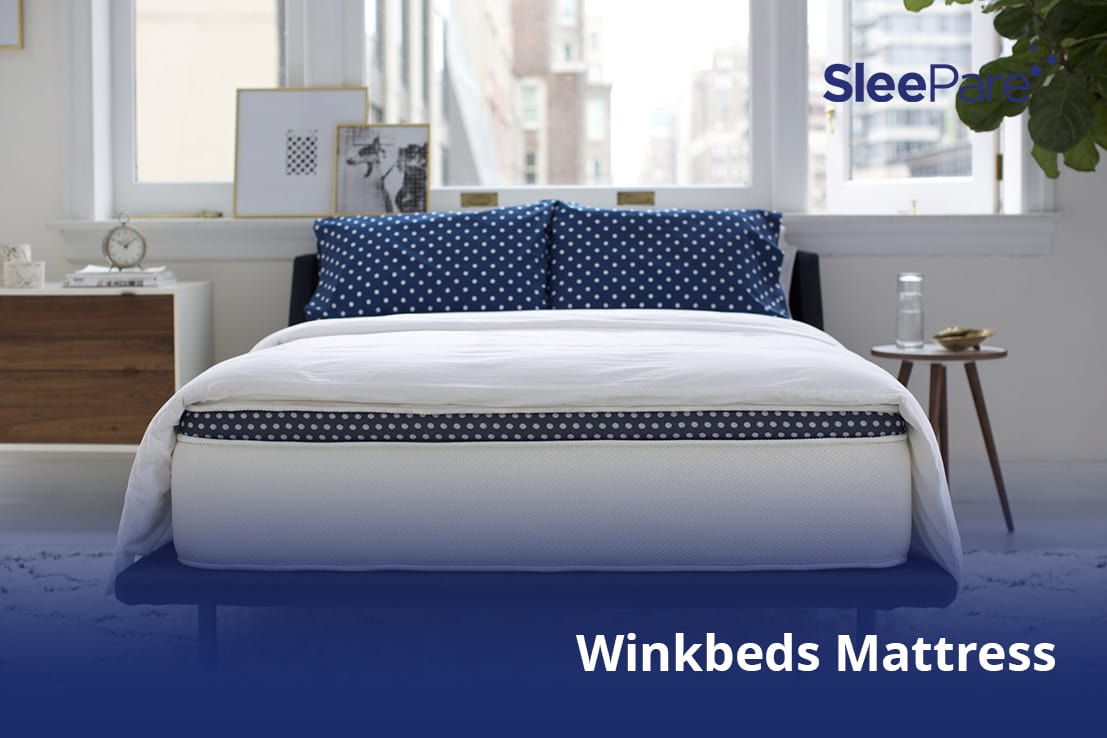 Customer Satisfaction Ratings for Winkbeds Plus Features
 

Comfort

Support

Temperature Regulation

Durability

Overall Value

Buy Now
Pros:
Designed for heavy sleepers Enhanced airflow keeps the mattress cool Excellent pressure-relief Sturdy support High-value mattress
Cons:
Heavy mattress Expensive mattress
The Winkbeds Plus is ideal for plus-size individuals looking for durable, steady, and cooling hybrid mattresses. It is exceptionally designed to be responsive with excellent bounce and optimum support for heavy sleepers surpassing 300 lbs.
The hybrid design uses high-quality, dense and durable foams that resist sagging. The supportive individually-wrapped coil system ensures minimal sinkage and excellent contouring.
Winkbed Plus works for most hot sleepers. The Tencel cover in the mattress has moisture-wicking and cooling properties. In addition, the latex layer is naturally breathable, and the innerspring layer allows air to circulate freely. All of these features help promote a cooler night's sleep.
Although Winkbed Plus is a relatively expensive mattress,  undoubtedly, it is the best cooling mattress on the market for overweight sleepers.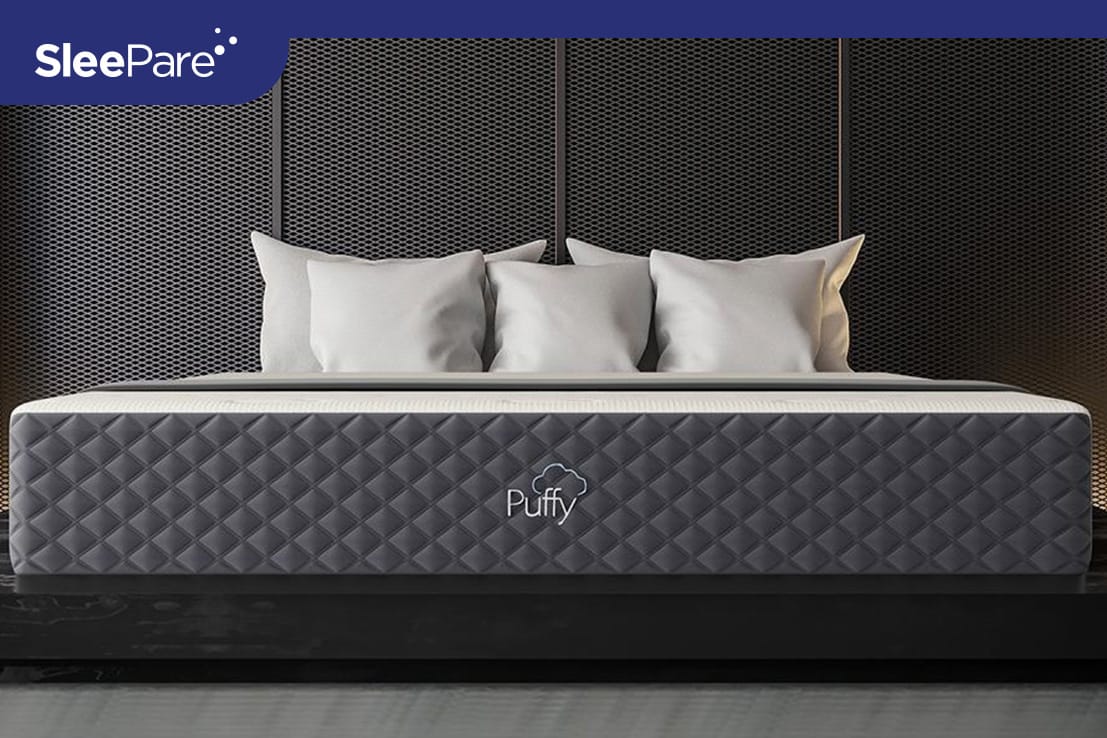 Customer Satisfaction Ratings for Puffy Lux Features
 

Comfort

Support

Temperature Regulation

Durability

Overall Value

Buy Now
Pros:
Suitable for all sleeper types
Amazing temperature regulation
Excellent motion isolation
Enhanced spinal alignment
Cons:
Not suitable for individuals with 250+ lbs weight
Expensive mattress
The Puffy Lux mattress is an upgraded and higher quality version of the original Puffy mattress. It is an all-foam bed that consists of four specialized layers.
This 12-inch thick mattress features soft, airy memory foam with medium-soft feel. Puffy Lux provides maximum comfort for side and back sleepers.
The Cooling Cloud Foam layer of the mattress helps regulate temperature and enhance ventilation. This unique gel-infused layer cools down the mattress by dispersing heat instead of allowing it to build up. As a result, there is a low likelihood of you waking up hot and sweaty.
According to the company, Puffy Lux is approximately eight times better at cooling than ordinary memory foam. Overall, the Puffy Lux is one of the coolest memory foam mattresses on the market.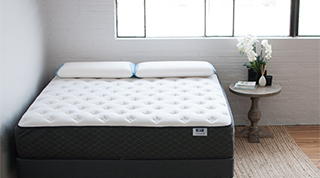 Customer Satisfaction Ratings for Bear Hybrid Features
 

Comfort

Support

Temperature Regulation

Durability

Overall Value

Buy Now
Pros:
Best hybrid for athletes or people with an active lifestyle
Exceptional pressure-relieving support
Deep lumbar comfort
Cons:
Only available in one firmness level
May not suit lightweight people
The Bear Hybrid is a five-layer, 14-inch thick mattress with a medium feel. Temperature control is above average in the Bear Hybrid. The mattress also prevents excessive sink, and the coils allow for a good amount of airflow around your body.
The Celliant material in the cover provides advantages to muscle relief and keeps things cool by converting your body's heat energy away. This helps increase circulation and oxygen in the muscle tissue. Using Celliant technology in the cover, the Bear Hybrid sleeps exceptionally cool.
Bear Hybrid is a great option for most average-sized hot sleepers. Moreover, anyone that has achy muscles and needs extra pain-relief will find this mattress comfy and relaxing. The idea is to give your body an extra health boost while you sleep.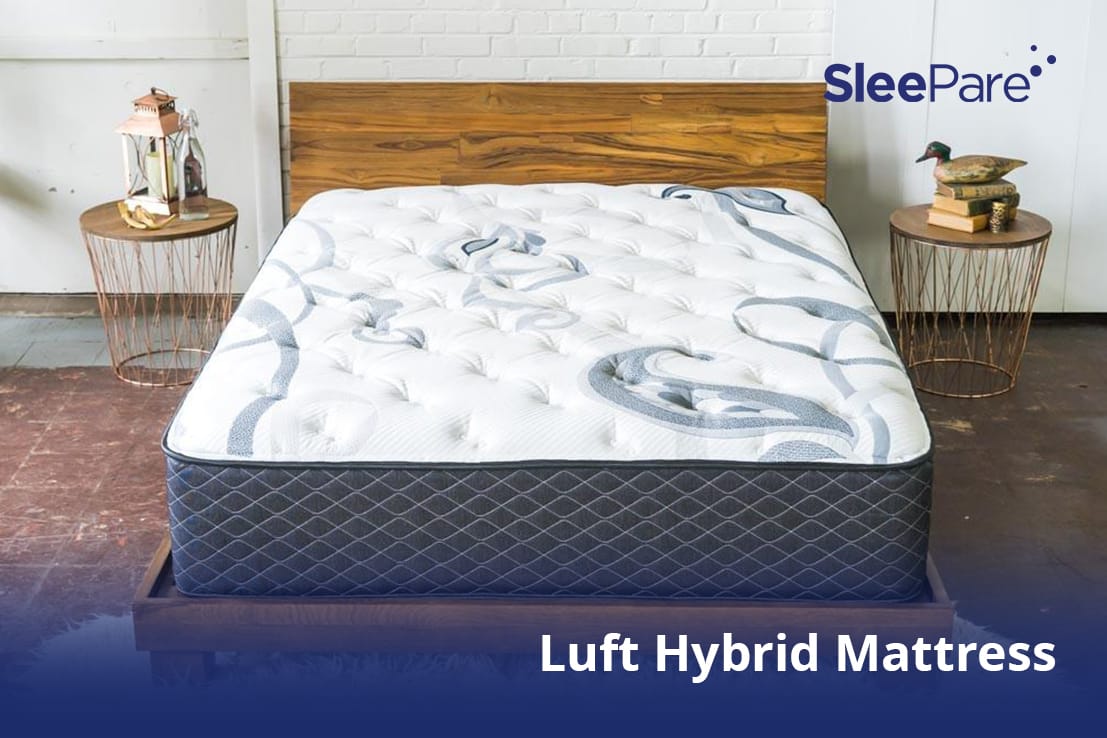 Customer Satisfaction Ratings for Luft Hybrid Features
 

Comfort

Support

Temperature Regulation

Durability

Overall Value

Buy Now
Pros:
Hybrid design has good temperature regulation
A great value, good quality mattress
Suitable for all sleeping positions
Good for couples
Cons:
A heavy mattress that is difficult to move
The Luft Hybrid is a 5-layer hybrid mattress comprising foam and coil layers. It features breathable fabrics designed to provide optimal body support and cooling. The mattress is hand-crafted in the USA from durable materials.
This mattress does an excellent job of sleeping you cool. Thanks to the gel and graphite infused foam layers for enhanced temperature regulation and pocketed coil system for promoting airflow. The cover of the mattress is made from 360-degree stretch fabric. This layer is soft and promotes breathability. Combined together, Luft hybrid mattress sleeps cool and comfortable.
The individually-wrapped coils also provide great motion isolation, bounce, and edge support. Luft Hybrid is ideal for all types of sleepers. It evenly distributes your body weight and offers excellent pressure relief. This supports the spine, hips, and shoulders.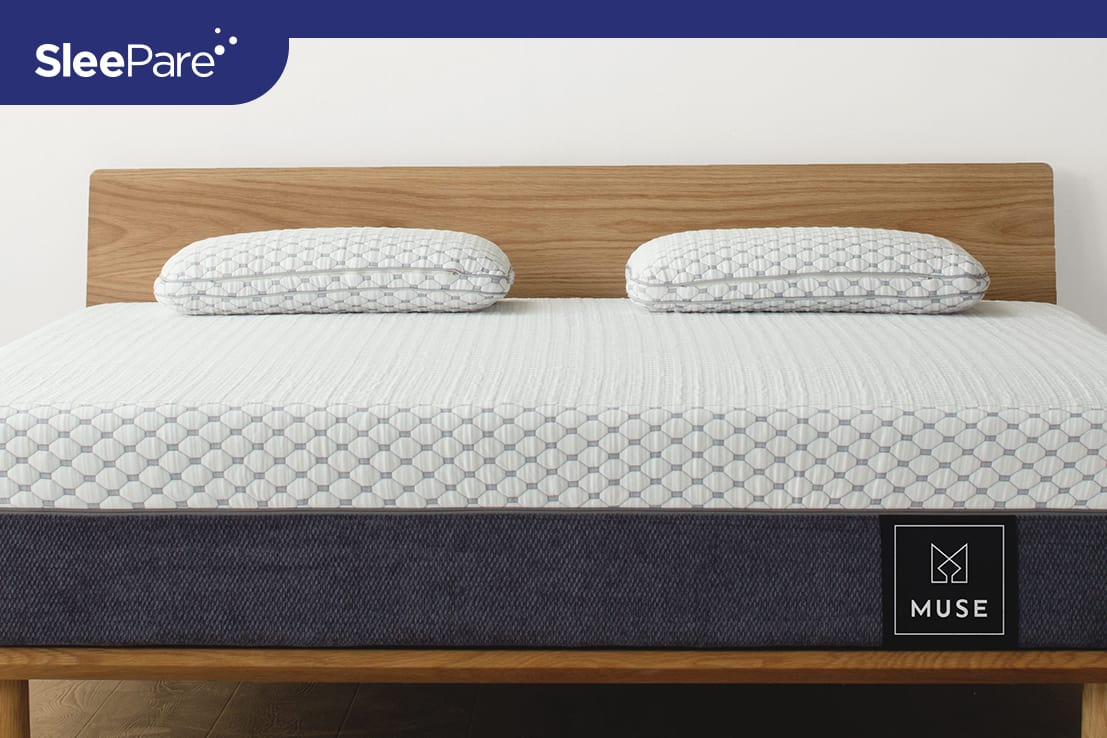 Customer Satisfaction Ratings for Muse Features
 

Comfort

Support

Temperature Regulation

Durability

Overall Value

Buy Now
Pros:
Supportive and comfortable
Cool sleeping surface
Great at reducing pressure in the hips, shoulders, and knees
No sinking for heavier individuals
Low motion transfer
Cons:
Slight initial mattress smell
Muse Sleep may be a relatively new brand in the mattress industry, but within a short time, it has caught the attention of hot sleepers seeking a foam bed with remarkable heat distribution.
How does Muse help you sleep better? The magic lies in its cooling yarn cover and gel memory foam combination!
A specialized soft yarn cover sporting a phase-change material helps regulate the body heat according to the room temperature. Underneath, the gel-infused memory foam guarantees a breathable and moisture-free mattress.
The cooling properties of Muse, coupled with the contouring surface, make this bed ideal for supine sleepers who tend to sleep hot every night. The firm version of this product is quite popular among people with backache issues.
Thus, if you're tired of waking drenched in sweat each morning, you should definitely check out the affordably-priced Muse.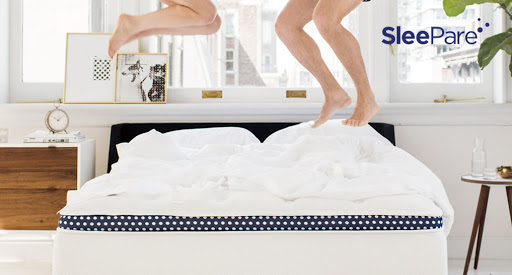 Customer Satisfaction Ratings for Winkbeds Features
 

Comfort

Support

Temperature Regulation

Durability

Overall Value

Buy Now
Pros:
Zoned support to relieve pressure points
Specialized cooling technology
3 step spine alignment system to improve posture
Cons:
Expensive innerspring bed
Only one firmness option
If you sleep hot at night and seek a bed with enhanced back support, this mattress is a great choice!
Winkbeds is a 14.5-inch thick, luxurious innerspring mattress, featuring the cushioning comfort of the euro-pillow top, two coil layers, and all-natural Tencel cover. The brand is made in the US, aiming to deliver an optimal level of support, pressure-relief, and temperature-regulation./
The Euro-pillow top provides a cool and refreshing feel, thanks to the beaded gel incorporation. The two separate coil units keep air flowing through this mattress and aid heat distribution. Additionally, the eco-friendly Tencel cover is also breathable and keeps the sleep surface cool and dry while you sleep.
This combination of materials results in a highly supportive, durable, and extremely cool structure.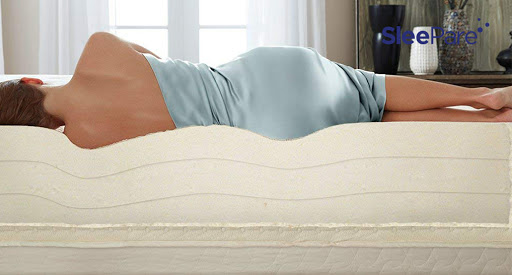 Customer Satisfaction Ratings for Cool Bliss 12 Inch Features
 

Comfort

Support

Temperature Regulation

Durability

Overall Value

Buy Now
Pros:
GreenGuard Gold Certified
Cooling gel dissipates heat and moisture faster
No sinking feeling of a memory foam
Features natural latex
The PlushBeds Cool Bliss has all the benefits of memory foam without that quicksand feeling or heat retention. This mattress has four specialized foam layers, including patented gel memory foam for temperature regulation and an ARPICO latex for resilience and bounce.
The memory foam comfort layer provides instant comfort and pressure-relief. It dissipates heat and moisture three times faster than traditional memory foam. Underneath, the latex offers compression support and prevents excessive sinkage.
The Air Flow layer is convoluted foam to enhance air circulation further and ensures the mattress has an even heat distribution and cool sleep surface. The PlushBeds Cool Bliss 12-inch mattress has a very luxurious cover with cooling properties. It wicks away moisture and keeps the sleeper dry and sweat-free.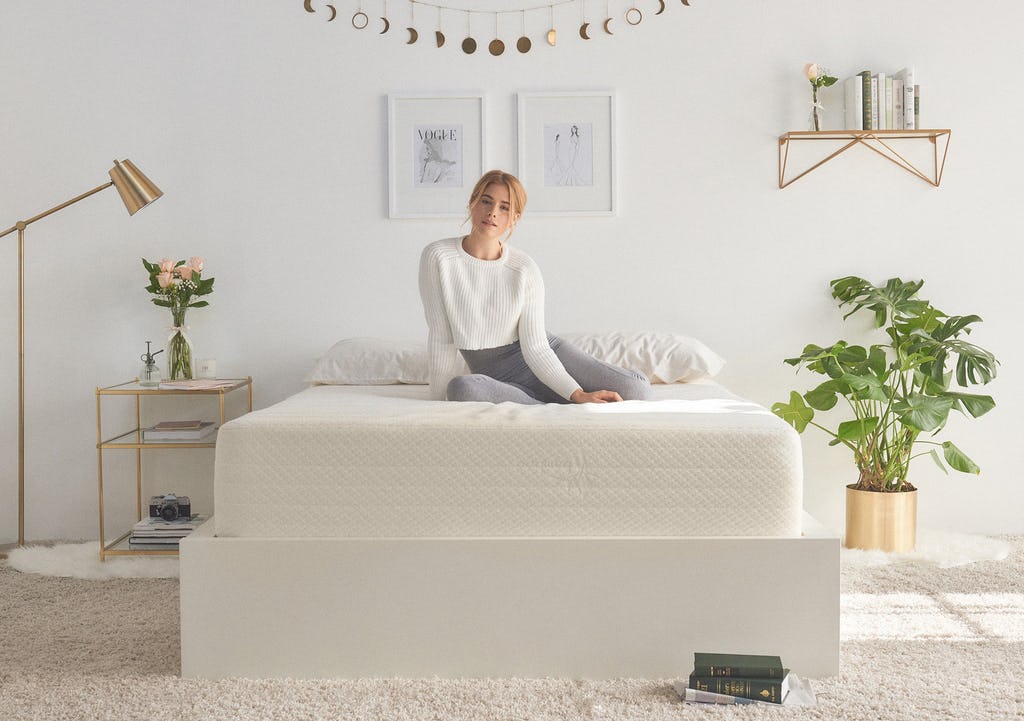 Customer Satisfaction Ratings for Brentwood Home Cypress Bamboo Gel Features
 

Comfort

Support

Temperature Regulation

Durability

Overall Value

Buy Now
Pros:
Highly ventilated surface to regulate temperature
Eco-friendly materials for healthy sleep
Ideal for couples
Great for back, side and stomach sleepers
Cons:
Initial off-gassing, but it dissipates
This mattress features a natural bamboo-derived removable cover, New Zealand wool, gel-infused memory foam, and ventilated support foam.
The Brentwood Home Cypress Bamboo Gel truly excels at keeping you cool. All the mattress layers work together to promote airflow and temperature regulation.
The wool promotes air circulation and keeps the moisture away. The gel memory foam offsets the heat with the help of the middle Airlus foam layer. Free flow of air ensures proper heat distribution keeping you cool and refreshed.
Brentwood Cypress is a comfortable and supportive mattress. It offers amazing pressure relief and spinal alignment. Furthermore, the mattress mitigates motion transfer, thereby allowing you to experience a restorative and undisturbed sleep every night.
This eco-friendly mattress has OEKO-TEX Standard 100 certified New Zealand wool. The gel-infused memory foam is Certi-PUR-US certified and GREENGUARD Gold Certified by UL Environment.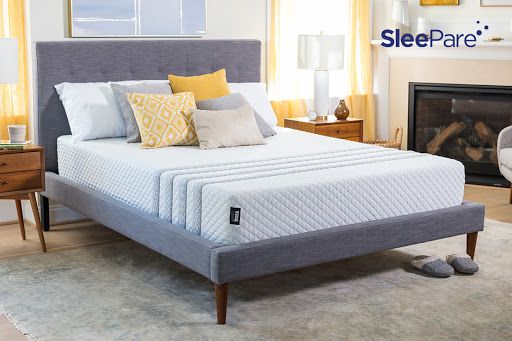 Customer Satisfaction Ratings for Leesa Hybrid Features
 

Comfort

Support

Temperature Regulation

Durability

Overall Value

Buy Now
Pros:
Best for couples with different sleep preferences
Remarkable temperature regulation
Responsive and bouncy
Supports all body structures
The 11-inch Leesa Hybrid is a luxury hybrid mattress offered by Leesa, ideal for a cool and cozy sleep in all sleep positions. The mattress is made with pocket springs and high performing foams.
All specialized mattress layers combine to elevate your sleep experience. The hybrid construction not only makes this mattress strong and durable but also provides superb support and cool sleep to all body structures.
The mattress features innerspring coils and perforated Avena foam top layer. The pinholes in Avena foam increase airflow through the mattress. While the free air passages through the coils further distribute body heat, keeping you cooler at night.
This mattress is quite popular amongst hot sleepers, so if you are looking for something that suits your sleep temperature, this mattress could be the solution.
Comparison and Prices
| Mattress Name | Twin 39" x 75" | Twin XL 39" x 80" | Full 54" x 75" | Queen 60" x 80" | King 76" x 80" | Cali King 72" x 84" | Buy Now |
| --- | --- | --- | --- | --- | --- | --- | --- |
| Brooklyn Aurora | $999 | $1149 | $1499 | $1699 | $1999 | $1999 | Get Discount |
| WinkBed Plus | $1049 | $1149 | $1299 | $1599 | $1799 | $1849 | Get Discount |
| Puffy Lux | $1445 | $1495 | $1595 | $1795 | $1995 | $1995 | Get Discount |
| Bear Hybrid | $1090 | $1190 | $1290 | $1390 | $1690 | $1690 | Get Discount |
| Luft Hybrid | $1399 | $1499 | $1899 | $2499 | $2999 | $3199 | Get Discount |
| Muse | $650 | $650 | $850 | $950 | $1100 | $1100 | Get Discount |
| Winkbed Firm | $1049 | $1149 | $1299 | $1599 | $1799 | $1849 | Get Discount |
| Plushbeds Cool Bliss | $595 | $625 | $895 | $940 | $1070 | $1070 | Get Discount |
| Brentwood Cypress | $310 | $325 | $430 | $500 | $630 | $630 | Get Discount |
| Leesa Hybrid | $995 | $1095 | $1295 | $1595 | $1795 | $1795 | Get Discount |
Compare Mattress
Do you wish to compare these models side by side and see which one fits your needs? Use our smart compare tool for in-depth comparison and find alternatives.