There are a number of reasons why some people suffer from chronic back pain, including but not limited to poor posture, injuries, and medical conditions such as arthritis and sciatica. But did you know that your mattress may also play a role in exacerbating your aches and pains? Sleeping on a mattress that is not well-suited to your body can lead to spinal misalignment and, in turn, back pain that causes you to toss and turn at night and keeps you uncomfortable during the daytime.
When you sleep on a more comfortable surface – one that is well-suited to your body type and sleep position – pressure is lifted off of your vertebrae, which in turn relaxes the muscles in your back. The right mattress for you will be one that maintains the natural curvature of your spine. You'll also need to be aware of comfort and support options, mattress material, and the degree to which a given mattress relieves pressure points and allows for complete relaxation. Choosing the wrong mattress is therefore more than just a poor investment – it can be literally painful.
With so many options on the market, finding a bed that isn't going to cause pain or make worse any existing back problems can be overwhelming – that's why we've put together this guide of the top-rated mattresses for relieving back pain.
Best Mattress Type for Back Pain
Before looking at specific mattress brands that have been found to alleviate back pain, it's important to know your options when it comes to mattress types. There are advantages and disadvantages to each, and there is no one size fits all – it really comes down to personal preference and individual needs. Knowing what the options are, however, is an essential part of the mattress-buying experience.
Memory Foam
Memory foam beds are made of viscoelastic materials which excel at contouring the body and relieving pressure points, particularly in the hips and lower back. However, memory foam mattresses are typically less durable than mattresses made of other materials, and are more prone to sinkage which, over time, may reintroduce back problems.
Pros:
Fills in the lower back gap and provides exceptional comfort.
Medium firm models keep the spine straight.
Medium soft memory foam is perfect for side sleepers.
Budget-friendly choice.
Cons:
May not be durable and become lumpy after a few years of use.
Not ideal for heavyweight sleepers due to increased sinkage.
Combination sleepers may feel 'stuck'.
Hybrid
Hybrid mattresses are relatively unique, and are currently one of the trendiest and most in-demand mattress types. These beds combine one or more latex/foam layers and contain one support made of spring coils. Hence, hybrids are a perfect blend of contouring comfort and bounciness.
Pros:
Promote spinal alignment in almost every sleep position.
Responsive push of the surface aids in back pain relief.
Suits heavyweight and lightweight individuals with bad back.
Durable and lasting construction that resists sagging.
Cons:
High-end mattresses sold at a slightly expensive price.
Latex
Latex mattresses are resilient and durable, and can be made from natural or synthetic latex-processing techniques. They are available in either organic or natural options. Dunlop and Talalay processed latex mattresses offer unique benefits to sleepers, and each caters to different needs. However, both kinds offer a combination of support and body-contouring to relieve pressure points and back pain.
Pros:
Exceptional contouring of body curves to relieve pain.
Cushions the gap between the surface and lower back, reducing lower back pain.
Firm latex promotes proper spine alignment.
High-density latex lasts longer.
Cons:
Luxury mattress offered at a high price range.
Causes skin allergies to people who are sensitive to latex.
Air
Air mattresses are among the best choices to alleviate backache issues at all ages. These models use air chambers as the main support system, and many of them have options to adjust firmness levels.
Hence, customers can easily select the comfort level allowing adequate lumbar support.
Pros:
Excellent pressure relief relaxing back muscles.
Maximal support of lumbar area.
Effective system to promote proper spine alignment.
Cons:
Requires frequent maintenance.
Expensive mattresses.
Best Mattresses for Back Pain – Our Top 10 Picks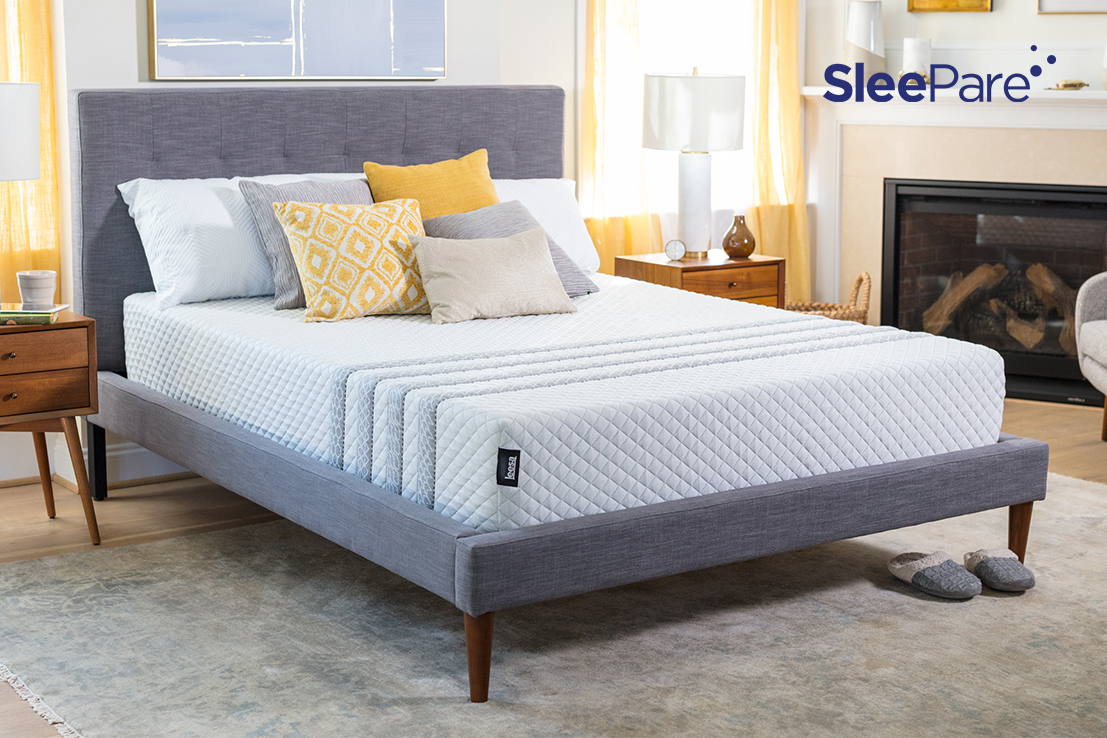 Customer Ratings for Leesa Hybrid Features
 

Comfort

Support

Temperature Regulation

Durability

Overall Value

Buy Now
Pros:
High-quality durable mattress
Good value for money
Excellent heat distribution
Cons:
Not suitable for plus size individuals
The 11-inch Leesa Hybrid is a medium-firm mattress consisting of five specialized layers, including multilayer foam and reinforced pocket coils. The hybrid construction provides optimal spinal alignment and lower back support in any sleep position.
The combination of aerated foam layers and buoyant springs offer excellent responsiveness to facilitate ease of movement. Its contouring memory foam layer hugs your body curves for cushioned support to reduce muscle tension.
Each coil is individually wrapped to offer more targeted support on key pressure points. The dual HD polyfoam layers improve transition and bounciness of the mattress to support the lumbar region irrespective of sleep position and sleeper size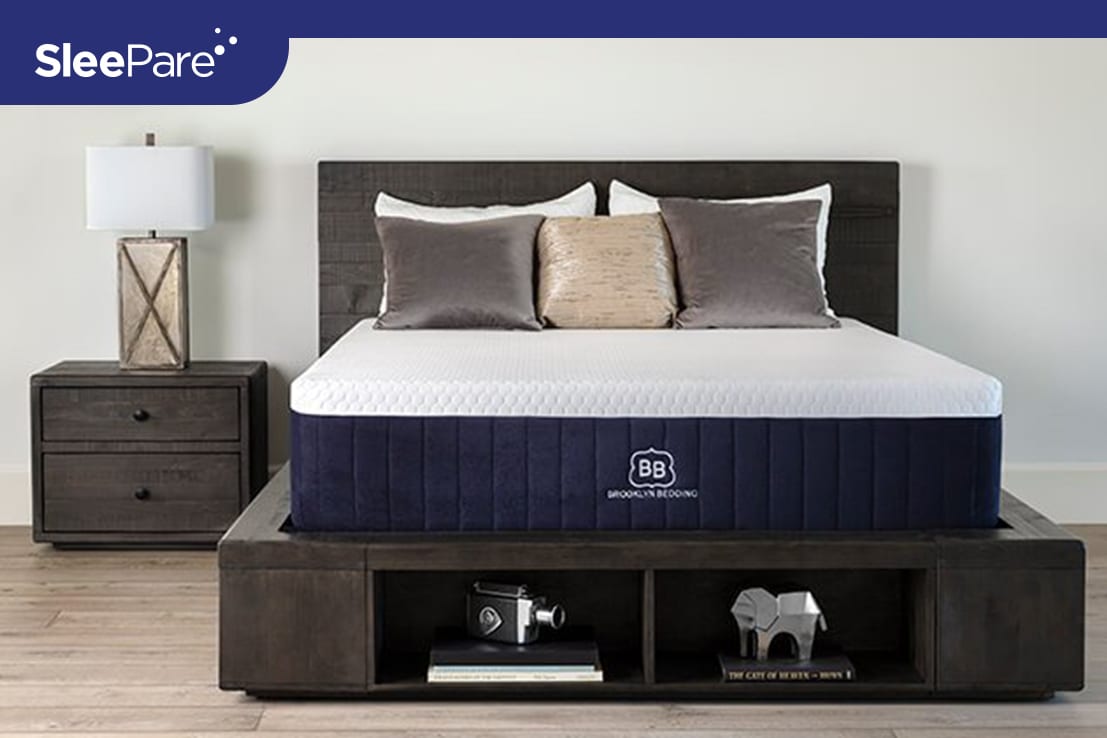 Customer Ratings for Brooklyn Aurora Features
 

Comfort

Support

Temperature Regulation

Durability

Overall Value

Buy Now
Pros:
Firm comfort level provides spine support to stomach sleepers.
Soft comfort level offers lumbar support for side and back sleepers.
Cons:
Back support may not be enough for heavy individuals.
Brooklyn Bedding Aurora is a six-layered hybrid mattress available in three different firmness levels. You can choose soft, medium or firm feel to suit your sleep preferences. Above all, Brooklyn Bedding mattresses are known for their quality and durability.
Despite all these qualities, this BB mattress is quite affordable and offers you excellent value for money. It is a luxurious mattress with quick response time and excellent contouring ability. As a result, BB Aurora keeps your spine in perfect alignment at all times.
Since the comfort layer is infused with copper, the mattress surface remains cool and germ-free. Copper also enhances the pain-relieving property of the bed. The resilient coils prevent excessive sinkage and offer the right amount of bounce, crucial for combination sleepers and weak individuals.
Customer Ratings for Leesa Features
 

Comfort

Support

Temperature Regulation

Durability

Overall Value

Buy Now
Pros:
Best choice for people with upper back pain issues
Provides consistent back support across the surface
Adequate spine alignment for side sleepers
Cons:
Does not suit heavyweight bodies
Sinkage causes spine misalignment in front sleepers
Leesa is made of high-quality mixed foam to provide restful sleep all night long. The mattress is highly responsive and adjusts to your body at all angles.
The top is LSA200 polyfoam having a similar texture as Latex foam. It is bouncy to provide exceptional pressure relief and ease of movement. Having two comfort layers made of premium foam, the lumbar support, and spinal alignment is enhanced for a pain-relieving sleep surface.
The HD polyfoam base adds stability to the structure and firm support to the back. Even if you sleep on your stomach, the mattress offers uplifting support to your lower body. The bed is equally supportive for back and side sleepers.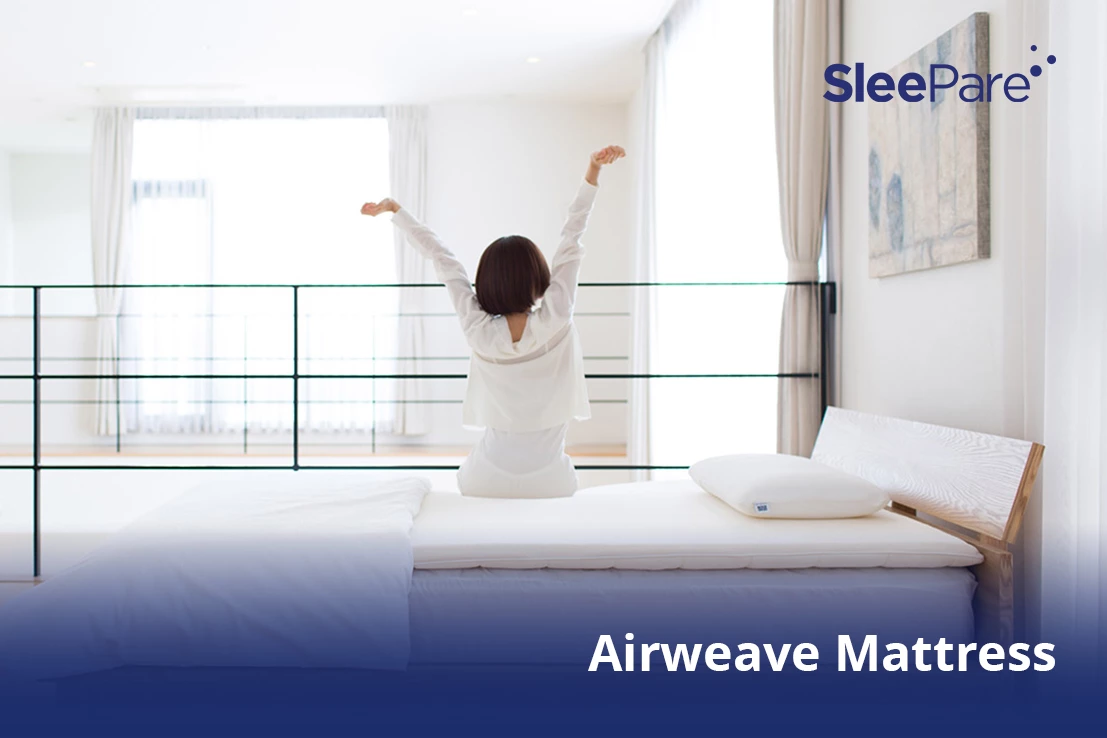 Customer Ratings for Airweave Features
 

Comfort

Support

Temperature Regulation

Durability

Overall Value

Buy Now
Pros:
Very firm sleep surface to prevent sinking and stress on joints
Enhanced airflow with airFiber mesh foam.
Resin fibers are highly durable and long lasting
Incredible spine alignment
Cons:
Almost zero conformity may cause discomfort in the long run
May not suit lightweight sleepers
Airweave is a Japanese origin mattress company featuring patented airFiber design. They offer a line of very firm mattresses to provide even back support. Due to its innovative components, the mattress offers anti-sag, durable, and lifelong support.
The Airweave surface is quite different; thanks to the firm airFiber mesh. It provides a hard yet resilient surface to keep the spine straight from neck to hip. Because of its incredible firmness, the product is more suitable for people with a bulky body, as it prevents sinkage.
Since you can wash the entire Airweave mattress, the cover and the foam, in water, it offers are perfectly clean and germ-free sleep surface. Airweave may be a tad pricey, but the plethora of benefits you get with it certainly justifies the price tag.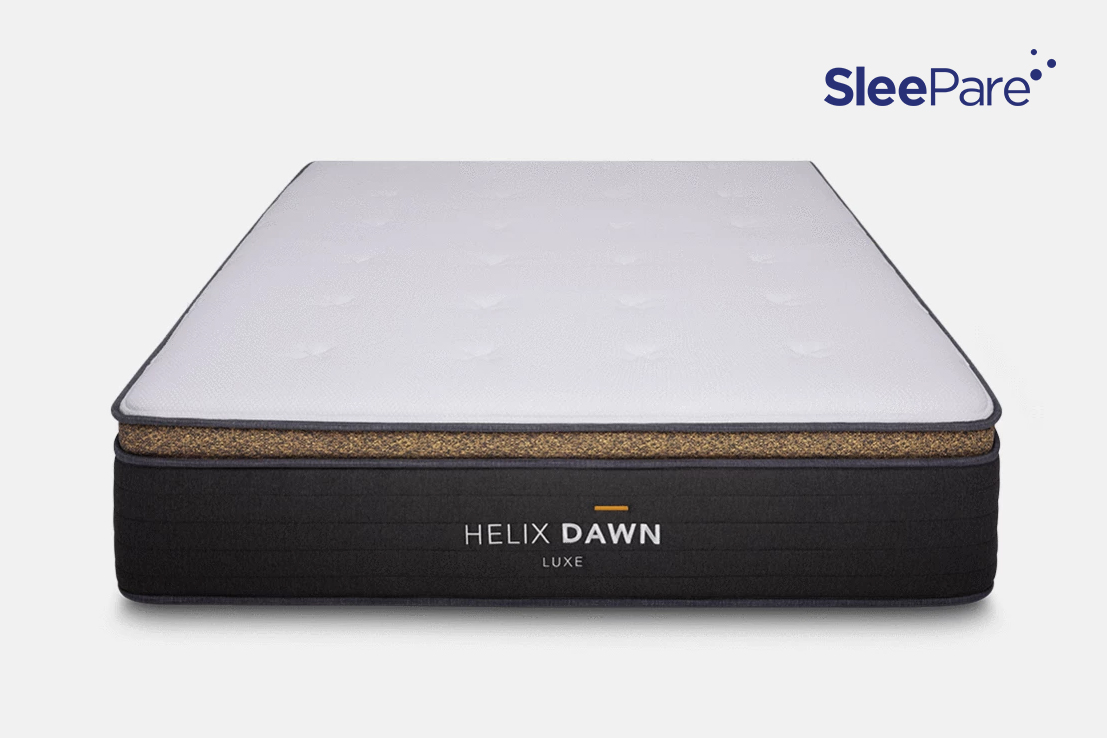 Customer Ratings for Helix Dawn Luxe Features
 

Comfort

Support

Temperature Regulation

Durability

Overall Value

Buy Now
Pros:
Firm comfort to reduce back pain
Zoned lumbar support for perfect spinal alignment
Plush pillow-top cushions lower back muscles
Cons:
Firm mattress, unsuitable for lightweight individuals
Designed specifically for stomach and back sleepers, the Helix Dawn Luxe provides your firm back support without any give. The patent foam layers have a premium quilted pillow top for pressure-relief and contouring.
The exclusive Helix Dynamic foam is highly reactive and accommodates body curves as you change sleep position. The transition foam layer and zoned coils provide ergonomic support for enhanced spinal alignment. All these features make Helix Dawn Luxe a perfect mattress for back pain relief.
The reinforced perimeter of specialized springs improves edge support and increases the sleeping area, making it ideal for couples. The DuraDense base foam improves the durability and support of the entire mattress.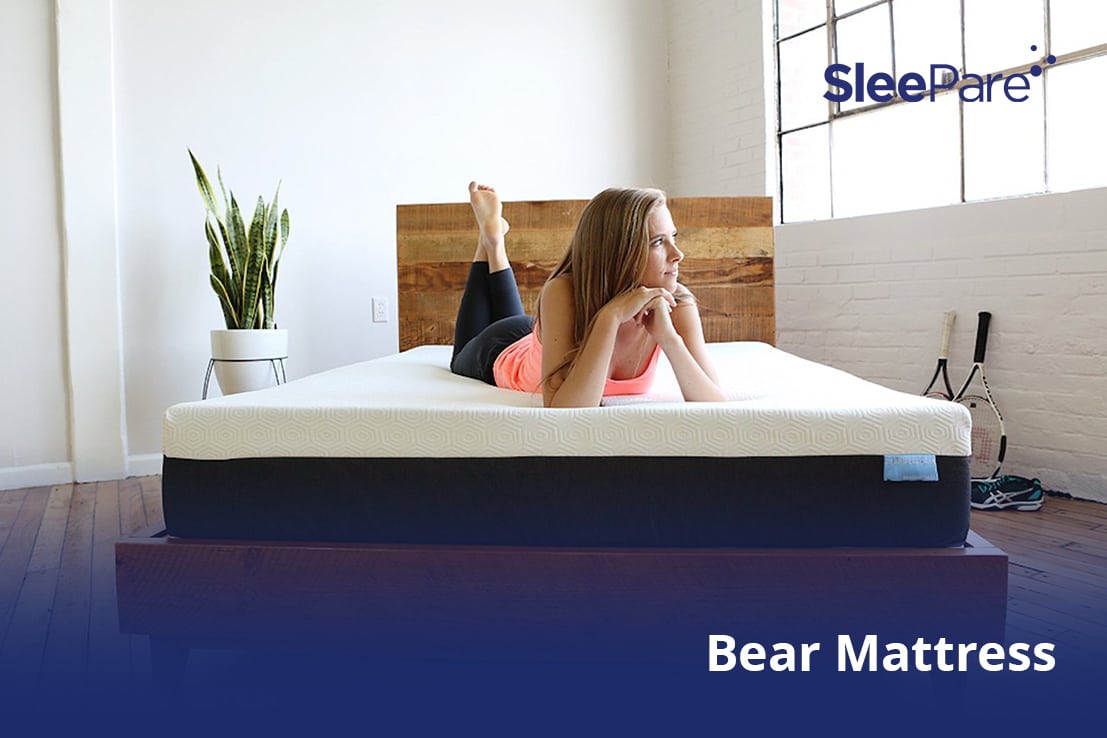 Customer Ratings for Bear Features
 

Comfort

Support

Temperature Regulation

Durability

Overall Value

Buy Now
Pros:
Best mattress for athletes/people with an active lifestyle
Graphite gel offers localized lumbar support
Dense medium firm layers relax muscles in all positions
Cons:
May lack support for lightweight folks
The Bear mattress is among the most promising sleep products. It has a medium-firm comfort level, suitable for majority sleepers. From the Celliant mattress cover, down to the base foam, the Bear mattress is specially designed for athletes and people who live an active lifestyle.
The Celliant cover converts your body heat into infrared energy for enhanced sports recovery and muscle relaxation. The four-layer foam construction offers maximum support and backache relief.
The responsive transitional layers work with the top memory foam to offers conformity without stuck-in feel. Its HD polyfoam layer provides even weight distribution and pressure-point relief. All the layers work together to keep your spine aligned in the position of your choice.
All in all, the Bear mattress is on point for individuals suffering from back pain.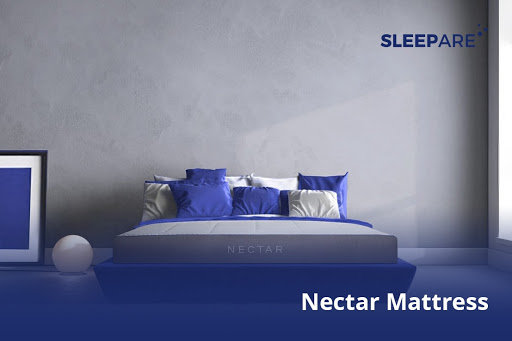 Customer Ratings for Nectar Features
 

Comfort

Support

Temperature Regulation

Durability

Overall Value

Buy Now
Pros:
Amazing balance of comfort and support
Medium firmness, best for side and back sleepers
Quick response contouring foams
Excellent spinal alignment
Cons:
Overweight individuals may experience excessive sinkage
Unsuitable for hot sleepers
The Nectar is a quick response memory foam mattress with resilient support to relieve back pain. This 11-inch mattress has three foam layers offering medium-firm comfort level for balanced support.
The thick memory foam top offers incredible contouring and pressure relief. It also distributes weight evenly and aligns your spinal curvature. Moreover, the foam offers a subtle bounce to prevent sink-in feel.
The thick base foam adds stability to the mattress, but if you tend to sleep on your stomach, you might need firmer support. Some overweight customers report undue sinkage and heat retention on the mattress. Nectar is favored for its affordability and is a popular choice among side sleepers with a backache.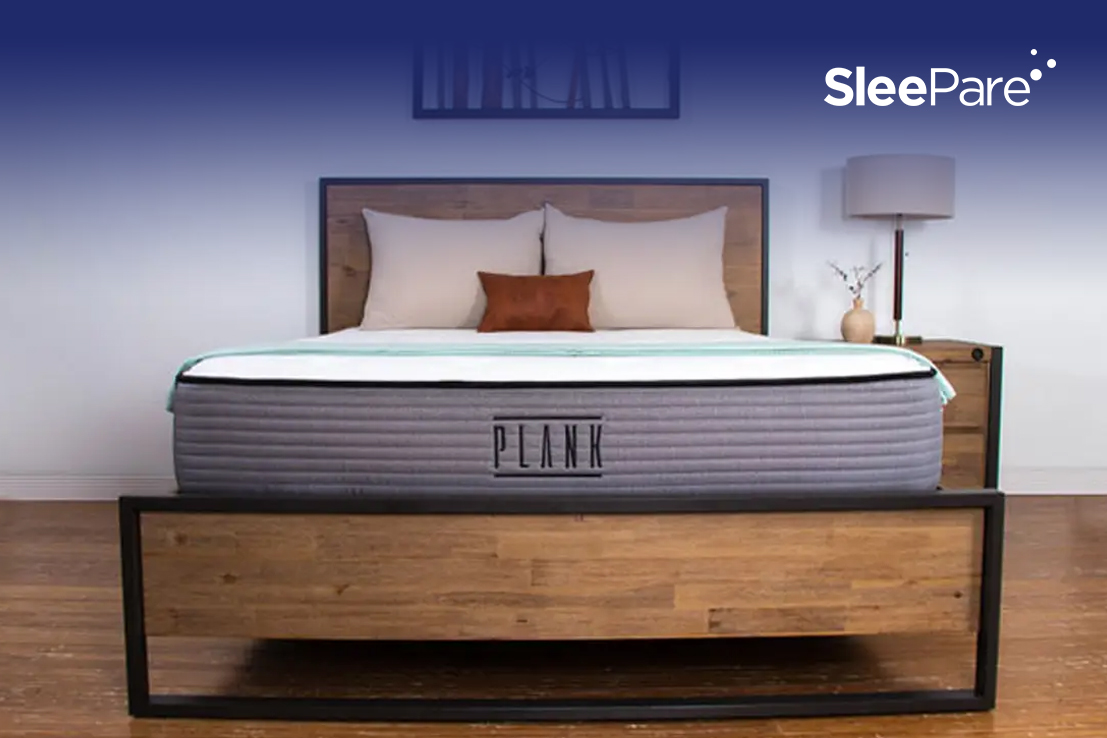 Customer Ratings for Brooklyn Bedding Features
 

Comfort

Support

Temperature Regulation

Durability

Overall Value

Buy Now
Pros:
Extra-firm comfort, best for lower back pain
Suitable for average and overweight persons
Quilted top for pressure-relief
Flippable, dual-firmness design
Durable with good value for money
Cons:
Limited pressure-relief for petite, side sleepers
Being one of the latest mattresses in the industry, the Brooklyn Bedding Plank is best suitable for average and heavyweight(250+ lbs) back and stomach sleepers. Flip this dual-sided foam mattress to choose between the two different comfort levels: firm and extra-firm.
The active support maintains a healthy back without overarching or excessive sinkage. Both mattress sides are quilted to the lumbar cradle curve for pressure-relief. Its quick response foam facilitates changing sleep positions during the night without distorting backbone position.
Due to its breathable cotton-polyester cover, the mattress offers a moderately cool sleep surface. However, pair it with a cooling cover made of PCM to suit the needs of hot sleepers.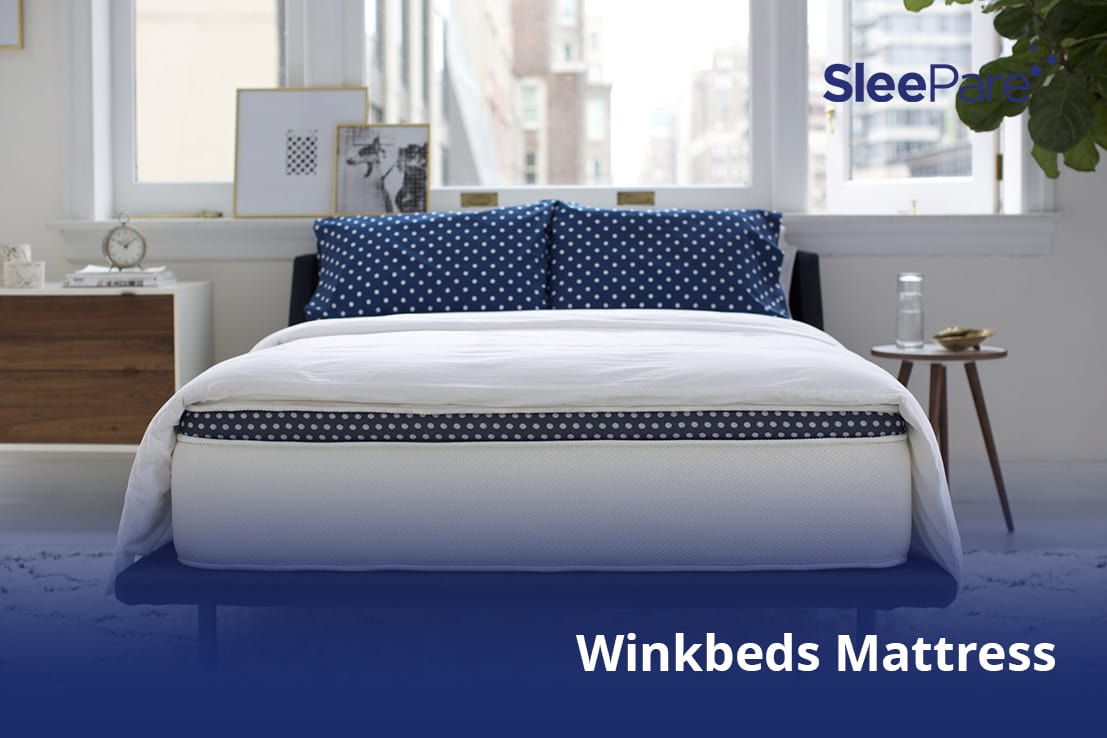 Customer Ratings for Winkbeds Plus Features
 

Comfort

Support

Temperature Regulation

Durability

Overall Value

Buy Now
Pros:
Specialized back pain relief technology.
Excellent spine support for heavyweight people.
Lumbar pad cradles lower back.
Cons:
Lacks back support for lightweight individuals.
The Winkbeds Plus is ideal for plus-sized customers looking for a comfortable hybrid bed. Since the mattress is OEKO TEX certified, you can use it safely if you suffer from allergies or have sensitive skin. Winkbeds Plus uses premium quality materials to make this mattress a durable product for overweight customers.
The top pillow-cover offers plush support to cradle body curves and aching joints. Next comes the latex comfort layer, which is not only breathable and hypoallergenic but also highly resilient. Consequently, heavier individuals stay cool and find it easy to shift in bed.
For added support and lumbar stability, Winkbed Plus incorporates the 3-Step Back-Relief System. Both the latex foam and innerspring layer cradles the midsection and limbs for optimal alignment and pain reduction.
10. The Luft Mattress— Best for Edge to Edge Back Support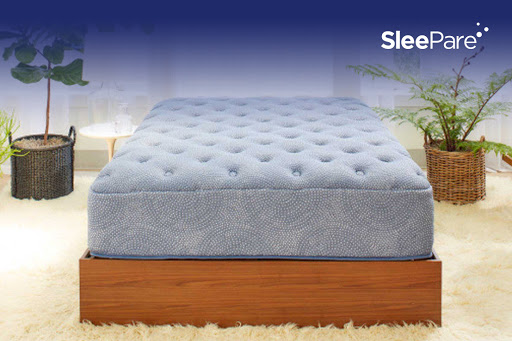 Customer Ratings for Luft Features
 

Comfort

Support

Temperature Regulation

Durability

Overall Value

Buy Now
Pros:
Three firmness levels to suit various sleeper types
Incredible spinal alignment with 5-7 support zones
.
Graphene-infused foam for amazing pressure-relief
Cons:
Heavy mattress, difficult to move
Unsuitable for lightweight individuals
The American-made Luft Bed comes in three different firmness levels: Medium-soft, Medium-firm, and Firm to suit most sleepers regardless of weight, sleep position, and comfort preferences.
Multiple layers of gel and graphene-infused foams make Luft a luxuriously cool and comfy bed. The resilient, pocketed coils offer a durable and sag-free base. The targeted zone support provides angled contouring to key pressure-points such as hips, legs, shoulders, and lower back.
With thicker coils around the perimeters, the mattress offers improved edge support and a consistent feel from edge-to-edge. The circular-knit, breathable polyester cover is highly stretchable and quilted to provide added comfort and hug.
Why do People Suffer from Back Pain?
Numerous reasons may lead to the development of back pain, resulting in poor sleep patterns and unhealthy lifestyle. If your mattress is not comfortable enough to alleviate pressure from upper and lower back, it causes backaches in the long run.
Poor Posture
The American-made Luft Bed comes in three different firmness levels: Medium-soft, Medium-firm, and Firm to suit most sleepers regardless of weight, sleep position, and comfort preferences.
Multiple layers of gel and graphene-infused foams make Luft a luxuriously cool and comfy bed. The resilient, pocketed coils offer a durable and sag-free base. The targeted zone support provides angled contouring to key pressure-points such as hips, legs, shoulders, and lower back.
With thicker coils around the perimeters, the mattress offers improved edge support and a consistent feel from edge-to-edge. The circular-knit, breathable polyester cover is highly stretchable and quilted to provide added comfort and hug.
Currently, bad posture is among the leading causes of back pain. If you have a desk job or sleep in an improper position, your spine might suffer, leading to backache issues due to anatomical adjustment.
Wrong Mattress Type
Sleeping on the wrong type of mattress is yet another factor that leads to back pain problems. If you prefer spring surfaces, it is best to go for a hybrid, rather than pure innerspring, as it causes spinal misalignment.
Most people love the feel of latex, while others prefer the lumbar support of air mattresses. Memory foam beds are the most common among back pain sufferers. But if you go for waterbeds or pure springs, they may sag or not provide adequate lumbar support, leading to the development of chronic backaches.
Injuries
People suffering from injuries resulting in disc dislocation consistently suffer from back pain. These issues emerge after car accidents, a dangerous fall, sports injuries, or any mishap that affects the spine area. If not treated on time, it might develop into a chronic condition.
Medical Conditions
Medical conditions such as arthritis, sciatica, herniated discs, spinal stenosis, cervical radiculopathy, and inflammation of the vertebrae are among the popular ailments causing back pain. The pain might be a result of nerve pinching, tears, weakening of bones or swelling. Medical complications require immediate assistance from a doctor.
Pregnancy
During pregnancy, women often suffer from chronic backaches. The excessive weight in the midsection puts pressure on the lower back causing it to ache. Also, swollen pelvic also strains hips, lumbar region, and legs.
Obesity
Excessive body weight put pressure on your back. Overstressing your spine leads to swollen muscles, ligament inflammation and slipped discs, giving you a constant backache.
Psychological Stress
Various mental health conditions such as anxiety and depression also cause pain in the back. Emotional stress tenses your body muscles, especially around the neck and back, leading to the development of back pain.
What can be Done in Order to Relieve the Pain?
Early treatment will prevent you from developing severe back problems. Following are some techniques to deal with backaches:
Sleep Well
Sleep and back pain are interrelated as restlessness and lack of sleep can make your mornings tired. If you don't slumber for at least eight hours every night, it can lead to tensed back muscles and sometimes, affect your posture during the day. Hence, it is vital to get a good night's sleep.
Select a Supportive Mattress
Mattresses are one of the easiest ways to promote a healthy back. Be mindful of your preferences, body type, and various other features that impact the spine alignment during the night. It is vital you select a proper mattress to alleviate the back problems.
Use Bedding Accessories
In case of chronic back pain issues, choosing the perfect mattress might not be enough. To increase the lumbar support, you can invest in bedding accessories, made essentially for people with a bad back. For example, specialized mattress toppers or lumbar pads, body pillows, and adjustable bed bases are some of the trending items often purchased by people suffering from back pain.
Exercise Routinely
Routine workout strengthens your core muscles. An early morning stroll or an extensive gym regimen in the evening keeps your muscles taut and active. In order to reduce pressure formation in areas such as joints, lower back, and hips, experts advise to make walking or exercise a part of your lifestyle.
Get Medical Treatment
Pain reduction drugs, muscle strengthening exercises, and therapy programs are also a few practical ways to relieve your back muscles. You may also visit a chiropractor to treat chronic pain and seek their advice in mattress selection.
Is There a Connection between the Type of Mattress and Back Pain?
Sleeping on the wrong mattress type cause not only back problems but also triggers old injuries due to accidents and lead to chronic back pain.
As you rest on a comfortable surface, the pressure lifts off your vertebrae and relaxes the muscles in the back region. The mattress surface aligns your spine straight, meeting the natural curves with perfection to maintain its natural shape.
One of the best ways to care for your back is to sleep on a proper surface. You'll come across different categories on the market, and it can be overwhelming to choose the best type of mattress. However, it is crucial to consider your comfort/support preferences, body type, sleep position, budget, among other factors before making a decision. A wrong choice may cost you chronic back pain and pressure on the shoulders or neck.
Similarly, buying a very firm or super plush bed lacks in the right kind of support and contouring. Your body structure and weight are integral in determining the comfort level suitable for you.
Hence, to make an informed decision, lay down on spring, hybrid, latex, memory foam or air mattresses in a showroom to assess their feel. First-hand interactions are helpful in selecting the best mattress for your back.
Back Pain Facts and Explanations
Approximately 45 million Americans suffer from back pain – mostly due to accidents and diseases – making it the third most common reason for visiting the doctor.
Backaches may be acute or chronic. Acute back pain is short-term, easily treatable, and is among the leading causes of low productivity at work. Chronic back pain is long-term, and if not appropriately treated, may result in disability.
Improper diet also promotes pain in the neck and lumbar region. Excess consumption of caffeine, sugar, and alcohol triggers muscle contraction and increases cortisol level (rupture tissues).
High heels increase the risk of lower back pain as it impairs posture and strains the spine. Orthopedic and plush soles offer cushioning to the feet especially the arches, reducing the impact of shock on the back and feet.
Troubled back is recoverable and in most cases, treatment is not even required. Only 2% of the sufferers need surgery due to chronic back pain. Otherwise, the right type of mattress usually resolves backache problems.
What to Look for in a Mattress for Back Pain?
Ideally, experts advise to try out a bed in a showroom or shop before purchase, as it allows you to assess the different features and compare them with other mattresses in real-time, side by side.
Besides considering the price, sizes, thickness, and heat distribution properties, some of these factors are essential in finding the best mattress for back pain.
Comfort
No matter which position you sleep in, comfort is equally important as support. Your body's natural lower back curve needs appropriate cushioning so the pressure on hips and lower abdomen region can be minimized. Mattress pads, toppers, or quilted pillow tops are some of the best solutions aiding in cushioning comfort.
Spine Alignment
Our spine is made of three curves that need proper cushioning and ample support to maintain regular shape while resting on back, stomach, or sides. The two interior (neck and lower back) and three exterior (midsection of the back) curves should get adequate lumbar support. It is recommended to find a mattress that contours to the back curvatures.
Firmness Level
No one firmness level is suitable for all. Although industry experts claim medium-firm is universally comfortable for people with backaches, depending on your weight and sleep style, the requirements may change. In such instances, choosing a mattress to suit your needs become a tad tricky.
However, usually, the stomach sleepers or people with bulky figure prefer hard mattresses as they help to remain afloat on the surface. Back sleepers, combination sleepers, and anyone with a regular body type is comfortable on medium comfort level. For side sleepers, a softer bed suits well as it properly cradles the back curves. The right firmness level will keep your back pain at bay.
Density
The density of a mattress refers to the compactness, rather than the firmness factor. A high-density mattress is the most suitable option for heavier people with backaches as it resists sinkage and lasts longer. A low-density mattress sinks-in quickly, making it a better choice for lightweight people with a bad back. Most people select a bed with a medium density as it is budget-friendly and offers excellent lumbar support for most body types.
Mattress Categories
Every mattress type offers a unique combination of features. But it is important to understand that each of the categories serves certain design, comfort, and support preferences. The common mattress categories include innerspring, latex, foam, air, hybrid, and waterbeds. While some of them are great at offering back pain relief, others develop bad posture. Thus, it is crucial you select a mattress type suitable for your position, weight, and lumbar support requirements.
Comparison and Prices
Mattress Name
Twin 39" x 75"
Twin XL 39" x 80"
Full 54" x 75"
Queen 60" x 80"
King 76" x 80"
Cali King 72" x 84"
Other Sizes ($)
Buy Now

Leesa Hybrid

$1099
$1199
$1499
$1799
$1999
$1999
N/A
Buy Now

Brooklyn Bedding Aurora

$999
$1249
$1549
$1699
$2124
$2124
N/A
Buy Now

Leesa

$595
$695
$895
$995
$1195
$1195
N/A
Buy Now

Airweave

$1070
$1180
$1280
$1390
$1610
$1070

Split King- $1799

Split Cali King - $1799

Buy Now

Helix Dawn Luxe

$995
$1245
$1495
$1795
$2195
$2195
N/A
Buy Now

Bear

$540
$640
$740
$840
$940
$940
N/A
Buy Now

Nectar

$499
$569
$699
$799
$999
$999
N/A
Buy Now

Brooklyn Bedding Plank

$699
$749
$799
$999
$1249
$1249

Split King - 3498

Split Queen- 3398

Split Cali King- 3498

Buy Now

Winkbeds Plus

$749
$849
$999
$1299
$1499
$1549
N/A
Buy Now

Luft Mattress

$1399
$1499
$1899
$2499
$2999
$3199
N/A
Buy Now
Compare Mattress
Do you wish to compare these models side by side and see which one fits your needs? Use our smart compare tool for in-depth comparison and find alternatives.