About Airweave Brand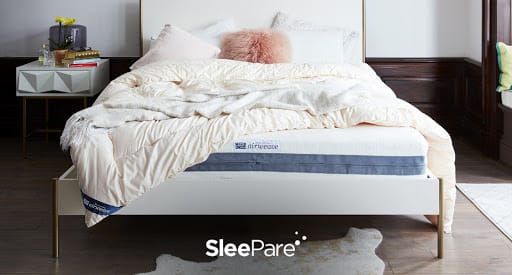 What is Airweave?
Airweave is a mattress brand dealing in durable, luxurious, and affordable sleep surfaces for all sleeper types. The company uses its patented Airfiber technology to design its mattresses and meet the specific needs of every customer. You can experience Airweave mattress firsthand at SleePare showroom exclusively or buy it online.
What type of mattress does Airweave offer?
Airweave offers two different mattresses:
Airweave Mattress — Firm with excellent back support
Airweave Mattress Advanced — Flippable with Firm and regular sides
What is the difference between the Advanced and the regular model?
Both of these models have different construction and firmness levels. Both models use Airfiber technology, but Airweave mattress is Firm whereas the Airweave Advanced has Dual Mode. You can flip the mattress to choose between Firm and regular comfort level. It also comes with an optional pillow top for a softer feel.
Does Airweave offer different firmness levels?
Airweave mattresses are on the firmer side, but you can choose Airweave Advanced for more firmness options. Personal preferences decide which comfort level is right for you. Hence, you need to test the sleep surface in the store to determine which mattress model is best for you.
Is Airweave suitable for hot sleepers?
Yes, Airweave is excellent in breathability. If you sleep hot, then this mattress is right for you. The cover of this mattress features cool fabric. Moreover, the Airfiber core is a unique interwoven mesh with lots of empty spaces for improved airflow.
Is Airweave suitable for all body structures and weight?
Airweave mattresses can be used by people of all body structures under 220 lbs.
Do I need any specific bed frame with my Airweave mattress?
You can use your Airweave mattress on slats, box springs, and platform beds. However, it cannot be used with an adjustable base.
Does Airweave off-gas?
Airweave doesn't use any harmful chemicals or substances in the construction of its mattresses. Therefore, Airweave mattresses don't off-gas.
Are Airweave mattresses flame retardant?
Yes, all the mattresses from Airweave go through strict quality testing to prove their flame retardancy. Airweave only uses the necessary chemicals mandatory by law for passing the test.
Is Airweave eco-friendly?
Yes, the Airweave is an eco-friendly brand, and all the technologies it uses in the construction of its mattresses comply with environmental regulations. Furthermore, Airweave is also a CO2 e-assessed company by Carbon Footprint Ltd.